Baby Hampers For Mum & Bub
The most special of occasions, the most joyous of times. Help them celebrate a new baby with a gift of joy by sending Australia's most beautiful baby gift hampers. Our newborn hampers have been expertly designed to include something special for baby and for the new parents, with an exclusive range of baby girl hampers and baby boy hampers, with gender-neutral hamper options available.
Welcoming a precious new baby into the world is a time filled with joy, and every baby deserves the best start in life, which is why our hampers are packed full of quality. We've sourced the world's best baby skincare brands, including organic options to ensure that baby's skin is nurtured and nourished without nasties. We've got world-class children's wear brands, the finest in organic cotton baby clothing, and a range of amazing newborn toys and books that are true childhood favourites. Find the best modern and traditional keepsake gifts for baby.
Our new baby gift baskets are perfect for baby showers. If you're attending a gender reveal party, there's no need to go empty handed. Our gender-neutral baby gift boxes contain gorgeous unisex products that are suitable for any bub. We've also got pink hampers for girls, blue hampers for boys, and hampers for new parents that include sweet nibbles and champagne to help them celebrate in style.
With free delivery Australia-wide, whether you're sending to a friend or family member, when it comes to baby gift boxes with free delivery our luxury hampers are the perfect choice. We know every new parent deserves the best.
---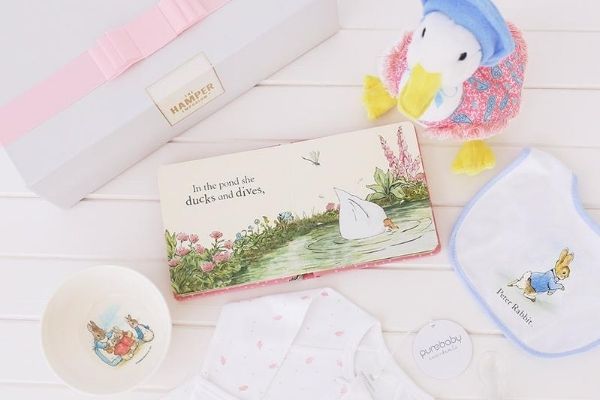 Gorgeous newborn hampers are the ultimate baby shower gift Every beautiful new baby and their mum dese...
Read Full Post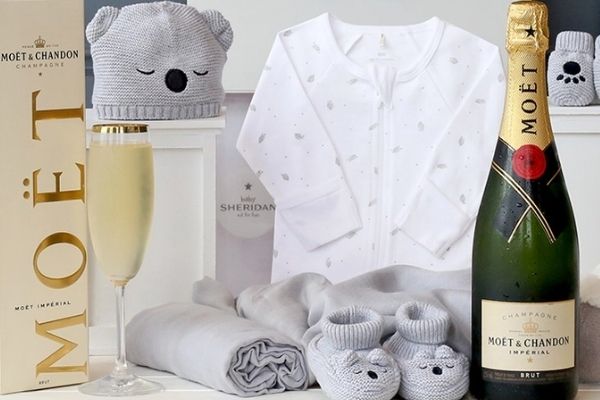 Baby needs to be showered and we are here to help Baby showers are a wonderful way to celebrate the mu...
Read Full Post
Baby Hampers
There is no occasion as special as welcoming a baby, and nothing as grand as becoming a parent for the first time. Every new parent deserves the best. We have never been more proud of our luxury baby gift hamper range, and feel blessed to be a part of such a special moment for our recipients.
Here at The Hamper Emporium, many of us are parents and we understand just how important quality is when choosing the perfect baby gift and the best Christmas gift hampers for new parents. Our customisable baby hampers are packed full of the best baby gifts in Australia. Our parent and baby gift boxes include the perfect blend of quality, luxury and affordability so that you can send a truly stunning newborn gift with a choice of affordable options to suit your budget.
Our baby gift brands range from luxury children's wear brands, organic baby skincare products, and world-favourite toys, teddies and storybooks, so that not only will these gorgeous baby hampers bring a smile to their faces on arrival, but also deliver keepsake memories to look back on.
What Is the Best New Baby Hamper?
To ensure our range of baby hampers stays modern and up-to-date, our team regularly adds new baby hampers to the collection. Curious what our recommended new baby hamper for 2020 is? The popular Sheridan Bear range of baby gift baskets is everyone's favourite choice with customisable baby gift options.
The Sheridan Bear and Pure Baby Girl Hamper comes in gorgeous pink, with the matching Sheridan Bear and Pure Baby Boy Hamper in soft baby blue. Both gift baskets include a gorgeously soft plush Sebastian teddy bear in white and neutral grey. The accompanying baby gifts include the organic cotton growsuit, soft muslin wraps, and adorable baby shoes. A natural wooden rattle with soft silicone for teething is also included. For the new parents, this newborn gift basket also includes a relaxing candle gift and journal for recording those special new baby memories. This popular newborn hamper also comes in a unisex option in neutral colours perfect for a baby shower gift.
For an extra special gift for baby, you can also upgrade this gift box to include champagne, luxurious baby bath products and more. The products inside our baby hampers are incredibly versatile. We offer a range of luxury baby gift baskets so you can choose the perfect combination of baby clothes, singlets and growsuits, essential baby items, wraps and blankets, newborn toys, skincare, gifts to pamper a new mum, plush toys, and celebratory champagne and sweet treats for the parents.
What Do You Put in a Baby Shower Hamper?
Looking for a baby hamper or present that could be gifted for a baby shower? When choosing the perfect gift idea for a baby shower, it's always good to include essentials for the baby. Our entire range of baby gift hampers are great baby shower gift ideas, as they include a range of practical baby items from some of the world's most amazing baby brands plus special keepsake baby gifts. Our gift baskets include goodies such as a teether, baby clothing, and baby bath products.
Baby shower gifts can be tough, particularly when it hasn't yet been revealed if the parents are expecting a baby boy or a baby girl. When thinking about ideas for the best baby shower gifts, we always recommend our gender neutral baby gift hampers. Our unisex baby hampers are packed full of the finest quality in baby clothing, skincare and toys, all in neutral colours. We've carefully selected high quality, adorable mother and baby gifts that work for both baby boys and baby girls so you don't have to worry. Even if you are attending a gender reveal party, a neutral hamper is still a great option for a practical baby gift.
How to Make a Baby Boy Hamper?
As Australia's best baby gift hamper experts, we know how to create the best value gift box for a baby boy. Quality matters when choosing products for a baby gift. You should select the best quality products that you can afford and choose a combination of essential baby items and luxury gifts. Our adorable baby gift hampers are beautifully presented to impress and include the finest quality products to keep baby cosy and safe. Our baby hampers for little boys usually contain a lot of blue-themed products; this includes soft baby wraps, plush toys, newborn clothing, and baby books.
We know that keeping baby healthy and safe is always of the highest priority which is why we love including organic baby skincare, organic baby bath products, hooded towels, and more products that could be used to make bath time special. Our top suggestion for the best baby boy gift hampers is to include a range of gifts that are practical, comfy, and adorable so that mum, dad and baby are all happy.
What to Put in a Baby Girl Hamper?
Little baby girls are oh so sweet, and creating the perfect gift hamper for baby girls is such a special thing to do. We love our range of luxury baby girl gift boxes filled with the finest selection of gifts for the newborn baby girl and her lucky parents. Baby baskets that include soft pink baby wraps, or organic cotton growsuits with delicate pink designs are a treat. Little girls will also absolutely adore the cuteness of Sophie La Giraffe or her own 'My First Baby Shoes' with pink satin ribbon.
Our team selects the best baby girl clothes and toys, but also delightful baby books and special keepsake gifts to cherish. So, if you need some inspiration for a gift basket for a baby girl, be sure to get advice on what to include from the experts at The Hamper Emporium. We know that no matter which of our gorgeous baby hampers you choose to have delivered to the new parents, it will arrive beautifully presented and full of amazing gifts at an affordable price and all with free delivery.
Why The Baby Hampers From The Hamper Emporium Are The Best
When we're selecting products for our baby hampers, we ensure that each and every one is safe, high quality, practical for parents, and comfortable or fun for baby. We've done this by working with the world's best baby brands including eco-friendly Bubba Blue, Pure Baby, Sheridan Australia luxury linens, L'Occitane baby bath and skincare range, Whistlewood for natural timber baby toys and vegan leather baby shoes.
Inside our baby hampers, you will find essential baby items such as singlets and growsuits, but also more unique baby gift items to benefit the baby. These gifts include organic bubble bath, baby shampoos, teething rings, soft booties, mittens and warm winter beanies, and keepsake toys. Our baby hampers are also flexible where gender is concerned because we have numerous neutral hampers that could be gifted to both baby girls and boys. We also create customisable baby gift hampers that can be personalised. Choose stunning leather baby shoes embroidered with baby's initial for an extra special keepsake personalised baby gift.
If you need a present to welcome a new baby, a christening gift this year, or unisex baby shower present, be sure to browse our extensive collection of baby hampers. Plus, you'll enjoy FREE delivery Australia-wide with all our baby hampers.
What Are Australia's Most Popular Baby Shower Hampers?
We've spent many years perfecting our gift hamper options, including our sell-out baby hamper range. We're always trying new things, gauging feedback from our customers and their recipients and working with the world's best brands to create an ever-popular baby gift hamper range. We love sending baby shower hampers because we know just how special life is about to become for the lucky parents. These are our top recommendations for baby hampers 2020:
At The Hamper Emporium, one of our favourite baby gifts is our Ten Little Fingers Ten Little Toes Baby Hamper. This hamper includes wonderful gifts for mum and bub including the much-loved story book, Ten Little Fingers Ten Little Toes. Book gifts for baby are always wonderful, and popular author Mem Fox is a delight for storytime for babies. Our baby hamper experts have created a dedicated version of this gift hamper for girls and boys with personalised soft suede baby shoes in blue or silver glitter. This is a wonderful gift to send after the birth of a new baby. Mum will love the delicious caramel peanut brittle treats, and baby will feel soft and snug in their new organic cotton growsuit and wrapped in a cosy muslin wrap.
Peter Rabbit has been a favourite childhood character for generations, so it is no surprise that many baby toys and items are embellished with the likeness of Peter Rabbit and other Beatrix Potter characters. If you have been looking for an adorable hamper that is jam-packed with timeless Peter Rabbit baby accessories, then we recommend the Peter Rabbit Baby Hamper.
Bursting with the magic of childhood, the Peter Rabbit Baby Hamper in our collection contains everything Peter Rabbit lovers want. It contains a Peter Rabbit plush toy, storybook, baby bib, clothing, and even a food set. So, it is no wonder that the Peter Rabbit Baby Hamper is one of the most popular choices at The Hamper Emporium for celebrating baby's arrival.
For the ultimate baby hamper gift, you'll love our stunning Iconic Baby Essentials Hamper with bottle of Moët champagne. Send a gender-neutral baby hamper so it arrives in time to celebrate the birth of their new baby with a glass of champagne and premium gifts for mum and bub. This is the perfect baby gift for first time parents celebrating the much-awaited birth of their first child.
This gift basket includes everything baby needs with soft baby growsuit, baby wraps, newborn singlet, natural rubber teether, wooden rattle, plush teddy bear, vegan leather baby shoes, baby skincare, journal notebook, scented candle, plus yummy sweet treats for the parents and bottle of premium champagne. All the included baby gifts in neutral colours makes this gift suitable for a baby shower or if the parents are not revealing baby's gender until after the birth.
How Do You Wrap a Baby Hamper? We Do it For You Of Course!
The presentation of a baby hamper is just as important as the items inside, because we know first impressions count.
Fortunately, The Hamper Emporium takes care of your gift hamper presentation for you. Our customers don't have to worry about wrapping their baby gifts. We've spent over a decade as Australia's best-selling gift hamper experts and we've refined our entire product to create a beautiful custom keepsake baby gift hamper box wrapped in a ribbon. Our baby gift boxes are delivered safe inside our custom postage boxes. Our entire process from ordering, personalised baby cards, fast shipping, and gorgeous presentation ensures luxury at every step of the way.
Our baby hampers are always presented in a gorgeous keepsake box. The baby gift box usually has a neutral crème colour; this ensures that the hamper is suitable for both girls and boys. Of course, our baby boy gift hampers often will include a satin blue ribbon, and our baby girl hampers will often have a baby pink ribbon. Our unisex hampers are perfect with gender-neutral colours to suit the announcement of a baby boy or girl.
What Can I Do If I Cannot Decide on a Baby Hamper for Mum and Bub?
Can't decide on which hamper to send for a new baby? No problem, because The Hamper Emporium has an entire team at your disposal. Contact us for some additional assistance and some recommendations for baby gifts. We'll help you choose the baby basket that best suits you and the new parents. Each of our baby hampers are packed with love, so we're sure you'll find the perfect gift online to celebrate a new baby.
Don't forget, all our newborn baby gift hampers include free delivery Australia-wide. If you order online for a baby hamper Sydney delivery options include same-day dispatch and delivery Monday to Friday. Baby hampers Melbourne and Brisbane delivery are the fastest available, with express options to all states. Our standard delivery service for baby hampers Australia wide includes tracking, so you'll know when your gift for baby arrives.