Mildura Brewery Mallee Bull Beer 330ml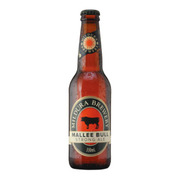 Strong ale with lots of flavour and strength from the Mildura Brewery, the perfect beer for someone that enjoys a little kick! Excellent ale with a full-bodied sweet malt character and fruity flavour, delivered by fermentation on high temperatures. The strongest ale in the Mildura Brewery range, includes an alcohol volume of 5.6% and medium bitterness.
A beer for the serious beer lover. With a strong cooper hue, it is powerful, full-bodied and flavour-filled. For the beer lover who craves an intense palette of full bodied flavours. An intense and full bodied combination of flavours, this is the perfect beverage for a beer expert to savour.
---