Monteith's Golden Lager 330ml (Greymouth, New Zealand)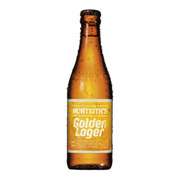 Delicious golden lager with mellow hop characters and cashew nut smoothness. Excellent golden lager from Monteith's, easy to combine with salmon and foods with a lighter flavour. Gorgeous lager with medium bitterness, alcohol volume of 5% and plenty of mellow hop characters.
Hops for a crispness that makes it a really refreshing beer, this Golden lager has a smooth malty character.
Smooth and refreshing, just how good beer should be, this is one of our beer hamper favourites.
A refreshing and smooth beer with just the right level of hops and malt to make it utter perfection.