Grolsch Premium Lager 330ml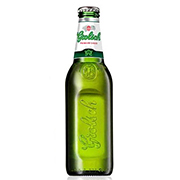 Dutch beer with a light golden colour and toasty notes, the perfect thirst-quencher. Exquisite lager from the Dutch Grolsch brewery, dating all the way back to 1615. Historic beer from The Netherlands with a toasty aftertaste and plenty of thirst-quenching power.
Deep gold colour with a white head, the nose is hoppy, with lots of pungent notes of toast. From the Netherlands. A toasty essence and a great white head. Simple and slightly complex, one they'll enjoy discovering. Toasty flavour that will leave them desiring more. With a decent white head you'd be pleased that you tried it. Thank us later!