Christmas Hampers

Our sellout Christmas hampers are back for 2020 Australia wide!
We are Australia's leading Corporate Christmas Hamper supplier for a reason. Year after year, we provide our happy customers with luxurious Christmas hampers at affordable prices. Whether you're searching for gourmet food and wine with a festive twist, a corporate Christmas hamper, or simply want to fill your own pantry during the holidays, we have the perfect hamper for you. Treat the important people in your life with a beautifully presented gift delivered straight to their doorstep.
Christmas Hampers Australia loves: Order now your Xmas hamper! All gift hampers include free delivery Australia wide. The perfect Christmas hamper to spread cheer and surprise someone special this Xmas with our Christmas range of gourmet hampers and gift baskets. Whether you're celebrating Christmas in Sydney, Melbourne, Brisbane, Perth, Adelaide, Gold Coast or Darwin, a beautifully presented Christmas gift basket filled with artisan delights is sure to impress!
Our best-selling Christmas hampers are delivered to thousands of homes and businesses each year packed full of exclusive products, personalised gifts and of course the world's most delicious food, wine and Moët and Chandon Champagne! Australia's highest quality Christmas hampers packed full of luxury gifts for every budget.
Gourmet Christmas Hampers are perfect for friends, family and colleagues. Need last-minute Christmas gift baskets and corporate Christmas hampers? With a range of next-day delivery options, we're experts in Christmas gift delivery. We love being Santa's helpers and spreading smiles across Australia.
We have perfected our entire range of gourmet hampers and gift baskets. From the elegant presentation through to the luxury gifts suitable for men and women that are found inside; our Christmas Hampers will be enjoyed by people from the age of 18 years to 99 years old. From an office Secret Santa to saying 'I love you' as a Xmas gift idea for parents, our hampers suit all types of recipients.
Whether you're looking to find the perfect gift for staff or colleagues, our tailored corporate hamper options are available online today. Check out our How-To and FAQ videos on YouTube or feel free to contact our helpful Corporate Branding Team on 1300 459 452.
As Australia's leading gift hamper provider, we've proudly delivered happiness to over 300,000 customers across Australia. We've created a range of stunning new Xmas hampers for 2020, so your festive celebrations can be done in style. You'll be more popular than Santa this year with a luxury Christmas gift hamper from The Hamper Emporium.
Xmas is our favourite time to celebrate at The Hamper Emporium. We love spreading smiles across Australia whether that be corporate gifting or special surprises for family and friends. Make the perfect impression with a luxury Christmas Hamper with free delivery, in stock and ready to bring joy. Don't miss out on our Same Day Sydney delivery options, our EXPRESS Shipping and our delivery cut off dates for all Christmas hampers. Find details below.
Updated 3rd Dec, 2020.
---
Complete Christmas indulgence in our luxury hampers Yes, here's a little marketing alarm bell from The...
Read Full Post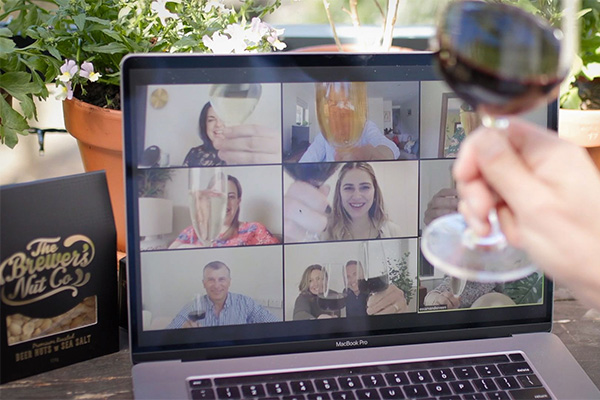 End of Year Office Party With A Difference For many workplaces December means celebrating your successes, p...
Read Full Post
Frequently Asked Questions regarding Christmas Hampers
Looking for Christmas Hampers in 2020?
You came to the right place. The Hamper Emporium specialises in Christmas hampers! Being the leading supplier of Christmas hamper baskets in Australia, you can undoubtedly find a Christmas hamper basket that meets your requirements as well as your budget. Check out the range of exquisite Xmas hampers today and benefit from our sharp prices and free delivery Australia-wide!
How soon do I have to order?
Even though we have extended our delivery time up to Christmas Eve this year, it's important that when ordering that you consider our estimated delivery times. All our gift hampers with free delivery can be upgraded to express and even same-day delivery options, but we can't stress enough that Christmas postage delays can happen, and do happen.
Do you offer Corporate Branding for Corporate Hamper orders?
The Hamper Emporium offers a wide range of corporate branding options across Australia.
Do you offer Bulk Christmas Hamper orders?
Yes, we do. Whether it's a gift for clients, or a Christmas gift hamper for staff, they'll be impressed from the moment our custom-designed delivery box arrives at their doorstep. For bulk orders we have corporate account managers on stand by to help with your order.
Can I create my own Christmas hamper?
Here at The Hamper Emporium, we've listened to our customer's dreams and wishes over the last decade, and when they told us that customised gift hampers were high on the list of most wanted hampers - we listened!
If you're looking for something extraordinary whether it's a Christmas hamper or a special gift for Mother's Day, Father's Day or birthdays and congratulations hampers, by choosing one of our personalised gift hampers, you can customise one of our quality genuine leather gift accessories with beautiful embossing to make a one-of-a-kind gift for someone special.
For our business hamper options, we offer a vast range of corporate branding. Corporate branding can include branded ribbons, branded luxury gift boxes, personalised gift cards, and even custom engraved accessories to create a truly personalised corporate gift idea. To learn more about the corporate branding available for businesses, please refer to the corporate hampers section on the homepage. Our branded corporate hampers are available for Christmas and year-round.
Do you offer gift cards with your Christmas Hampers?
Yes, we do! A gold gift card accompanies each of the hampers at the Hamper Emporium; this card is included in the price of your gift basket and can be personalised with a message of your choosing.
All gift boxes include a free personalised gift card, and customising it is simple. During the checkout process, enter your message into the allocated field, and your personalised message will be printed on the card and included with your gift hamper.
We also offer a selection of premium gift card upgrades, so that whether it's Christmas or another special occasion, you'll find the perfect gift card to match. All our premium quality festive hampers are delivered in luxury gift boxes. Our custom designed hamper boxes are perfect for storing keepsakes and are the ideal gift for your loved on this Xmas.
Why Choose The Hamper Emporium for your Christmas Hampers in 2020?
Updated 3rd December 2020
Christmas hampers are guaranteed to bring a smile to their faces are right here at The Hamper Emporium. We're the proud creators of Australia's favourite Christmas gift hampers a title we've earned through passion and our commitment to delivering the finest selection of products over the last decade. If you have been looking for Australia's most beautiful festive hampers for Christmas, you've just discovered the perfect solution with The Hamper Emporium.
Christmas is a time for giving, sharing and celebrating, so if you've been searching for a luxurious and unique gift for someone special this Christmas, then we're guaranteed to have the Christmas hamper of their dreams in stock and ready to deliver from our Sydney warehouse.
We've developed partnerships with the world's most delicious brands so that our Christmas gift hampers stand out for their quality and elegance and are guaranteed to impress even the fussiest Christmas recipient. Beautifully presented luxury gift boxes are finished with elegant satin ribbon, lined with stunning embossed tissue paper, or for our most impressive gift hampers, presented in a custom-crafted wooden gift hamper box.
Gift hampers are the perfect hamper idea for the office, colleagues, and just as spectacular for friends and family, because everyone knows that Christmas food should always be indulgent and festive, which is why having a hamper delivered this Christmas makes so much sense. If you're tired of searching for a gift that isn't just about 'stuff' but something offering quality and sophistication that will be appreciated, a gourmet hamper is the perfect choice.
Enjoy FREE delivery Australia-wide with your order. Connecting people is our mission, so we strive to take all the stress and fuss out of the festive season. Does your recipient live interstate? Our trusted delivery partners will ensure their Christmas hamper is delivered safe and sound. It has never been easier to share treasured moments with loved ones both near and far.
We believe in affordable luxury, which is why you can find a Christmas hamper to suit any budget. Whether you're gifting for customers, staff, family, friends, or even a Kris Kringle, we have a festive hamper that they will adore. Are you having trouble deciding? Get in contact with our friendly Customer Service Team—they will use their expertise to help you find the perfect gift for every recipient.
Christmas is busy enough without another task added to your endless 'to do' list. That's why we have spent the entire year carefully curating a selection of festive hampers full of the highest quality products. We hand pick every item so you don't have to! From gourmet Christmas snacks and sumptuous chocolates to bottles of world-class wine and savoury treats, we only select the best. That's why our happy customers come back to us year after year.
Speaking of which, our Christmas hampers are always a sellout success, so don't leave your gifting to the last minute! Order early to save yourself disappointment. Corporate customers can get 10% off* with our Christmas early bird special. What's not to love? Get in touch with one of our corporate account managers if you want to find out how to make corporate gifting work for you.
Best Christmas hampers for 2020
While it's hard to choose just one favourite, there are a few Christmas hampers in our new range that are already turning heads:
Champagne Festive Hamp
Everything But The Ham Hamper
A Cape Mentelle Christmas Hamper
Christmas Bites Hamper
Christmas Epicure Hamper
There is no one answer to this question. Traditionally Christmas hampers have been packed full of delicious food to share over the holiday season. Here at The Hamper Emporium, we source only the finest gourmet nibbles to line our hampers. We believe that everyone deserves a splash of luxury in their lives!
Another popular Christmas hamper item is wine. Well, it's safe to say that we have taken this point rather seriously. We look to the renowned wine writer and critic James Halliday to guide our wine choices. In fact, most of the drops we select have been awarded 95 points or more from the man himself! We're also a little obsessed with fine champagne, so you'll find the likes of Moët & Chandon and Veuve Clicquot in our Christmas hampers too.
Some gift hamper basket ideas include:
Food theme
Gardening theme
Crafting theme
Spa hamper
Movie-themed hamper
Tea or coffee theme
Sports themed hamper
Absolutely! We are Australia's leading provider of luxury gift hampers. They make fantastic gifts for friends, family, colleagues, and clients. Whether you're looking for a hamper at Christmas or year round, we have a handpicked solution for you.
A Christmas hamper is a gift that's bound to bring a smile to your recipient's face! Traditionally, it's an assortment of items put together in a gift box. This could include perishable products such as food or wine, or even keepsake gifts like notebooks or accessories. Our Christmas hampers are affordably luxurious—we have a range of delicious combinations at a variety of price points so you can spoil everyone on your Christmas list.
If you feel like your Christmas list is endless this year, you're not alone. We recommend writing each recipient down and deciding who you want to go the extra mile for. Close family like your partner, parents, kids, or grandparents may be at the top of your list. You might also have a professional list. From your boss to your clients, it's important to keep your work relationships in mind too this festive season.
Absolutely! The benefits of corporate gifting are endless—whether it's consolidating your brand or keeping you top of mind well into the New Year, your return on investment will be high. Our hampers are all professional and luxurious. We even have corporate branding options that are bound to make your gift unforgettable.
Yes. In fact, our gourmet food and wine range is beloved across Australia! Our customers deserve only the best, so we search far and wide to give them just that. For Australian wines, we are guided by the renowned wine writer and critic James Halliday. If he's awarded a drop 95 points or above, you may well find it in your hamper! We also have partnerships with world-class champagne houses Moët & Chandon and Veuve Clicquot. There is nothing more indulgent than opening a bottle of chilled champagne, which is why we've designed a fantastic range of hampers with bubbles.
Each recipient is so different, so we recommend tailoring your choice to them. What are their tastes and preferences? If you're not sure, we also have a range of classic hampers that are bound to delight almost everyone. If you're having trouble deciding, reach out to our friendly Customer Service Team! With many years of experience under our belts we can help you choose the perfect Christmas hamper for everyone on your list.
There's a reason why sweets are often associated with special occasions—what better way is there to indulge? Christmas is just another excuse to whip out the candied nuts, sweet cakes, and fruity bottles of bubbles. If your recipient fancies all things sweet, we have a range of Christmas hampers that will hit the spot.
Yes, absolutely. We also offer FREE delivery Australia-wide with every gift hamper order! No matter where your recipient is in the country, our trusted delivery partners will work hard to ensure their hamper is delivered safe and sound. It has never been easier to spoil everyone on your Christmas list.
Yes, you can. If you're ordering more than six corporate Christmas hampers you can download our Bulk Order Form for simplicity and ease.
Our expert team has carefully curated each Christmas hamper so you don't have to. While we don't offer customised hampers, we are confident you will find something special for every recipient on your list.
Corporate branding is one of our specialities here at The Hamper Emporium. Browse our branding options and find out why our corporate clients are so thrilled with this service.
Yes, of course! Either select our FREE gift card option at checkout, or upgrade to a premium gift card. Either can be customised with your own personal message.
We have a range of corporate branding options that can be tailored to suit every budget. Reach out today to get a tailored quote from a member of our corporate team.
Our expert team of hamper designers has designed each box to be a comprehensive experience. While we don't currently offer customised hampers, you're bound to find the perfect gift for every recipient in our range.
Each of our hampers contains a collection of only the finest products. From gourmet food and delicious wine to world-renowned skincare, we handpick each item based on quality.
We understand how essential a prompt delivery is when you're planning the perfect gesture. Use our Delivery Calculator to find out timeframes and delivery options. We are proud to offer Free delivery Australia-wide to help take the extra fuss out of gifting.
Each hamper is expertly packaged to ensure safe delivery. With the help of our trusted delivery partners, we work tirelessly to make sure your gift hamper is delivered safe and sound.On the rare occasion that your gift hamper has arrived damaged, please contact our Customer Service Team with the details as soon as possible so they can rectify the situation.
When your order is dispatched, you will receive a dispatch notification email with courier tracking information that will allow you to track the progress of the delivery. You can also track your order here using your order email address, order number and delivery postcode.
Christmas hampers usually contain tasty food items such as seasonal favourites, Christmas pudding, mince pies, spiced preserves, biscuits, chocolate, and cheese. Among the sweets and savouries, many of them also contain bottles of wine or, for non-alcoholic hampers, tea, coffee or cocoa.
A Christmas hamper is a traditional gift containing small nonperishable food items, particularly seasonal favorites such as fruitcake or plum pudding, chocolate, nuts, jams, biscuits, honey, smoked or dried meats, and cheese. A fresh hamper contains perishable items such as fruits, baked goods, or flowers.
The pamper hamper is the ideal gift for mums who love to be pampered and relax this Christmas. This hamper contains soaps, body lotions, essential oils, candles and teas.