Chocolate Christmas Hampers
Author: Nicole Adler Date Posted:8 April 2015


Chocolate Christmas Hampers
Christmas is said to be the busiest season of the year. People send out gifts and cards to one another and in some cases, extravagant items that can melt the receivers' heart. This is why the Hamper Emporium created a lot of chocolate Christmas hampers to cater the needs of people who have been practicing the tradition of extravagant gift giving during Christmas. What do you think is the best gift; the impressive gift that can still be considered as an all time favourite gift hamper of most online shoppers today? The sure-fire answer would be chocolate Christmas hampers, and there's only one place to purchase the sweetest
chocolate Christmas hampers
and it's from the hottest online hamper site of this season, the Hamper Emporium.
Worthy Chocolate Christmas Hampers for Special Someone
The Hamper Emporium has tons of Christmas hampers to offer all holiday shoppers, and if you're looking for the best chocolate Christmas hampers, here are some that will really make you salivate for sweetness.
1. Luxury Chocolate & Bollinger Hamper
- A luxurious and touching hamper that can certainly swells up the receivers' heart is this Luxury Chocolate & Bollinger Hamper. This chocolate Christmas hamper is a joy to give and receive from someone because of its French champagne, biscuits and peanuts and above all, the sweet chocolates in varying blend. Giving away this absolutely sweet hamper makes you a certified sweet person who certainly knows how to make someone smile during Christmas.
This hamper is free of delivery charge wherever you are in Australia. However, you have to note that there are cut off dates if you want your gift hamper to arrive on time for Christmas. Priced for $199, this hamper oozes with sophistication and that's all because of its Bollinger champagne, the branded biscuits of Maison Fossier and the unbeatable tasty peanuts of Morgan & Albert's. Of course, this hamper wouldn't be complete without the magic products, Butlers Handmade Chocolates!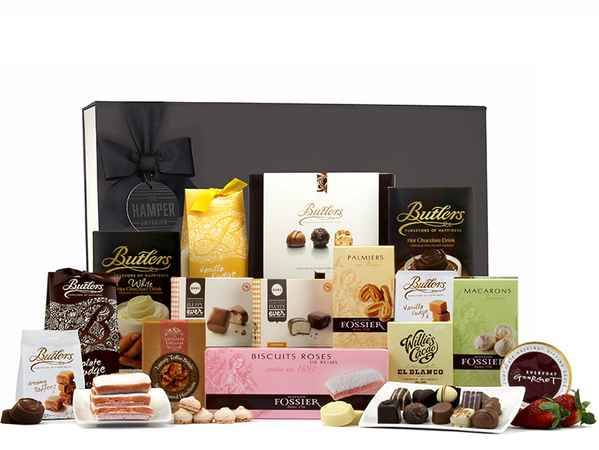 2. Luxury Chocolate & Champagne Hamper -
Undeniably, many are still going crazy over the combination of a champagne gift paired with sweet chocolates and truffles that are mouth watering and heavenly delicious. The Hamper Emporium brings to you the most sought after chocolate Christmas hamper online, the Luxury Chocolate & Champagne Hamper. For as low as $189, you will already have a taste of the world's most in demand champagnes, the very popular Veuve Clicquot Yellow Label. What's even enticing about this hamper is the fact that it can be delivered for free anywhere within Australia.
To put you on cloud 9, the Hamper Emporium offers 2 Butlers Handmade chocolates you'll never forget. One is packed in 100g packaging and the other in 160g handmade chocolate in dark and white blend. Oozing with perfection, these Butler chocolates are must haves during Christmas. To complete this hamper, it comes with the popular macarons of the Maison Fosier along with its Palmier Pastry and the deliciously prepared Sugar Candied Peanuts of Morgan & Albert's.
3. Chocolates & Red Hamper with Premium Shiraz -
Reasonably priced at $139, this hamper is highly recommended to those who would like to celebrate Christmas and for it to be affordable. This hamper proudly contains the best red wine coming from the McLaren Vale Shiraz which is considered as an award winning region when it comes to wines. Aside from the 2009 Scarpantoni wine, it also includes the chocolate chip pastry of Maison Fossier in 125g pack which adults young at heart would certainly love to take a bite.
Because it's Christmas, chocolates will never be forgotten. Despite having the price of $139, this hamper has four varying chocolates to offer such as the Butlers handmade collection of dark and white yummy truffles and Red Floral Ballotin, a piece of hazelnut and raisin from Willie's Cacao, and Fardoulis's Chocolate Plato in a 150g pack. All these branded chocolate delights are yours for such an affordable rate.
4. Chocolates & Red Xmas Hamper -
Another best hamper to purchase during Christmas is the Chocolates & Red Xmas Hamper. Red is indeed the color of Christmas and to make it a joyous occasion, why not send away this hamper, creatively assembled and on a wooden box only for the price of $112. For such a low price, it already comes in a complete package; it presents you with a world class wine, bunch of impeccable tasty chocolates from Butlers Handmade, Willie's Cacao and Fardoulis. All these yummy delights can be delivered right at your door step without paying for any delivery fee.
5. Sweet & White Hamper -
One of the lowest priced chocolate Christmas hampers that comes with not just a sweet but also a creamy Callebeut chocolate made of 35% cocoa solids from Fardoulis is the Sweet & White Hamper for only $99. What most online shoppers love about this chocolate Christmas hamper is it's filled with savoury items, biscuits and sweets in not just one or two pieces but as much as 4-6 pieces of biscuits and savoury stuffs all branded and of high quality.
If you want to be the sweetest of all, the Hamper Emporium can definitely make that happen for you. With the sites chocolate hampers for this Christmas season, it wouldn't be impossible for you to impress and delight your special someone. For an affordable price, who would have thought that extravagant hampers are made easily available for anyone within Australia, to think that these hampers can be delivered for free?
Yes, you heard it right, these chocolate Christmas hampers and more from this site is just few clicks away. So if you want to give the sweetest hampers, it's the right time to check on the Hamper Emporium and choose from the many options of chocolate Christmas hampers without any regrets. Just make sure to check on the cut off dates provided by the Hamper Emporium to ensure that your hampers will arrive right on time. Depending on your location, cut off delivery dates may vary. In general, make sure to place your order prior to December 15, 2015 to be certain your chocolate Christmas hamper will be received without any delays.