What Are The Best Gift Ideas For Christmas This Year?
Author: Nicole Adler Date Posted:23 March 2019


Finding that perfect gift for a relative or a friend is probably a priority for you during the holiday season, but that does not mean that finding that perfect Christmas gift is easy. The Hamper Emporium tries to make things easier for customers this holiday season by providing a range of amazing Australian Christmas hampers.
When you need some inspiration, we urge you to check out the overview of Australian Christmas hampers below. We have picked out some of our best Australian Christmas hampers, perfect for your friends and relatives this Christmas!
What Is the First Great Gift for Christmas?
One of our favourite Australian Christmas hampers for the holiday season is the Christmas Foodies with Moet Hamper, a luxurious hamper that contains our finest gourmet nibbles and a fine bottle of Moet & Chandon Brut Imperial NV Champagne.
There are many champagnes in our Australian food hampers that are excellent for the holiday season. However, if you are not sure which champagne your recipient prefers, you cannot make a safer choice than the Moet & Chandon Brut Imperial NV Champagne from our Australian food hampers. Not only is the Moet & Chandon Brut Imperial one of our most popular champagnes, it is also one of the most popular champagnes in the world! It is also the flagship champagne of the Moet & Chandon label, so you cannot go wrong by choosing one of the Australian food hampers containing this bottle of bubbly.
At The Hamper Emporium, customers can find more Australian food hampers containing the Moet & Chandon Brut Imperial; this includes Australian food hampers such as the Moet & Christmas Cake and the Pure Gold Luxury Christmas Hamper. For more options, be sure to check out our Australian food hampers catalogue.

What Is the Second Great Gift for Christmas?
As we mentioned briefly earlier, there are more Melbourne Christmas hampers with a lovely bottle of champagne. Some of these Melbourne Christmas hampers also include a nice selection of chocolates; this includes the Luxury Chocolate & Veuve Hamper.
The Luxury Chocolate & Veuve Hamper from the Melbourne Christmas hampers catalogue includes a bottle of Veuve Clicquot Yellow Label NV Champagne. The bottle of champagne is characterised by hints of brioche and vanilla, two flavours that do well during the holiday season.
Inside the Luxury Chocolate & Veuve Hamper, customers can also find a delightful selection of premium chocolates. We have selected premium brands such as Ernest Hillier, Willie's Cacao, and Butlers Irish Chocolates. The Luxury Chocolate & Veuve Hamper from the Melbourne Christmas hampers catalogue also includes some typical Christmas treats such as The Woods Farm Shortbread!
What Is the Third Great Gift for Christmas?
There is plenty of luxury in our Melbourne Christmas hampers range. While there are many luxurious options to choose from, one of our favourites is the Luxury Christmas Icons Hamper. Inside this hamper, customers will find the ultimate selection of Christmas treats; this includes award-winning salted caramel sauce from Black St. Gourmet.
In addition to traditional Christmas treats such as shortbread, chocolate-covered treats, and handmade Christmas cake, we also included a bottle of Moet & Chandon Grand Vintage Champagne. A Grand Vintage Champagne is made with the best grapes from an exceptional harvest of that year, so it is certainly a recommendation for champagne lovers across Australia.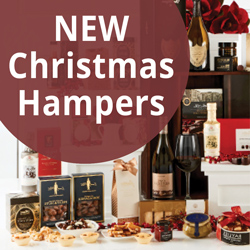 What Is the Fourth Great Gift for Christmas?
At The Hamper Emporium, we provide Christmas hampers with outstanding wines and champagnes, but we also have Christmas gift baskets with exquisite beer selections. One of the gift hampers is the MicroBreweries of Australia Hamper, delivering some of the finest craft beers in Australia.
The MicroBreweries of Australia Hamper includes Burleigh Brewing My Wife's Bitter, Lord Nelson Three Sheets Pale Ale, Murray Craft Brewing Co. Angry Man Pale Ale, Bridge Road Brewers Pale Ale, and Feral Brewing Hop Hog Pale Ale. Inside this gift basket, you can also find complementary nibbles from brands such as Gourmet Regional, Valley Produce, Kangaroo Island, and the Brewer's Nut Company. So, if your recipient prefers a nice selection of beers over the holidays, then this hamper will be the recommended choice.
Why Should I Choose The Hamper Emporium to Find the Best Christmas Gifts?
The Hamper Emporium provides the biggest range of quality Christmas hampers. We also provide additional services and even some lovely deals over the holidays, this includes a free standard delivery on all our gift baskets. We even extended our delivery time up to Christmas Eve, so you can order your Christmas hampers a little later this year if you wish to do so.
Do you have a question about one of the Christmas hampers available at The Hamper Emporium? Or do you need expert gift advice for a friend or a family member? Get in touch with The Hamper Emporium for some assistance.