Buyers' Guide to Purchasing the Best Christmas Hampers!
Author: Nicole Adler Date Posted:23 March 2019


When you hear the bells ringing, Christmas carols being sung in the city, there is no wonder that the joy of the Christmas season is finally here! Soon, families and friends will gather to celebrate this season of gift-giving. But wait! Have you got any idea what to buy your loved ones this Christmas season? Well, do not worry because here at Hamper Emporium, we have got the best Christmas Hampers including Australian food hampers which your loved ones are bound to enjoy!
Why Are Your Best Christmas Hampers Great Christmas Presents?
There are times when this season of gift-giving becomes stressful. Oftentimes, we would not have any idea on what to get our loved ones for this truly special occasion because of various reasons. It could be that you have always been giving this person a gift every year that you have already ran out of ideas on what to give him or her. It could also be that this person has been away for a while now and you are not quite sure what his or her interests are nowadays. Whichever the reason is, the best Christmas hampers from the Hamper Emporium will surely take your stress away. Choose from our wide variety of Australian Christmas Hampers, Sydney gourmet hampers, or Melbourne Christmas hampers, perfect for any person who loves food!
They say the way to a person's heart is through his or her stomach. If that is so, what better way to show your loved ones how much you care, than with the best Christmas hampers filled with goodies? Our Australian food hampers will be a sure hit this Christmas season. Our Australian Christmas hampers will be loved by whomever is going to receive them. With our years of experience bringing people Australian Christmas hampers, our clients are never left disappointed.

What Should I Remember When Selecting Australian Food Hampers for Christmas?
Here at Hamper Emporium, we have got a wide selection of Australian food hampers which will surely suit the taste of your loved one. You can choose from a wide range of Australian food hampers, which each bring something original to the Christmas table. Whichever hamper you choose to buy for your loved one, that hamper will surely show thoughtfulness and sincerity to him or her.
If the woman receiving the Christmas hamper is a fan of luxury, check out our Pure Indulgence Hamper. One of our true classic Australian food hampers here at Hamper Emporium, the Pure Indulgence Hamper contains all the indulgence an elegant woman looks for. This hamper contains a 750ml bottle of Moët & Chandon Brut Imperial NV Champagne, cosmetics, and a countless number of Christmas-themed nibbles.
For a simpler hamper for men and women, which will surely tickle their sweet tooth, check out the Sweet Epicure Hamper. This hamper is perfect for the modern sweet tooth, bringing chocolate and sweets from Morgan's, Willie's Cacao, Butlers Irish Chocolates, and the Woods Farm.
Do not think that Australian Christmas hampers are only for adults because here at Hamper Emporium, we have got Christmas hampers for the little ones. Check out our Natural Collection Baby Hamper which features a set of all organic baby products especially made for newborn skin. The Christmas hamper includes fabrics, baby shampoo, bubble bath and more – 100% organic, environmentally-friendly and good for your baby's sensitive skin. Of course, these Australian Christmas hampers are also suitable for births and christenings.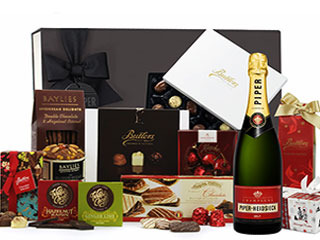 What Are the Recommended Sydney Gourmet Hampers with Chocolate This Holiday Season?
If you are looking for Sydney gourmet hampers for loved ones who have got a sweet tooth, then check out our Sydney gourmet hampers with the finest chocolate selections. These will surely tickle the taste buds of your loved ones who love chocolate treats!
Australia's Finest Sparkling & Chocolates Hamper features the country's most awarded sparkling wine from Brown Brothers. For an affordable price, the recipient will be able to taste Brown Brother's Methode Traditionelle King Valley and accompany it with biscuits and sweets. Chocolates include Butler's Handmade Chocolate Collection – a must-try variety of Irish Butlers Chocolates, Willie's Cacao Peruvian 70% Dark Chocolate with hazelnut and raisin, and Butlers Red Floral Ballotin Chocolate Selection of white, milk, and dark chocolate which come in a beautifully wrapped box.
For the woman who loves chocolates and the colour pink, the Jurlique Pure Indulgence is a great present for her; this hamper from our Sydney gourmet hampers collection is not only designed to provide some gourmet enjoyment, it also delivers some outstanding cosmetics!
With cakes, biscuits, a wine, and a variety of delectable chocolates, the Christmas Delights Hamper will surely make this season more memorable for your loved one. This special hamper includes a traditional Christmas cake and Australian gourmet biscuits by Baylies Epicurean Delights, perfect for this season. The receiver will also enjoy a 750ml bottle of Devil's Corner Tasmanian Pinot Noir. He or she will also indulge on a variety of premium chocolates, also included in this hamper.
When Is the Cut-Off Date for Australian Luxury Gift Hampers at the Hamper Emporium?
In the previous years, we always implemented a cut-off date for the holiday season; this ensured customers received their Australian luxury gift hampers with plenty of time to spare. However, this year, we will deliver our Sydney gourmet hampers up to Christmas Eve; this is excellent news for customers who forgot to order their Christmas gifts!
Hamper Emporium's customers can enjoy much more benefit this year, because we also provide our customers with a free delivery on Australian hampers. To use your free delivery on Australian hampers, simply head over to the checkout and select standard delivery.
Do you have a question about one of our outstanding Sydney gift hampers? Or do you need a recommendation from the Australian luxury gift hampers collection? Whichever it may be, do not hesitate to contact the Hamper Emporium for assistance.