The Hamper Emporium – Christmas Star & Chocolates Hamper
Author: Nicole Adler Date Posted:23 March 2019


If you want to sweeten up your friends and family this Christmas, the Christmas & Chocolate Hamper from our Australian Christmas hampers collection is the best choice for you. Presented in an eye-catching packaging, this hamper from the Australian Christmas hampers catalogue contains a variety of deliciously prepared sweets such as Butler's Irish Chocolates, Morgan's snacks, and Brown Brothers Pinot Noir Chardonnay Pinot Meunier.
Bring the magic home this year with our Australian Christmas hampers. From the iconic classics to the new additions, we provide a range of Australian Christmas hampers that are sure to delight both the young and the young-hearted. What's more, if you have been looking for new Australian Christmas hampers, worry no more. We got the best and most delicious treats in our latest chocolate hamper, the Christmas & Chocolate Hamper!
Which Chocolates Were Selected for the Christmas Star & Chocolates Hamper?
At the Hamper Emporium, we understand that quality is key for each of our Australian food hampers. So, we ask the question, who else offers super-popular chocolates other than Butlers Irish Chocolates? In this hamper, we have chosen to include chocolate from this Irish company due to their reputation, prominence, and production of high-quality chocolates. Butlers is known for its exceptional chocolate delicious flavours and creative shapes, making them the perfect addition to our Australian food hampers this Christmas.
For our improved Christmas Star and Chocolate Hamper from the Australian food hampers collection, we decided to include the Butlers Chocolates Christmas star; 150g of Butlers Chocolate Gold infused with Caramel Truffles and Honeycomb. This Christmas star can be used for decoration purposes that will surely surprise you. "But how is it going to surprise me?" you might ask. When you use this Christmas Star as your Christmas tree decoration, you will find that all the chocolates hidden in the star must be eaten. Eat yours fast before all are gone! Besides, this keepsake Christmas chocolate can also serve you in other occasions such as Valentines, anniversary celebrations, and other special occasions where you can use one of our best Australian food hampers.

Which Wine & Champagne Were Selected for the Christmas Star & Chocolates Hamper?
The Christmas Star & Chocolates Hamper from our Australian food hampers collection includes something unique, since we have decided to add a unique touch by choosing an excellent chardonnay from Brown Brothers Pinot Noir.
For those already familiar with our best Christmas hampers, you would have noticed that this classic sparkling wine pops up in many of our best Christmas hampers. Why? Because most of our customers like it, and it gives it that classic feel. Most importantly, the reason why Hamper Emporium uses this wine from the prominent winery Brown Brothers is that it has earned a lot of awards here in Australia, meaning that it is one of the best sparkling bottles around. With that in mind, we are guaranteed that this choice won't disappoint!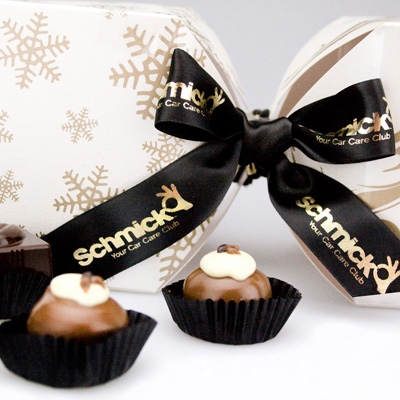 Which Biscuits and Sweets Were Selected for the Christmas Star & Chocolates Hamper?
Aside from the excellent choice of sparkling and chocolates, we decided to include some of the most delicious sweets and biscuits to complete our hamper. The Hamper Emporium has a great trust in Morgan's products for its best Christmas hampers. This company is reputable for the manufacture of the best sweets and biscuits not only here in Australia but also in many other regions of the world.
For the Christmas Star & Chocolate Hamper in our best Christmas hampers collection, we selected Morgan's Milk Chocolate Pretzels, irresistible sweet and salty pretzels that are covered with premium milk chocolate. This product is also manufactured locally. We also included Morgan's Honey Roasted Peanuts from the classic variety; these delightful crunchy peanuts are dusted in 100% Honey from our local farms. Like the Milk Chocolate Pretzels, these too are manufactured in Sydney.
With this hamper from our best Christmas hampers collection, you will be able to treat yourself and your loved ones to an assortment of delicacies. And the best thing is, they are guaranteed to please! We provide the finest Australian luxury gift hampers at very affordable prices - because we know how important it is to show care for your colleagues, friends, and family. And thanks to the partnership we have with local food producers and distributors, we offer you finest quality at an excellent value.
How Long Does the Delivery of Australian Luxury Gift Hampers Take?
Delivery times can vary by your location. If you do not live in a major city and quite a bit removed from our warehouse, the delivery of your Australian luxury gift hampers can take a little longer. Therefore, we recommend that customers check the estimated delivery times on the product description page.
Even if you live a little further from the Hamper Emporium warehouse, there are still many reasons why you should choose one of our Australian luxury gift hampers. Not only do we deliver up to Christmas Eve this year, you also get a free standard delivery with each of the Australian luxury gift hampers in our catalogue!
Do you have a question about our luxurious Christmas hampers? Need some additional information about delivery options? For more info, do not hesitate to contact the Hamper Emporium team via telephone or email.