What Are The Contents Of A Christmas Hamper?
Author: Nicole Adler Date Posted:29 August 2018


What Are the Delivery Cut-Off Dates for Christmas 2018?

EXPRESS DELIVERY - Cut-off dates for guaranteed delivery by Christmas 2018
Sydney Metro - Monday 24th December 2018 (order by 9 am)
Major Australian cities - Friday 21st December 2018 (order by 1 pm)
All regional and/or remote locations - Tuesday 18th December 2018 (order by 1 pm) CLOSED

STANDARD DELIVERY - Cut-off dates for guaranteed delivery by Christmas 2018
Sydney, Canberra, Newcastle & Wollongong - Thursday 20th December 2018 CLOSED
Brisbane, Melbourne, NSW, VIC, QLD towns - Wednesday 19th December CLOSED
Adelaide, Perth, Hobart, NSW, VIC, QLD country - Monday 17th December CLOSED
Darwin, SA and QLD country - Friday 14th December CLOSED
Major towns WA - Wednesday 12th December CLOSED
Remote areas QLD, WA, NT, TAS CLOSED
What Champagne Brands Can I Find in Hamper Emporium's Christmas Hampers?
Hamper Emporium has selected some of the finest champagnes from French champagne houses. These champagnes include the Moet & Chandon Brut Imperial, the Veuve Clicquot Yellow Label, the Piper-Heidsieck and the Bollinger Special Cuvee.
Moet & Chandon Brut Imperial is one of the finest champagne coming from the French Champagne region. It contains approximately 40% of pinot noir grapes, 30 % of pinot meunier grapes and 30% of chardonnay. Each glass of Moet & Chandon champagne delivers complexity, elegance and constancy, so it is a recommendation for champagne lovers all across the world.
Customers who want a champagne that reflects French vineyards should choose the Veuve Clicquot Yellow Label NV Champagne. It is a consistent champagne created from approximately 60 crus. The champagne house itself is located in Reims, one of the biggest cities of the French champagne province.
Another excellent champagne choice in our range is the Piper-Heidsieck. The Piper-Heidsieck Cuvee Brut was created from more than 100 crus and delivers a very fine bubble appreciated by even the harshest champagne critics. The champagne has a prominent fruit flavour, so the champagne goes remarkably well with a variety of gourmet foods.
The last French champagne you can find in Hamper Emporium's range of Christmas hampers is the Bollinger Special Cuvee. The Bollinger Special Cuvee is created with crus that have a premium or a grand cru status, providing a champagne of outstanding quality. The mousse of the French champagne is light but persistent. So be sure to try this champagne when you get the chance.
By providing our customers with a large champagne variety, we are sure everyone can find the perfect champagne for their Christmas celebrations. Of course, we do not offer champagne alone, since we also have a good selection of sparkline wine!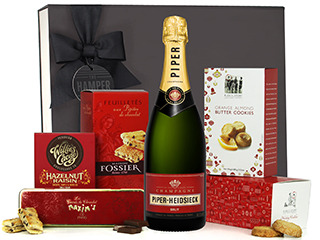 What Kind of Chocolate Can I Find in Hamper Emporium's Christmas Hampers?
Hamper Emporium has some excellent chocolate treats waiting for you this year. For 2018, we have selected three prestigious chocolate brands that each have something unique to offer. These outstanding chocolate brands are Butlers Chocolates, Ernest Hillier and Willie's Cacao.
Butlers Chocolates is an Irish chocolatier that was founded as early as 1932. Marion Butler had a vision when she created Butlers Chocolates, more specifically providing handmade confections in Ireland. Her vision became the vision of the Irish people as well, because her chocolates were received with love.
The Butlers Chocolates company was eventually taken over by another family, but they maintained the tradition and the recipes Butlers Chocolates was famous for. Now, Butlers Chocolates is the largest chocolate distributor in Ireland and supplies gift boxes with delicious chocolates all over the world.
Ernest Hillier is another favourite from our range of Christmas hampers because this chocolate brand is purely Australian. Ernest Hillier is known for their chocolate-covered treats too; this means you get more than just pure chocolate confections when you see this brand in a Christmas gift basket.
The last chocolate brand you will find in our hampers is Willie's Cacao. If you are a fan of reality TV, it is highly likely you are already familiar with this chocolate. The creator of Willie's Cacao and his family have been followed by a reality TV show and acquired worldwide fame because of it.
However, the appearance on reality TV was not the only reason for the success of Willie's Cacao, because this chocolate is made with exotic cacao beans and provide some unique flavour combinations. Have you always wondered how chocolate from Peru tastes like? Then be sure to get one of our Christmas hampers containing Willie's Cacao chocolate squares.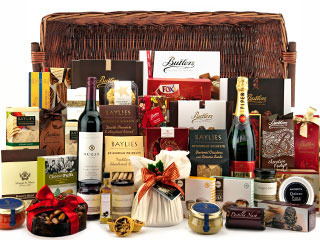 What Biscuit Brands Does Hamper Emporium Prefer?
When we need to choose biscuits for our gift hampers, we are showered with a world of choice. Still, only the best is good enough for our selection of Christmas hampers, so we have some exquisite biscuits to offer you this year.
To ensure a good range of flavour, the Hamper Emporium chooses national as well as international brands. One of our favourites during the holiday season is very much Australia, more specifically the Woods Farm.
The Woods Farm is an Australian brand, delivering some Aussie favourites for the Christmas season. Their shortbread is made from the best Australian butter and that fact certainly reflects in the flavour of this amazing shortbread.
Want more biscuits on your plate this holiday season? Check out some other brands in our Christmas gift baskets! From Baylies Epicurean Delights to Partridges Artisan Bakehouse, you can find them all at the Hamper Emporium!