What Are the Best Corporate Gift Hampers for 2019?
Author: Nicole Adler Date Posted:23 March 2019


Are you searching for corporate gift hampers for Christmas 2019? Look no further, because the Hamper Emporium has exactly what you need! In our extensive range of gift hampers, you can find suitable corporate gift hampers for your important business relations or employees. Curious what corporate gift hampers we can offer you? Read our overview below to discover our most popular Australian Christmas hampers for corporations.
What Is the First Suggested Hamper for Corporations?
One of our most popular corporate gift hampers is the Deluxe Christmas Hamper, which is often obtained as a staff reward by large businesses. Inside these Australian Christmas hampers, recipients will find a tremendous selection of gourmet products from well-known Australian and international brands, but also a bottle of Cape Mentelle Margaret River Shiraz, Cape Mentelle Wallcliffe Semillon Sauvignon Blanc, and Dom Perignon Brut Vintage.
The Deluxe Christmas Hamper is not only one of our finest corporate gift hamper, because this hamper is also considered as one of our best chocolate hampers, since this hamper contains numerous chocolates from Butlers Irish Chocolates. In addition to that, these deluxe chocolate hampers also contain bags of assorted fudge and caramel truffles, so your staff will be able to enjoy some delightful sweet treats during the next office party.

What is the Second Suggested Hamper for Corporations?
Whether you are looking for one of our Australian Christmas hampers or chocolate hampers for your staff, our Celebration of Christmas hamper will meet all your expectations. Inside our premium Celebration of Christmas hampers, your staff will find more than chocolate alone though, because these Australian Christmas hampers also contain a wide range of finger-licking gourmet treats.
Like our Deluxe Christmas Hamper, our Celebration of Christmas Hamper also contains a range of wine and champagne; this includes the Moet & Chandon Brut Imperial NV Champagne and the Cape Mentelle Margaret River Shiraz.
The Moet & Chandon Imperial Champagne is one of the best-known and most popular champagnes in the world, and the flagship champagne of the Moet & Chandon Champagne House. The champagne is created from more than a hundred different wines, including 20 to 30% reserve wines which add more complexity to this outstanding champagne.
Of course, the Cape Mentelle Margaret River Shiraz is also a bottle that deserves special mentioning, since the Cape Mentelle wines regularly receive outstanding scores from wine reviewer James Halliday. Naturally, the shiraz itself is also worth its weight in gold, because this wine features a fine tannin and balanced acidity. In conclusion, it is a wine that all your employees will enjoy.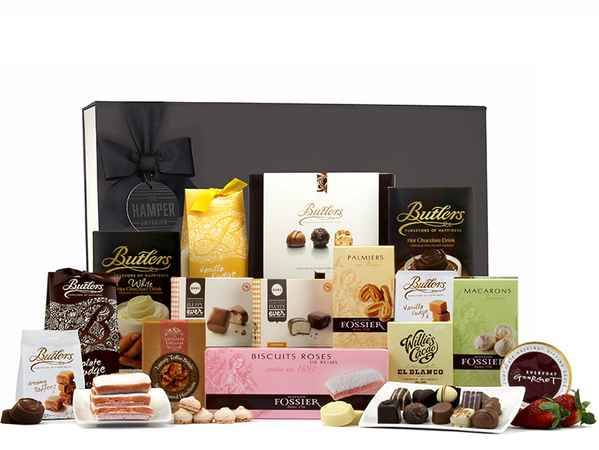 What Is the Third Suggested Hamper for Corporations?
The Hamper Emporium has an exquisite range of Australian Christmas hampers for your important business relations. One of these Australian food hampers is the Classic Celebration Hamper, which contains an outstanding selection of biscuits, handmade Christmas treats, chocolates, pantry items, wine, and champagne.
To find the best Christmas treats for your business relation, our hamper designer searched for local Australian companies that used fresh ingredients to create their Christmas treats. Our hamper designer eventually found Baylies Epicurean Delights, a gourmet baking house in the Adelaide Hills, and Trentham Tucker, who delivers some typical Christmas delights with authentic flavours.
Inside the Classic Celebration Hamper, your business relation fill find a traditional Trentham Tucker Cranberry & Pistachio Shortbread, Valley Produce Cracker Thins with Cracked Pepper, and Baylies of Strathalbyn Gourmet Crackers. Each of these treats was made with fresh local ingredients, and that certainly reflects in the quality of their products.
To finish this exquisite hamper from our Australian food hampers collection, our hamper designer added some all-time favourites from our extensive range; this includes Willie's Cacao and Butlers Irish Chocolates!
Thanks to the large selection of gourmet products, this gift hamper from our Australian food hampers collection will be suitable for most business relations. Businesses can also customise their hamper with corporate branding before sending it to their recipient. To take advantage of corporate branding, simply contact the Hamper Emporium team, or head over to the corporate branding page for more information.
What Is the Fourth Suggested Hamper for Corporations?
Our Christmas Delights Hamper from our Australian food hampers collection is also a good choice for important business relations. The contains a bottle of 2014 Devil's Corner Tasmanian Pinot Noir, complemented by some amazing nibbles.
The Devil's Corner Tasmanian Pinot Noir has won numerous awards over the years, with the most recent being a bronze award at the Decanter World Wines Event. The wine is characterised by a strong perfume of blackberries and violets, followed by subtle hints of ginger. The palate of this wine is quite seductive as well and follows the characteristics of the aroma with fine tannins and firm acidity that make this wine stand out.
Our Christmas Delights Hamper is not only suitable for gourmet lovers thanks to the presence of the 2014 Devil's Corner Tasmanian Pinot Noir, because this wine is suitable for experienced wine collectors as well. This wine can be cellared for a couple more years and can therefore be kept by the recipient for a future special occasion.
How Do I Get Corporate Branding for the Australian Food Hampers at the Hamper Emporium?
If you have chosen one of our best Christmas hampers for an important business relation, be sure to take advantage of our corporate branding options. To see the full range of options available to you, please head over to our corporate branding page.
Do you already have an idea for the corporate branding of your gift hamper? Then you can always contact our team of representatives or speak to our in-house graphics designer to discuss your ideas. Of course, you can also contact us to learn more about the special deals we have in place for bulk corporate hamper orders.
Where Can I Find More of the Best Christmas Hampers for 2019?
The best Christmas hampers we mentioned earlier are just some of the options you will have at the Hamper Emporium. Our range contains many other Australian luxury gift hampers corporations can take advantage of, so be sure to head over to the catalogue to discover more of them.
When you order the best Christmas hampers from the Hamper Emporium this year, you can count on a delivery up to Christmas Eve. So, busy businessmen and women who are placing their corporate hamper order a little later than usual can still delight their recipients with the best Christmas hampers in our store.
Did you know you can also get a free standard delivery for each of the Australian luxury gift hampers at the Hamper Emporium? Select the hampers you want to use as corporate gifts and select "standard delivery" during the checkout to benefit from this deal!