Reward Your Employees with One of Our Corporate Gift Hampers!
Author: Nicole Adler Date Posted:23 March 2019


A reward is a simple way of giving back to your employees for doing their jobs well. Your employees must have spent countless hours of quality work during the year. A wonderful way to reward them is by giving them special gifts that they will not forget. Christmas is the best time to show them how much you value and appreciate them. Reward their hard work, loyalty, and commitment with special corporate gift hampers from The Hamper Emporium.
Why Should You Give Corporate Gift Hampers as Rewards?
Corporate gift hampers are the best gifts if you want to show your employees how much you appreciate them. Choosing gifts can be quite stressful especially during the holidays. Purchasing corporate gift hampers from The Hamper Emporium is one of the easiest ways to buy the perfect gift for people who you probably don't know quite well but remain special to you.
There are many corporate gift hampers to choose from like chocolate hampers and wine hampers. Each of our Australian Christmas hampers is a mixture of artisanal and gourmet snacks and treats. Some even include a bottle of wine to make it extra special. With our Australian Christmas hampers, you can be sure that you are giving only the best brands of food and wine to your employees. Indeed, a Christmas hamper is the perfect gift that will appeal to anyone.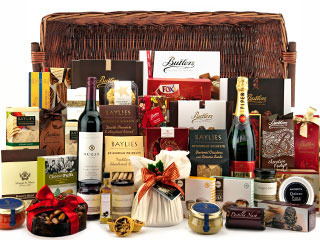 What Are the Most Popular Australian Christmas Hampers This Year?
You can never go wrong with Australian food hampers. Everyone loves food! And the great thing is, we have great Australian Christmas hampers that contain gourmet chocolates, biscuits, scrumptious dips, nibbles and wine. All you have to do is choose the best Christmas hamper for your employee.
The Indulgence Xmas Hamper from our Australian Christmas hampers collection is perfect if you want a well-balanced mix of sweet and savoury snacks. For a savoury treat, this hamper contains Partridges Artisan Bakehouse Tuscan Crackers, which is a perfect appetiser for parties. This hamper also contains sweet snacks such as Anna's Original Ginger Thins, Morgan's Christmas Roasted Cinnamon Almonds, Morgan's Popcorn Toffee Peanut Crunch, and more. It also contains luscious Trentham Tucker Cranberry & Pistachio Crispbread and Peanut Brittle. What else could someone want or need during the holidays?
You cannot go wrong with the Gourmet Christmas Treats Hamper either. It contains a combination of fine nibbles that will be perfect for those who love the delicate flavours of gourmet snacks. It contains delicious nibbles from premium brands such as Morgan's, Baylies Epicurean Delights, the Woods Farm, and Trentham Tucker!
If you want to give a chocolate hamper with wine, the Christmas Star & Chocolates Hamper from our Australian food hampers collection is one of the best choices. It contains unique and decadent chocolates from Butlers Irish chocolates and Morgan's, beautifully complemented by the finest sparkling wine from Brown Brothers.
The Christmas Bites Xmas Hamper contains all the snacks that will nourish the senses. It contains savoury snacks like the incredibly tasty Partridges Artisan Bakehouse Tuscan Herb Crackers and the unique yet flavourful Quince Paste. It also has biscuits and sweets that you can enjoy with coffee and tea, including a nice selection of mince pies and countless treats from Morgan's. It also contains the artisanal shortbread from the Woods Farm. The ultimate collection of Christmas nibbles from the Australian food hampers collection!
Should you want to indulge your employees with a one of the best Christmas hampers, the Festive Bubble and Chocolate Hamper is the perfect gift to choose. It contains a variety of treats, snacks, chocolate, and wine to make any Christmas celebration a special one. It has the Chocolate chip puff pastries from the Maison Fossier range and Morgan's Crème Brûlée Roasted Peanuts, the perfect mixture of toffee and custard with the delicious crunchiness of peanuts. This gift hamper also contains exceptionally delicious chocolates like the Butlers Handmade Chocolate Collection, Willie's Cacao Peruvian 70% Dark Chocolate Hazelnut made from the finest cacao beans and the Butlers Red Floral Ballotin Chocolate Selection. A bottle of Moët & Chandon Brut Imperial NV Champagne will complement a light dinner of white meat or fish.

Does the Hamper Emporium Provide More Australian Food Hampers Suitable for Employees?
Our Australian food hampers are the best hampers you can find online during the holiday season. With a few clicks, you can order one of our best Christmas hampers, as well as our chocolate hampers for all other special occasions. We only choose the best artisanal and gourmet foods made from the finest local ingredients and the most exquisite wines so you can be sure that you are giving a truly unforgettable and exceptional gift. All of our hampers are packed tastefully and beautifully.
Choose from the different gift hampers and place your order today. We deliver free of charge to anywhere in Australia. A gift can be an expression of love and gratitude. Make sure you choose the best gift to send your message to its recipient. We have other hampers to choose from for other occasions like weddings, birthdays, christenings, and Valentine's Day.
Are you ordering your Australian food hampers a little later than usual this holiday season? No worries, because the Hamper Emporium has extended its delivery time up to Christmas Eve. Of course, it is still recommended to consider the estimated delivery times for the Sydney gourmet hampers and other Australian luxury gift hampers being sold at the Hamper Emporium.
Please note, some of the items inside our Australian luxury gift hampers are customisable items; this means that the Hamper Emporium must customise the item before it can be shipped. The additional time it takes to personalise your item should therefore be factored in with your delivery time. If you have question regarding this process, do not hesitate to contact us for more info.