Chocolate Hampers for Her – Discover Them in the Australian Christmas Hampers Collection!
Author: Nicole Adler Date Posted:23 March 2019


This year, why not treat the most important women in your life to some indulgent chocolate treats? The Hamper Emporium offers a huge selection of Australian Christmas Hampers designed specially with ladies in mind.
Chocolate hampers are popular with ladies of all ages, so whether you are looking for a treat for a mum, wife, partner, daughter, aunt, grandmother, female work colleague or friend, have a look at some of these great Chocolate Hampers for her! With the many different options available at The Hamper Emporium, you will be able to find a hamper that fits her style and personality perfectly.
What Is the First Recommended Chocolate Hamper for Her?
If white wine is her tipple of choice, look no further than our wonderful Sweet and White Hamper. With a bottle of delicious Sauvignon Blanc, fudge and Morgan's nibbles comes 'The Dessert Menu' by Butlers Chocolates, a variety of irresistible confections lovingly crafted in a chocolate shell and hand-finished with dessert-inspired decorations. She will love opening this Christmas Hamper, but – a word of warning – she may not want to share it with anyone!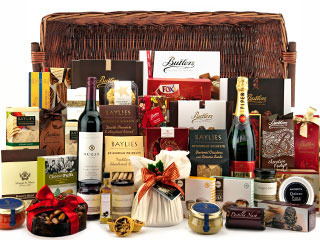 What Is the Second Recommended Chocolate Hamper for Her?
For a true celebration, the Moet with Australian Chocolates and Nuts Hamper offers! As its name implies, a bottle of top-end Moet et Chandon Brut Imperial NV Champagne, paired with a variety of delectable Morgan's treats including Chocolate Coffee Beans, Chocolate Enrobed Nuts and Fruit and even some Crème Brûlée Roasted Peanuts, all made right here in Australia by Morgan's of Sydney. Ideal as a Christmas Hamper, or for other celebrations and occasions throughout the year.
What Is the Third Recommended Chocolate Hamper for Her?
Special occasions will be made even more special with the Jurlique Pure Indulgence Hamper. Featuring a combination of chocolates, cosmetics, and champagne, the Jurlique Pure Indulgence Hamper from the Australian Christmas hampers collection is perfect for the modern woman.
What Is the Fourth Recommended Chocolate Hamper for Her?
The Sweetest of Gift Hampers truly lives up to its name with a huge selection of chocolates, biscuits and other sweet treats; ideal if you are looking to buy a delicious Christmas Hamper for a family or even a group of colleagues. Filled with sweet treats such as biscuits, fudge, salted caramels, toffee and chocolates from Australia and many other parts of the world, including Belgium, Ireland, the UK and France, this hamper will definitely be the subject of many "oohs" and "aahs" when it is opened, and will provide something for all tastes.

What Do I Do If My Recipient Does Not Like Chocolate?
If she does not like chocolate, all is not lost. The Hamper Emporium stocks a variety of Australian Christmas hampers filled with savoury nibbles too, or alternatively you could choose one of our champagne or wine hampers, filled with a selection of delicate pampering products as well as a lovely wine or champagne release. When you need outstanding Australian Christmas hampers, the Hamper Emporium will deliver every time!
With these and many, many more chocolate hampers and Australian Christmas hampers in the vast collection of The Hamper Emporium, you will be spoilt for choice. Do not forget that the Hamper Emporium also offers free delivery Australia-wide, making it easy to have your Australian food hampers delivered to loved ones and other recipients wherever they live, either at Christmas time or for other occasions or special days throughout the year.
The Hamper Emporium has extended its delivery of Australian food hampers this Christmas, allowing customers to benefit from a late delivery up to Christmas Eve. If you have forgotten to purchase one of our beautiful Australian food hampers, be sure to check out the options available in our catalogue and take full advantage of our Christmas Eve delivery service.
Have you left it extremely late? Don't worry, just upgrade to Express delivery, to make sure your Chocolate Hampers or Christmas Hampers get to their intended recipients that bit more quickly. All details are available from the Delivery page.