What Are the Best Christmas Hampers for Him?
Author: Nicole Adler Date Posted:23 March 2019


Our best Christmas hampers are a tried and tested way of showing your love and appreciation for the people closest to your heart. This Christmas season, it is important that you find the right gifts to give to your family, friends, or co-workers. If you are stumped at what to get, consider these best Christmas hampers for the men in your life.
What Makes Gourmet Hampers Perfect Gifts for Men?
Maybe you're having a tough time shopping for these men in your life because it looks like they have everything already. You cannot get them classic gifts like wallets, ties, or cufflinks if they are fashionable enough to have a full wardrobe. Those kinds of gifts will only be unused. Or maybe you are shopping for a colleague that you are not too close to yet, but you are still looking forward to a great relationship with him.
Sydney gourmet hampers are excellent gifts to give because they will impress and cheer up anyone who receives them, especially guys. Whether it is for your dad, co-worker, boss or friend, these best Christmas hampers are great choices. With a variety of drinks, treats and experiences included in only the best gourmet hampers, these Christmas hampers remain one of the most popular and most effective gift ideas for him.
Can Your Best Christmas Hampers Provide Relaxation?
Most guys just want to relax and have some no-pressure fun after work. A busy man will surely love a gift that allows him to have some time to himself after the exhaustion of a long day. Sydney gourmet hampers that contain beer or a good drink are ideal gifts to show him how much you appreciate his hard work.
You can start off by looking at Sydney gourmet hampers which have beer as the main component. A bottle of beer or two would be great companions for a late-night couch session or, if he's the social type, for an afternoon of watching games.
The Beers of Australia Hamper include simple and sure to be loved beers. Hamper has a quality selection of beers, ales and lagers, like Monteith's Golden Lager, Balmain Pale Ale, and James Squire the Chancer Golden Ale among others. This hamper also includes delicious snacks to complement the beer, like the Morgan & Albert's Premium Nibbles Brewer's Blend selection, and the Native Australian Chip Company Honey Smoked BBQ.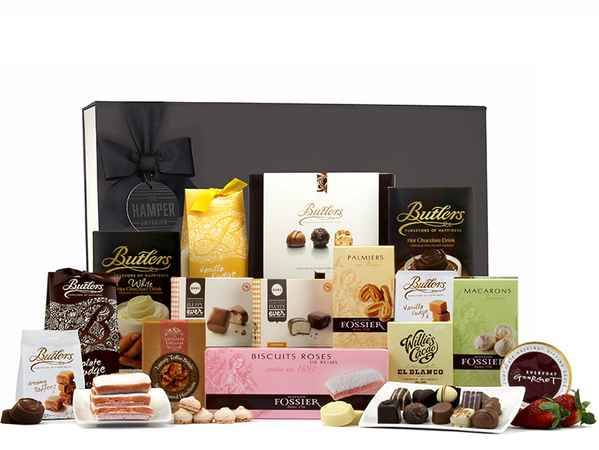 Some guys might appreciate a more adventurous palate. If the man or men you are buying gourmet hampers for love craft beers, the MicroBreweries of Australia Hamper might just be the top choice. This collection of quality beers includes craft beers from across the nation, including the award-winning ale from Burleigh called 'Burleigh Brewing My Wife's Bitter' and the citrus aroma of the Lord Nelson Three Sheets Pale Ale. Like other Christmas hampers, it also contains appetising nibbles like Baylies Epicurean Delights Plain Lavash and Jack's Black Label Beef Jerky. The hamper even comes in a custom-made wooden crate!
There are also Sydney gourmet hampers that offer a wider range of tastes for this staple drink. The United Nations of Beer Hamper contains Italian beer Peroni Nastro Azzurro and the Dutch Grolsch Premium Lager, among other samples. You can go one step further with the Premium United Nations of Beer Hamper. This premium hamper contains beer and cider from around the world: Netherlands' La Trappe Blond, Italy's Menabrea Birra Lager, and Belgium's Chimay White Trappist, among other. Delectable nibbles and dips like the Gaea Smoked Aubergine Dip are likewise included in this attractive hamper.
Is beer not the drink of choice of the man you're shopping for? No problem! If your co-worker or friend would rather have a night cap with whiskey, there are also quality Australian Christmas hampers that fit his taste. The Glenlivet Founders Reserve Whiskey Hamper includes a smooth scotch whisky which comes with a signature fruity taste.
For a more varied selection, you can choose the Glenmorangie Whiskey Tasting Hamper, which contains 4 bottles of scotch flavours to be savoured. It's like giving a journey of whiskey delight and gourmet nibbles as a treat.
You can also try out some choice wine gourmet hampers, which are perfect for hosting dinner parties and casual get-togethers. The Red Wine and Nibbles Hamper contains a delicious 2014 Devil's Corner Tasmanian Pinot Noir. There's also ANZAC Ciders Hamper and the James Squire Ale Hamper, if cider and ale are more to his preference.
Do You Have Non-alcoholic Australian Christmas Hampers Available?
Of course! If you are shopping for a guy who would rather have the treats without the drink, there are also delectable gourmet hampers for that. Perfect for an afternoon barbeque or for watching games on the telly, chill afternoon, barbeque and stuff; watching a movie, these non-alcoholic gourmet hampers are also top gifts to give this season.
The Entertainer Gourmet Hamper, which comes in a luxury keepsake box, has savoury goods like Baylies Gourmet Crackers with Sesame Seeds, and a selection of gourmet crackers from Partridges and Brewer's Nut Company. It even has the decadence of bursting flavours from L'Orto di Franco Semi-Dried Tomato Halves and Kangaroo Island Olives Kalamata.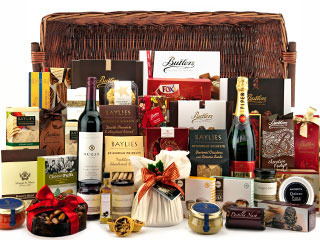 Are There Available Australian Christmas Hampers for Someone Who is Fond of Sweet Things?
Australian Christmas hampers with a sweet taste are also a popular choice for the season. Perfect for guys who might have a little bit of a sweet tooth, these Australian Christmas hampers can also be given as a reward or as a treat.
The luxurious hamper Moet with Australian Chocolates and Nuts comes with delectable biscuits and sweets like the premium Morgan's Dark Chocolate Coffee Beans, the decadent Morgan's Lux Chocolate Enrobed Fruits and Nuts which include chocolate-covered blueberries, cashews and almonds, and Morgan's Crème Brûlée Roasted Peanuts. All these treats are paired with a lively drink, the Moet & Chandon Brut Imperial NV Champagne.
The Sweet Bites Hamper can be a great gift for those that require a lighter touch. It comes with classic biscuits, a selection of Butlers dark chocolate salt caramels, and even some Christmas-themed surprises. This hamper will feel like a subtle yet relaxing treat.
Where Can You Get the Most Appealing Australian Christmas Hampers for Him?
With the help of the Hamper Emporium, you will not have to worry about what to get a guy who has everything, or what to present to your co-workers at the office Christmas party. The Australian Christmas hampers offered by The Hamper Emporium contain a wide range of delicious treats and gourmet experiences.
The Hamper Emporium can even customise these hampers and gift baskets, by adding a personalised message to the accompanying gift card. And you do not have to worry as the Hamper Emporium offers FREE standard delivery to ANY Australian Address.
To top it all off this holiday season, the Hamper Emporium also provides an extended delivery time for all its Australian Christmas hampers. For Christmas 2019, you can get your Australian food hampers delivered up to Christmas Eve, so everyone can enjoy the superior quality the Hamper Emporium has to offer.
Do you need your gift basket a little quicker this holiday season? Be sure to use our express delivery option, which speeds up the delivery of your gift basket. Check out our additional delivery options today to check how fast you can get your Christmas gift baskets this Christmas!