What Are the Best Christmas Hampers for Mum?
Author: Nicole Adler Date Posted:4 November 2019


Buying the best Christmas presents for your mum can be difficult. After all, what kind of gift would be able to fully show your love, affection, and appreciation? Fortunately, there are Sydney gourmet hampers and Australian Christmas hampers that are perfect for giving thanks back for your mum's support, love, and affection.
The Sydney gourmet hampers you should get have the extra touch for that special Christmas experience you want your mum to have. The best Christmas hampers can never go wrong. They will help her relax, give her the decadence of good chocolate, or allow her the fun of an afternoon drinks and biscuits party.
Why Should You Choose to Give the Taste of Sweet Luxury?
The best Christmas hampers are sweet and luxurious, perfect for your mum. After all of her hard work, both at home and in the office, she deserves to relax and unwind with delicious treats.
The Luxury Chocolate and Veuve Hamper is a great choice to start with. This hamper contains biscuits and sweets of only the finest products, such as Ernest Hillier and Butlers Irish Chocolates. She will enjoy the sumptuous chocolates that come with the Luxury Chocolate and Veuve Hamper. All these sweet treats are paired up with one of the most well-known champagnes in the world, Veuve Clicquot Yellow Label.
There are other sweet Sydney gourmet hampers that might be to her taste. The Moet with Australian Chocolates and Nuts contains a delightful blend of biscuits, sweets, and wine. This hamper includes Morgan's Dark Chocolate Coffee Beans and Morgan's Crème Brûlée Roasted Peanuts. Among other sweet treats, there's also the luxury and decadence of Morgan's Lux Chocolate Enrobed Fruits and Nuts which include chocolate-covered blueberries, cashews, and almonds. The perfect complement to these treats that your mum will appreciate is the lively Moet & Chandon Brut Imperial NV Champagne.
Another top choice from the range of best Christmas hampers is the Chocolates and Red Hamper. Your mum will love the classic and delicious taste of the Cape Mentelle Shiraz, which comes with chocolates and truffles. There is also a delightful selection of nibbles to complement the hamper!
And if your mum prefers something lighter from our best Christmas hampers collection, the Sweet and White Hamper is another popular hamper. It comes with a vibrant Islander Estate wine and countless gourmet nibbles!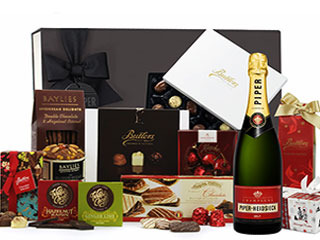 Why Would You Choose Sydney Gourmet Hampers for an Afternoon Party?
If your mum is the sociable type who likes to host afternoon parties, yard get-togethers, or relaxed barbeque grills, you should get her Sydney gourmet hampers which come with pantry goods and snacks perfect for social events.
The Sweet Bites Hamper is an ideal complement to afternoon tea. This hamper contains delicious sweet treats in a luxury keepsake box that she will surely adore. The hamper from our Sydney gourmet hampers collection is simply packed with nibbles and chocolates; this includes Fruit & Nut Mix, Roasted Peanuts, and even a stunning chocolate selection from Butlers Irish Chocolates.
Australian Christmas hampers with savoury and salty sweats are also perfect for entertaining guests. The Entertainer Gourmet Hamper will be a welcomed addition to your mum's kitchen. The hamper comes in a luxury keepsake box with savoury goods like Baylies Gourmet Crackers with Sesame Seeds, and a selection of gourmet crackers from Partridges and Brewer's Nut Company. There's also the L'Orto di Franco Semi-Dried Tomato Halves perfect for serving, as well as Kangaroo Island Kalamata Olives.
The Red Wine and Nibbles Hamper is perfect for early evening get-togethers and for a gourmet afternoon tea. The savoury delights include Baylies Gourmet Crackers with Sesame Seeds, Partridges Artisan Bakehouse Tuscan Herb Crackers, and Gourmet Regional Roasted Eggplant Tapenade. All these delights are paired up with the taste of Robert Oatley Shiraz
And in line with the Christmas season, festive and celebratory gourmet hampers might also be much appreciated. The Festive Bubbles and Chocolate Hamper is the ultimate luxury and sign of giving thanks to your mum. It comes with one of the most popular champagnes, made with the taste of handpicked grapes aged in oak.

Why is it the Best Time to Give Mum Australian Christmas Hampers That Will Pamper Her?
Christmas and gourmet hampers aren't only about great treats and delicious sweets. Christmas hampers also come with luxurious bath, pampering, and cosmetic tools. The busy mum working around the house or office will surely love these Christmas hampers.
The Velvet Rose & Peony with Prosecco will delight her. The hamper comes with biscuits and sweets like the gorgeous Maison Fossier 12 Biscuit Roses, with a distinct pink colour and sugar topping. The Wine Brown Brothers Prosecco Rose can add to her relaxing experience.
The highlight of the Velvet Rose & Peony with Prosecco are the pampering gifts and accessories. The hamper includes the Milieu Velvet Rose & Peony Diffuser by The Aromatherapy Company to uplift spirits. For any aching muscles, cramps or headaches, the stylish Peony Print Hot Cold Therapy Pack is perfect. To top it all off is the Rose Soap Confetti for a luxurious pampering experience in the bathtub.
Another choice for Australian Christmas hampers would be the Pretty in Pink Pamper Hamper. This hamper is simply perfect for the occasion. It comes with biscuits like the Maison Fossier French Palmier Pastries and Almond Macarons, and the fruity palate of Brown Brother's Victorian Crouchen Riesling Rose. The hamper also includes a gourmet selection of Irish Butlers Chocolates and Willie's Cacao El Blanco Venezuelan Pure White Chocolate.
The Pretty in Pink Pamper Hamper also comes with lovely gifts and accessories that would help her relax and unwind. The MOR Blood Orange Body Butter, with Shea butter, avocado and vitamins, and the MOR Emporium Collection Candied Vanilla Body Wash and Body Lotion, are the best gifts for your mum.
The Today, Tomorrow and Every Day Pamper Hamper is also another top choice for Christmas hampers. It comes with Morgan's French Vanilla Almonds, among other biscuits and treats, and gifts and accessories too. The crowning highlight of the hamper is the inspirational Today, Tomorrow and Every Day Book, which comes with stunning illustrations. The uplifting scent diffuser from The Aromatherapy Company and Rose Soap Confetti also add to the package.