What Are the Best Christmas Hampers for the Office?
Author: Nicole Adler Date Posted:23 March 2019


Gourmet hampers and Australian Christmas hampers are popular office gifts. They are a great way of showing thanks to all your colleagues, whether it is for an individual co-worker, for your team, or even for your boss.
Our best Christmas hampers can also be great gifts to new clients. The quality of premium Sydney gourmet hampers can help impress new clients more or build on existing relationships.
Aside from giving them as simple gifts, these best Christmas hampers can also spread the festive cheer to your bosses. They are also great for the celebration of a good business year in the office, or as giveaways during a Christmas party. Everyone can share in the delight of the sumptuous treats inside the best Christmas hampers of the Hamper Emporium.
Check out the wide range of best Christmas hampers for the office that you can get at the Hamper Emporium. These gifts are perfect, even if you do not really know your co-workers quite well, especially if you do not have time to do an intensive gift shopping and brainstorming session.
Why Do Sydney Gourmet Hampers Make the Perfect Christmas Gifts?
There are Sydney gourmet hampers made special for this festive season. These Australian Christmas hampers are great gifts to your office team, co-workers, or bosses. They can even double as both Christmas gifts and welcome gifts to the new employees in the office. Get started with these ideas.
Start small with the Mini Delight Christmas Hamper. This Christmas hamper includes delectable treats in a small yet beautiful package. It is the ideal hamper for giveaway events or for new business acquaintances you are looking to impress. This hamper contains Partridges Artisan Bakehouse Tuscan Crackers, Trentham Tucker Cranberry and Pistachio Crispbread, and loads more.

The Christmas Bites Xmas Hamper is one of the more popular Australian Christmas hampers this season. The festive contents of this hamper will please even the biggest of Christmas enthusiasts. It contains biscuits and sweets like Partridges Artisan Bakehouse Tuscan Herb Crackers, Morgan's Honey Roasted Peanuts, and Byron Bay Cookies White Chocolate Macadamia. Top off the Christmas cheer with a bottle of Islander Estate 'Bark Hut Road' Shiraz Cabernet.
One of the other Sydney gourmet hampers you should consider for your seasonal gift is the Celebrate Xmas Hamper. Your office mates will appreciate the traditional treats and all-time favourite flavours included in this hamper. They will love everything from the Baylies Epicurean Delights Traditional Handmade Cake to the Butlers Irish Chocolates and the Piper-Heidsieck Brut NV Champagne.
And get only the best for your colleagues and bosses you are looking to impress this holiday season. The Best of All Gourmet Hampers combines all classic biscuits and sweets. It includes Baylies Epicurean Delights Crackers, delicious Kalamata Olives from Kangaroo Island, and various nibbles from Morgan's. This option from our Sydney gourmet hampers collection also includes a stunning Islander Estate 'Bark Hut Road' Shiraz Cabernet.
Why Not Surprise Them with These Festive Drink Hampers?
Light up the holiday spirit with these Festive Drink Hampers. These are perfect for individual gifts or to share in the office.
The Red Wine and Nibbles Hamper contains savoury treats like the Partridges Artisan Bakehouse Black Pepper Crackers and Tuscan Herb Crackers. And everyone will get into the celebratory mood with the taste of the Robert Oatley McLaren Vale Shiraz.
You can likewise choose for the Christmas Chocolates and Brown Brothers Red Wine. Our range of Australian Christmas hampers is packed with exquisite wines and chocolates. So if this combination is perfect for your co-workers, be sure to check out these additional wine and chocolate options in our Australian Christmas hampers collection.
Last but not the least, you can go for the Glenmorangie Whiskey Tasting Hamper, which is perfect for your next late evening festivities. This Glenmorangie gift basket comes with four different whiskey flavours, enough to please those whiskey fanatics.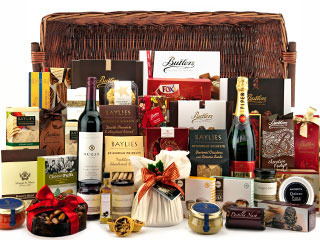 Are You Looking for Corporate Gift Hampers That Are Good for Sharing?
There are corporate gift hampers and Melbourne Christmas hampers specifically designed to share. Your officemates and colleagues would be sure to appreciate a luxurious office share gift hamper.
The Classic Celebration Hamper is one of the most popular Melbourne Christmas hampers this season. It contains luxurious brands like Butlers Irish Chocolates, Moet & Chandon, and Ernest Hillier. Your team can celebrate a job well done and a good year with the treats inside.
Our Classic Celebration Hamper includes savoury goods such as the Brewer's Nut Company Premium Nut Mix, Classic Beer Nuts, Kangaroo Island Kalamata Olives, and loads more. Your co-workers can share in the savoury, fruity, and salty tastes this amazing gift basket has to offer.
For your co-workers with a sweet tooth, the Classic Celebration Hamper also contains decadent biscuits and sweets. Great for dessert and for snacking, this hamper provides Morgan's Honey-Roasted Peanuts, Byron Bay Triple Chocolate Fudge Cookies, Woods Farm Pure Butter Shortbread, and tons more! It also contains chocolates from Willie's Cacao, Butlers Irish Chocolates and Ernest Hillier. And there's more than enough wine to share, with a bottle of Moet & Chandon Brut Imperial NV Champagne, 2016 Hentley Farm 'Rascal' Barossa Valley Shiraz and more!
If that is not to your or your recipient's taste, the Deluxe Christmas Hamper is also sure to impress your office. The Deluxe Christmas Hamper contains delectable savoury goods, biscuits, and sweets. Your co-workers are sure to delight in the large collection of shortbread, chocolates, tapenades, champagne, and wine!
Sharing treats with these corporate gift hampers is not just a great way to celebrate the holidays – it is also a way to bond as a team and to strengthen relationships.
How Do I Get Corporate Gift Hampers for the Office?
While it might be hard to come up with the perfect balance of professional and personal when it comes to your Christmas gifts, you can never go wrong with premium and quality Christmas hampers and gourmet hampers.
The Hamper Emporium offers a wide range of great Christmas hampers that any of your co-workers, bosses, or clients would appreciate. You can even add branding to your corporate gift hampers, especially for corporate giveaways, with The Hamper Emporium's customised hampers, gift baskets, and personalised gift cards and ribbons.
Don't stress about your Christmas hampers and gifts this season. With all these options at your fingertips, you're sure to impress!
Businesses can also enjoy a delivery up to Christmas Eve for all corporate hampers this holiday season. So, even if you order your employee gifts a little later due to the busy Christmas season, you can still pamper your staff with our collection of corporate gift hampers.
Need some advice on our corporate gift hampers or do you require some corporate branding? Get in touch with our team today for more info!