What are the Best Christmas Chocolate Hampers for Her?
Author: Nicole Adler Date Posted:2 November 2016


Regardless of the occasion, finding the ideal gift to someone we love is always a difficult task. This is especially true when it comes to women, be your mum, sister, girlfriend, wife, or simply your lady friends and relatives. It's another case when your recipient is someone really special. As much as possible, you'd like to give her something that is a representation of some of her unique character and personal traits. Christmas hampers therefore make the perfectly thoughtful gift.

They say that it's always nice to have chocolates and other "sweet nothings" as a present. On the other hand, it often loses the personal touch when we try to give something as common and as simple as chocolates. But then again, maybe with a few tweaks here and there, and with some perfect mix and match of various items and products, we can get the task at hand done. So instead of giving some boxes or bars of them this holiday season, why not try something different by giving her one of our chocolate hampers here at The Hamper Emporium?

Tired of giving the usual holiday presents to your loved ones? Are you actually thinking of spicing things up a little with your special someone through, say, some really nice and sweet gestures? What if we tell you that you can put together those sweet thoughts and the essence of the holidays in one special gift with one of our Christmas hampers. The good news is, with our wide selection of products, you have lots of Christmas and chocolate hampers to choose from!



What Christmas Hampers Can I Give a Girl Who is as Sweet as Chocolates?

They say that the best way to top your sweet gesture is to shower her with more sweetness. Over the years, we've managed to create some of the best chocolate gift baskets for Christmas, and now, with an enormously growing demand, we bring you some of our most fascinatingly personalised gift baskets especially made for women.

This Christmas, satisfy her sweet cravings with The Sweetest of Gifts Chocolate Hamper which includes a Chocolate Fudge Gift Box, a Vanilla Fudge Bag, a collection of handmade chocolates, a Creamy Toffee bag, among many others, with a special Pure Venezuelan Milk Chocolate capping them off.

It also comes with our smooth Butlers Hot Chocolate, a hot beverage to warm your Christmas Eve that goes perfectly with some of the gourmet nibbles included in this basket such as the Palmier Pastries and French Almond Macaroon – your ideal cuddly companion for the holidays.

What Chocolate Hampers are Ideal for Fashionably Trendy Ladies?

If you want to give her something sweet but you are not a fan of cheesy stuff and don't want to be ordinary and cliché, then we suggest you try and go for some of our stylishly elegant hampers. On top of our list of chocolate hampers is our Chocolates and Red Christmas hamper, which banners a collection of handmade white, milk, and dark chocolates from Butlers, Fardoulis 55% Couverture dark chocolates, and the 2010 Brown Brothers Shiraz.

But that's not all. The Chocolates and Red Christmas hamper also includes some special products that would give her a taste of the world. Some of these are Willie's Cacao Hazelnut Raisin Chocolates imported from England as well as Maison Fossier's Feuilletes Chocolate Chip Puff that came all the way from France.

If there's one chocolate hamper that is a testament that elegance never goes out of style – it's definitely our Chocolates and Red Christmas hamper only here at Hamper Emporium.

What Christmas Hampers Contain Premium Brands that Will Surely Delight?

We here at The Hamper Emporium always see to it that the products that we include in our gift baskets the best in the industry to offer. From Maison Fossier, Morgan's, Fardoulis, Willi's Cacaos, Butlers, and other leading chocolates, gourmet, and nibbles brands both in Australia and abroad to Piper Heidsieck, Moet and Chandon, Devil's Corner, Brown Brothers, and many others which have gained reputations as some of the finest liquor brands in the world.

We also see to it that our chocolate hampers offer a with a wide variation of other nibbles and snacks like the Tasmanian Fruit Pastes, artisan crackers from Partridge, and seasoned olives from Cat Cora's, among others, that serve as tasteful punctuations while savouring your fine collection of chocolates.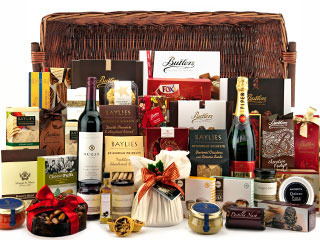 Where Can I Get Special Christmas Hampers for Her?

We recommend that you check out our product listings at The Hamper Emporium. But for those of you who are having a difficult time deciding which chocolate hampers to choose from, here are some tips that we hope could give you a hand with your selection process.

If you want to give her a Christmas hamper that is heavy with chocolates that would surely delight anyone with a sweet tooth, we suggest our Celebrate Christmas hamper – complete with artisan chocolates from Butlers and Baylies and topped with a bottle of champagne from Piper Hiedlick.

If you want to go easy on the chocolates and save just your favourite ones, replace some with a few almond thins and sweet crackers, then get yourself our Christmas Bites Hamper and surprise her with some of the sweetest combinations to complement your chocolate hampers.

You might also want to take away too much attention to the chocolates and instead have something that contains a variety of products that matches your recipient's personality. If this is your thing, then we suggest you get her one of our Festive Bubbles and Chocolate hamper. The light-hearted character of Christmas hampers like this is the perfect match for the woman you are about to surprise. Completing the set of crackers, nibbles, and chocolate truffles is none other than a bottle of champagne from Moet and Chandon, so you can truly celebrate Christmas with a blast!

For more options to choose from, browse through our online shop and find something that is more personal to you and for your recipient. Nothing can be sweeter than Christmas hamper that could make her give you a teary-eyed embrace out of sheer happiness. Shop today!