What Are The Chocolates Hamper Emporium Includes In Their Hampers?
Author: Nicole Adler Date Posted:25 August 2015


At Hamper Emporium, you can find an excellent selection of Christmas hampers containing chocolate. In order to provide you with the most delicious Christmas hampers, we only include the finest chocolate brands. Curious what chocolate brands you can find in our Christmas hampers? Read on to discover all!
What Chocolate Brands Can I Find In Your Christmas Hampers?
Hamper Emporium only offers the finest chocolates on their website, so let us take a closer look at a few of them to give you a better idea of what you can expect. The first chocolate brand you will find in our Christmas hampers is Butlers. Chocolate brand Butlers was founded in 1932 in Dublin and their first creations was called Chez Nous Chocolates. Over the course of time, Butlers has grown out to be one of the most luxurious chocolate brands in the world, providing some of the best tasting chocolates of all time.
Of course, when you love Belgian chocolate you can also find plenty of choice in our Christmas hampers. In addition to pure Belgian chocolate, we also offer excellent Belgian biscuits dipped in real Belgian chocolate. A good example of such a product is Jules Destrooper biscuits in milk chocolate, which you can find in a number of our gift hampers. In addition to Jules Destrooper you can also find top brand Belgian Butters, who are known for their biscuit-chocolate combinations.

Still want more chocolate options? Then you can always refer to our chocolate hampers containing Willie's Cacao. When you like to be adventurous, you seriously cannot go wrong by choosing a bar of chocolate from Willie's Cacao. The Willie's Cacao brand uses cacao beans from all over the world, so you will be getting a great chocolate experience.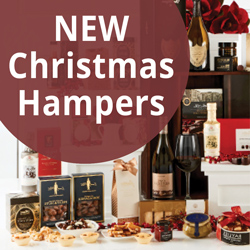 What Other Great Products Can I Find In Your Christmas Hampers?
Christmas with chocolate is great, but there are more excellent products to find in our range of gift hampers. Excellent savoury biscuits is one of those discoveries waiting to be found. Curious what top brands you can find? At Hamper Emporium, we certainly have you covered where top brands are concerned. For example, one of the most exquisite biscuit brands in the world is Jules Destrooper, a Belgian biscuit producer who has been around for more than a hundred years. Their biscuit recipes are a big secret, but their biscuit flavours are not. Whether you are looking for traditional biscuits or excellent Belgian chocolate biscuits, Jules Destrooper will never disappoint.

Of course, you always need some biscuit variety, so we also offer Maison Fossier. Do you like delicate French biscuits? Then Maison Fossier will be right up your street. Just like Jules Destrooper, Maison Fossier has a number of secret recipes that are loved all over the world, so be sure to check out our entire gift hamper collection and try them out!
Can I Call Up For Some Christmas Gift Advice?
Do you need some advice on chocolate or Christmas gifts? Feel free to give our team a call at 1300-459-452 or send a message to sales@thehamperemporium.com.au.