Christmas 2015 – Hamper Emporium's Outstanding Gift Ideas
Author: Nicole Adler Date Posted:30 November 2015


Having trouble finding suitable Christmas gifts for your friends or family? No need to worry, because Hamper Emporium has a large selection of Christmas hampers and some accompanying gift ideas that will make your choice a lot easier. So let us take a closer look at our Christmas hampers and the Hamper Emporium gift recommendations for 2015.
Which 2015 Christmas Hampers Does Hamper Emporium Recommend For Female Recipients?
The first hamper we can recommend from our Christmas hampers range is the Classic Port Hamper. When it comes down to alcoholic beverages, most men and women have a diverse taste. While the majority of men enjoy a good glass of whisky, most women prefer a delicate rosé or a glass of port, this is why the Classic Port Hamper is such a great choice for women.

Hamper Emporium's Classic Port Hamper contains an outstanding bottle of Penfolds Father 10 Year Old Grand Tawny Port, an excellent choice for both men and women. The Penfolds Father Port was matured in old oak cask, which deliver a complex taste no other port comes close to.

Inside the Classic Port Hamper, customers can also found gourmet treats such as Butlers Handmade Chocolate, Jules Destrooper Almond Florentines, Maison Fossier French Galettes and Morgan & Albert's Brown Sugar Candied Peanuts. So when customers choose the Classic Port Hamper, the female recipient is going to enjoy an outstanding gourmet experience during the holiday season.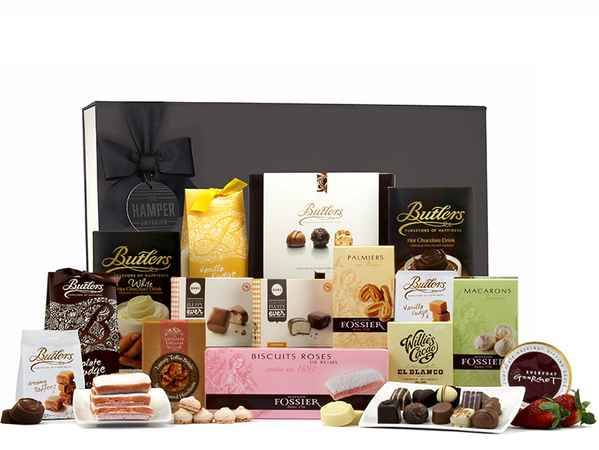 Which 2015 Christmas Hampers Does Hamper Emporium Recommend For Male Recipients?
An excellent Christmas hamper for male recipients is the Glenmorangie Scotch Whisky Hamper. Inside this hamper, customers will find the original Glenmorangie whisky, a large range of savoury nibbles and an Italian tartufata.

Glenmorangie whisky is one of the best known whiskies in the world and is known to provide the same quality as other whisky brands, such as Jameson whisky. The original Glenmorangie whisky is distilled in Scotland and is also the house whisky of the Glenmorangie distillery.
A bottle of Glenmorangie whisky goes extremely well with the savoury nibbles and the Italian tartufata in this hamper. Instead of creating a hamper from scratch? Why not choose this Glenmorangie hamper and take advantage of the outstanding flavour combinations Hamper Emporium has created for you?
Which 2015 Christmas Hampers Does Hamper Emporium Recommend For Friends?
Most people can delight their friends with a nice selection of beers. For that reason, the Hamper Emporium would like to recommend the MicroBreweries of Australia Hamper, which contains a variety of Australian beers known for their outstanding quality and unique flavours.
The MicroBreweries of Australia Hamper contains beer from famous Australian breweries including the Burleigh Brewery, the Murray Craft Brewery, the Feral Brewery, the Lord Nelson Brewery and the Bridge Road Brewery. Each of the beers including in the hamper are considered to be the best house beers of the respective breweries, so these beers cannot be missed.

Our MicroBreweries of Australia Hamper also delivers a fine selection of savoury nibbles, which are best consumed in combination with one of the crafted beers from this hamper. To complement the craft beers, Hamper Emporium chose some quality brands such as Gaea, Morgan & Albert's, Baylies Epicurean Delights, Jack's Black Label and the Native Australian Chip Company.
Which 2015 Christmas Hampers Would You Recommend For Foodies?
Foodies will find an incredible variety of gourmet hampers in our range, which does not make your decision any easier. However, customers who want the best gourmet hamper possible should go for our International Foodies Hamper.

The International Foodies Hamper was created by Hamper Emporium with products from all around the world. Inside the International Foodies Hamper, you will find gourmet products from Italy, France, the United Kingdom, Israel and Belgium.

Italian gourmet products in the International Foodies Hamper are Tartufi Morra Salsa Tartufata, Antichi Sapori "Oro Tonda" Extra Virgin Olive Oil and Pollastrini Sardines with Olive Oil & Tomato. The selection of Italian gourmet products is extremely suitable to cook some traditional, Italian meals. If the foodie you have in mind loves their Italian food, this gourmet hamper will be the perfect choice.

For our selection of French products, we chose brands such as Le Cordon Blue, Comtesse du Barry and Maison Fossier. The combination of French gourmet products is perfect on a cheese platter, but can also accompany your afternoon tea. One of our choices, the Comtesse du Barry Terrine De Gascogne is also a perfect appetiser, great to serve during any party.

Inside our International Foodies Hamper, you will also find a selection of Belgian biscuits. The best Belgian biscuit brand is Jules Destrooper, so the biscuit selection in our International Foodies Hamper was supplied by this brand. Foodies that love traditional flavours and chocolate will appreciate the selection of Jules Destrooper biscuits, since Hamper Emporium chose butter crisps dipped in chocolate and almond florentines.

The United Kingdom is not necessarily known for gourmet foods, but there are some hidden gems that were discovered by the Hamper Emporium team. Two of these gems were added to the International Foodies Hamper, more specifically Rick Stein's Savoury Oat Biscuits with Cornish Sea Salt and Willie's Cacao Milk Of The Gods "Rio Caribe 44" Milk Chocolate.

Rick Stein's Savoury Oat Biscuits are quite popular across the world, considering they were created by celebrity chef Rick Stein. Rick Stein has several restaurants in Padstow, Falmouth and Winchester, so he had the best culinary experience to create these delicious biscuits.

The second English product in the International Foodies Hamper is a Willie's Cacao chocolate square. Willie's Cacao chocolate is produced in England, but the ingredients used in the Willie's Cacao chocolate are actually not English. Willie's Cacao chocolate is made with exotic cacao beans, so you can expect an outstanding and unique taste you have never tried before.

Last but not least, customers can also find a product from Israel in our International Foodies Hamper. The product itself does not necessarily remind you of Israeli cooking, considering it is a box of traditional crackers. However, Elsa's Story is known for their traditional flavours and export their outstanding crackers to various countries, including Australia and the United Kingdom.