What Is the Perfect Gift for Christmas This Year?
Author: Nicole Adler Date Posted:13 December 2016


Do you still need some Christmas gifts for your friends and relatives this holiday season? Then be sure to consider the exquisite gift hampers from the Hamper Emporium. To find out which of our Christmas gift hampers are best for your friends and family, please check our overview of Hamper Emporium's most popular Christmas gift hampers below!
The Christmas Delights Hamper
The most popular hampers inside our range of chocolate hampers and Christmas gift hampers is the Christmas Delights Hamper. Inside the Christmas Delights Hamper, customers can find a tremendous selection of premium chocolates; this includes brands such as Butlers Irish Chocolates and Willie's Cacao, which have certainly contributed to the success of all the chocolate hampers containing these brands.

Out of all the chocolate brands in our range, Butlers Irish Chocolates is undoubtedly the most popular brand from our chocolate hampers. The Butlers Irish Chocolates brand was founded in 1932 by a woman called Marion Butler. She opened her first store in Dublin's Lad Lane, and this store became a big success with the locals.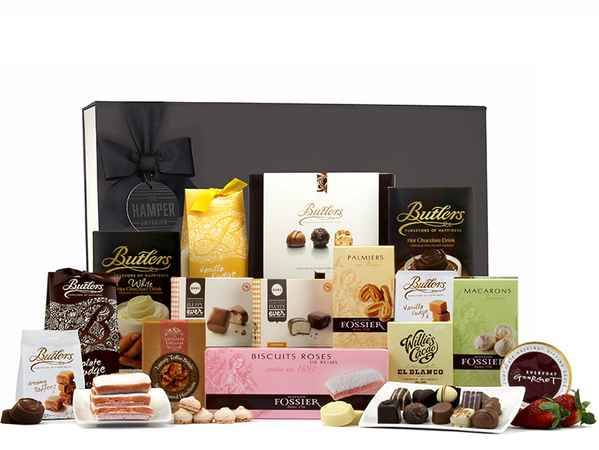 In 1959, Butlers Irish Chocolates was sold to Seamus Sorenson, who maintained the superior handmade quality of the brand. However, when the next generation took over Butlers Irish Chocolates in 1978, the chocolatier started to expand rapidly. Nowadays, Butlers Irish Chocolates has affiliates across the globe and the brand has become one of the most prominent in the world.

Of course, the presence of Willie's Cacao inside our chocolate hampers should not be underestimated either. Even though Willie's Cacao is quite different from the traditional Butlers Irish Chocolates, the exotic flavours of Willie's Cacao chocolates inside our chocolate hampers are popular with many customers.

In conclusion, when you need a hamper for a chocolate lover or a gourmet lover this holiday season, be sure to consider a fine chocolate hamper like the Christmas Delights Hamper. Of course, there are many other gift hampers containing chocolates and chocolate-covered treats in our range, so be sure to have a look at them all to find the best gift baskets for your recipients this holiday season.
The Moet & Chocolate Festive Hamper
The second most popular hamper from our festive gift baskets range is the Moet & Chocolate Festive Hamper, a gift hamper filled with chocolates, handmade Christmas treats, biscuits and a bottle of exquisite champagne. The champagne inside our Moet & Chocolate Gift Baskets is obtained from the Moet & Chandon Champagne House, a well-known champagne label loved by many wine and champagne collectors across the world.

Moet & Chandon Brut Imperial is the flagship champagne of the Moet & Chandon Champagne House, but also the most popular champagne inside our range of gift baskets. The Moet & Chandon Champagne inside our range of gift baskets is made from more than a hundred different wines, with more than 20% reserve wines contributing to the maturity and complexity of this exquisite champagne.

A genuine Moet & Chandon Champagne is characterised by a golden straw colour. However, the champagne genuinely stands out from other champagne releases because of its subtle green hues. The champagne also has a sparkling bouquet, which features hints of green apples, citrus, white flowers and brioche. Due to its complexity, Moet & Chandon champagne goes well with fish dishes; this includes sushi, scallops, oysters and white fish. There are also other foods that go well with Moet & Chandon Champagne; this includes white meat and white fruits. In conclusion, this champagne should certainly be on the shortlist for champagne lovers and wine collectors.
The Champagne Festive Hamper
Our Champagne Festive Hamper is also a good choice for your friends and relatives this holiday season. The hamper contains a large selection of biscuits and sweets, featuring gourmet brands such as Maison Fossier, Byron Bay and Morgan's. The hamper also contains a fine selection of chocolates, which includes Willie's Cacao Peruvian 70% Dark Chocolate with Hazelnut & Raisin and Maxim's de Paris Pencil Tin filled with creamy chocolates.

Inside the Champagne Festive Hamper, customers can also find a bottle of Piper-Heidsieck Brut NV Champagne. The Piper-Heidsieck, like the Moet & Chandon Brut Imperial, is one of the world's most awarded champagnes. It is characterised by a full body and plenty of fruitiness, provided by grapes obtained from more than a hundred different growing areas.

To make their champagne stand out from other high-end champagnes on the market today, Piper-Heidsieck uses an extended maturation process, which ensures a fine bubble and added complexity. Of course, the chef-de-cave of the Piper-Heidsieck champagne house also contributes to their success, since Regis Camus, is one of the world's most prestigious winemakers.

The Christmas Bites Xmas Hamper
Our Christmas Bites Xmas Hamper is one of our finest gourmet hampers, featuring popular brands such as Partridges Artisan Bakehouse, Byron Bay and Tasmanian Fruit Pastes. The hamper also features Butlers Irish Chocolates, which add plenty of sweetness to this Christmas gift.

Hamper Emporium's hamper designer also included a bottle of 2013 Brown Brothers Heathcote '18 Eighty-Nine' Shiraz, a unique Australian shiraz with a distinctive brick colour and medium body. This shiraz is a must for collectors, since this wine has won numerous awards at various wine events over the years; this includes 2016 Royal Adelaide Wine Show and the 2016 Royal Queensland Wine Show.

The Brown Brothers Heathcote '18 Eighty-Nine' Shiraz goes well with Christmas dinner as well, because this wine is best with hearty meat dishes. Of course, if you need some recommendations, we can certainly advise to try this wine with beef carpaccio, parmesan cheese or the occasional tuna steak.
More Christmas Hampers for Your Friends and Relatives?
Do you need more Christmas hampers for your friends and relatives? Then be sure to have a look at our entire range and discover more Christmas hampers filled with festive gourmet products. To see our full range of Christmas hampers, please head over to our shop menu and select "Christmas hampers". Of course, you can also select one of our other categories to discover more exquisite hampers for a special occasion.