Discover the Superior Quality of the Gourmet Brands in our Australian Christmas Hampers!
Author: Nicole Adler Date Posted:19 June 2017


To ensure your recipient gets the highest quality gift this holiday season, our team checks every brand that makes it to our Australian Christmas hampers carefully. Not only do we select brands with an excellent international reputation for our Australian Christmas hampers, we also check these products ourselves, so only the finest products end up in our Australian Christmas hampers. Curious what these brands in our Australian Christmas hampers are? Find out by reading our information below!
Moet & Chandon
When it comes to champagne, quality is extremely important. If your recipient wants to celebrate something, nothing ruins the mood more than a bad glass of champagne. Therefore, we only choose the finest champagne labels for our hampers, and Moet & Chandon could certainly be described as a fine champagne label.
Moet & Chandon is one of the best French champagne houses, with champagnes that are often served at red carpet events and high-end restaurants. Inside our Christmas range this year, customers can find the flagship champagne of this champagne label – the Moet & Chandon Brut Imperial NV Champagne.
Naturally, Moet & Chandon does offer other champagnes and alcoholic beverages, so the Hamper Emporium regularly checks other champagne options from this brand to add to our hampers. If you wish to see which Moet & Chandon hampers we have available, be sure to use the search function to find out!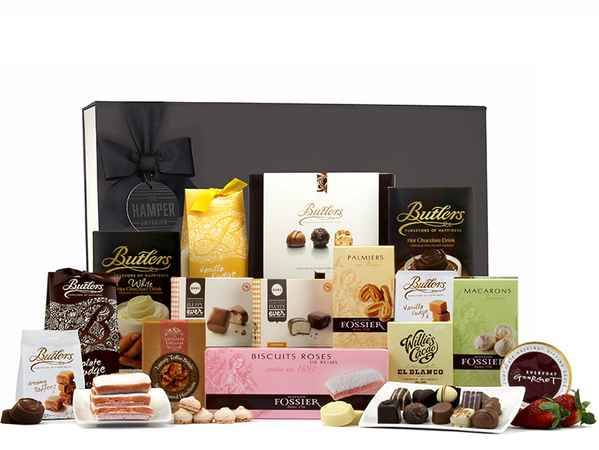 Robert Oatley
Wine lovers will also be delighted with our hamper collection this Christmas, because the Hamper Emporium has decided to include the premium wines from Robert Oatley this year. If you are an avid wine collector, you are undoubtedly familiar with the Robert Oatley label already, because this winery is counted amongst the best in Australia!
One thing to remember is that the Robert Oatley winery is one of the only wineries that received a full five-star review from James Halliday. Therefore, our hamper designer did not hesitate to pick out some of their finest wines and add them to our best gourmet hampers!
Naturally, there are wines from other labels available at the Hamper Emporium, so you are not obligated to choose Robert Oatley. Still, Robert Oatley is one of the best wineries in Australia, so if you are buying for a wine collector, you simply cannot afford to miss out on the exquisite wines from this label.
Maison Fossier
One of our personal favourite brands is undoubtedly Maison Fossier, a French biscuit manufacturer known for their Biscuit Roses. Maison Fossier creates biscuits by following their traditional recipes, so you can expect some characteristic releases from this bakery when you choose a Maison Fossier hamper for your recipient.
The Maison Fossier biscuits are not only present in our Australian Christmas hampers, because these biscuits are also present in hamper for other special occasions; this includes our Valentine's Day hampers.
Of course, customers can also count on a great variety of Maison Fossier biscuits; this includes their Biscuit Roses, French palmier pastries, macarons, chocolate chip puff pastries and countless other releases. Each of these biscuits is just as delicious as the others, so we urge you to choose a hamper with a variety so your recipient gets to try most of them!
Butlers Irish Chocolates
When you need a good hamper for a chocoholic, you can count on any Hamper Emporium hamper containing a Butlers Irish Chocolates selection. The chocolates from this Irish brand are known for their creaminess, but also for their superior flavour that cannot be compared with any other brand!
There are many different chocolate selections from Butlers Irish Chocolates available at the Hamper Emporium, but one chocolate selection you should certainly look out for is "The Dessert Menu". This selection of chocolates from Butlers contains some award-winning chocolates, so you cannot go wrong by choosing a hamper containing this chocolate selection.

Cape Mentelle
Another new addition to our collection of hampers this year is Cape Mentelle, a wine label best known for their Cape Mentelle Shiraz; this shiraz is also found in our collection of chocolate hampers.
The Cape Mentelle Shiraz is a shiraz unlike most Australian shiraz releases, because this shiraz is the perfect combination of French and Australian winemaking techniques. The result is a shiraz that has an aroma of vibrant blueberry, red berry and violets. There are also some undertones of cured meat in the aroma of the wine, which makes this a great wine to drink with game.
Naturally, the palate of the shiraz complements the aroma flawlessly. Wine lovers can expect an intense palate with red fruits, dark savoury pepper and cardamom spices. There is also some integrated oak, which is often associated with some of the finest French red wines.
Even though the Cape Mentelle Shiraz is an excellent option for all recipients, we specifically recommend it for wine collectors and wine lovers, considering the unique combination of French and Australian winemaking techniques used to create this wine.
Baylies Epicurean Delights
When you need handmade treats for the holiday season, then you need any of our hampers containing the Baylies Epicurean Delights brand. Baylies Epicurean Delights is an Australian brand known for their Christmas-themed treats, but also for their gourmet nibbles available throughout the year.
One of the products in our collection we certainly recommend for recipients is the Baylies Epicurean Delights Handmade Cake with Barossa Valley Brandy. The handmade cake from Baylies Epicurean Delights is available in several of our Christmas hampers, so you'll certainly have enough options this holiday season!
Other Brands You Must Discover
Since there are so many brands available at the Hamper Emporium, it is impossible to describe them all in detail here. Fortunately, there is nothing stopping our recipients to get more familiar with the brands themselves by selecting one of our hampers on the catalogue. Once you get the product description page, you get to know more about the brand simply by reading the information on that page. Do you have an additional question? Be sure to contact us today for more information!