How To Make It A Sweet Christmas!
Author: Nicole Adler Date Posted:8 April 2015


How to Make It a Sweet Christmas!
How can you make this Christmas the sweetest Christmas of all? By using our Christmas Chocolate Hampers of course! Our Christmas Chocolate Hampers are hand selected by our professionals and will provide you with all the sweetness you need this Christmas.
Chocolates & Red Hamper
One of our favourite hampers in our
Christmas Chocolate Hampers
is the Chocolates & Red Hampers. In this hamper you will find a gorgeous 2012 Brown Brothers Heathcoate '18 Eighty Nine' Shiraz, a wine that everyone should experience at least once in their life. Then you can also have a taste of the delicious chocolates in this hamper, including chocolates from Butlers, Fardoulis and Willie's Cacao. The Chocolates & Red Hamper also has delicious puff pastries from Maison Fossier, so this hamper will make your Christmas extra sweet.
Luxury Chocolate & Bollinger Hamper
The most luxurious hamper in our Christmas Chocolate Hampers is the Luxury Chocolate & Bollinger Hamper. Are you a true connoisseur when it comes to chocolate? Then you will appreciate the Fardoulis Couveture milk and dark chocolates in this gift. The taste of the chocolates is also complimented by the Bollinger Special Cuvee NV Champagne, one of the finest French champagnes. The Luxury Chocolate & Bollinger Hamper also has some delicious biscuits from Maison Fossier and Morgan & Albert's, so the recipient will certainly appreciate what Santa brought this year if you choose this luxurious hamper from our Christmas Chocolate Hampers collection.
Do you need to buy a Christmas chocolate hamper for your wife, fiancé or female friend? Then you cannot go wrong with the Pure Indulgence Hamper. The hamper is filled with delicious treats that are very popular during Christmas time, for example a Moet & Chandon Brut Imperial NV Champagne, Maison Fossier snacks, Butlers chocolate milk, handmade chocolates and much more. The Pure Indulgence Hamper also has a selection of luxurious cosmetics by MOR, something no woman can resist.
Australia's Finest Sparkling & Chocolates
Are you ready to taste the most awarded sparkling wine in Australia? Australia's Finest Sparkling & Chocolates contains the most awarded and popular sparkling wine of Australia, the Brown Brothers Methode Traditionelle King Valley Pinot Noir Chardonnay. While you enjoy this amazing champagne, you can also savour some of Australia's finest chocolates, Chocolate Plato by Fardoulis!
Brown Brothers Limited Edition Hamper
If you want to taste one of Brown Brothers limited edition Shiraz this year, you will have to be quick. The Brown Brothers Limited Edition Hamper is extremely popular and contains the Brown Brothers Limited Edition Shiraz, which has received a large amount of awards. While you enjoy this delicious Shiraz, you can also enjoy amazing Fardoulis chocolates and luxurious biscuits from Maison Fossier.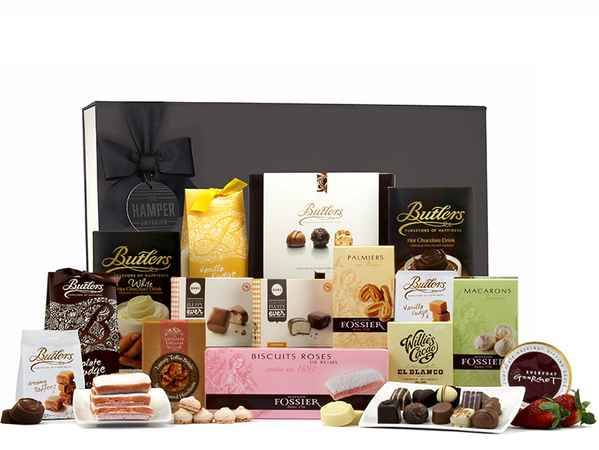 Chocolates & Red Hamper with Premium Scarpantoni Shiraz
Are you a Shiraz lover? Then you should definitely try the Chocolates & Red Hamper with Premium Scarpantoni Shiraz this Christmas. The 2009 Scarpantoni Block 3 McLaren Vale Shiraz is one of the highest quality wines you will find. This wine is also accompanied by our favourite biscuit and chocolate brands, Maison Fossier, Fardoulis and Butlers.
The Luxury Chocolate & Champagne Hamper is an extremely popular gift choice during the Christmas period. This is not really a surprise once you see what this gem contains. The hamper has a classic Veuve Clicquot Yellow Label NV Champagne, containing one of the most original champagne tastes in the world. Then you are also able to enjoy some delicious chocolates, biscuits and sweets on top and that is exactly what a good Christmas is made of!
Sweet & White Hamper
Customers who enjoy a good mix of wine, nibbles and chocolate should go for the Sweet & White Hamper. This hamper does not contain one bottle of wine, but three! All wines are created by award winning wine producer Brown Brothers and are definitely an experience you will never forget. Next to the gorgeous wine you will also get some all-time classics, including Elsa's Story lemon butter cookies.
Corporate Branding Options
Would you like to use one of our Christmas Chocolate Hampers as a corporate gift? Hamper Emporium offers special branding options to businesses! Our in-house graphics designer can implement the brand of your company on the hamper you have chosen. We are also able to send the hampers to various addresses, so you do not have to worry about delivering them yourself.
Do you need some Christmas hampers and want to take advantage of our corporate branding? Contact our friendly customer support team and we will gladly make this service available to you.