The Celebration of Christmas Hamper
pre-order - released 10 November 2017
Order Now, Ships From 10th November 2017
$599
Share in the joy of the Christmas season with the best nibbles, sweets and wine The Hamper Emporium has to offer with this incredible gourmet gift hamper. Ideal for sharing with co-workers at Christmas time or as a gift to a whole family, this hamper's wide selection is sure to please a crowd and FREE Shipping Australia-wide.
---
Savoury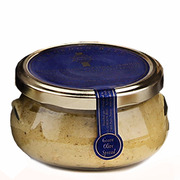 Le Cordon Bleu Paris Olive Fennel Spread 180g
Le Cordon Bleu brings a deliciously unique flavour to any cheese platter or simply dip in crackers. Made in France.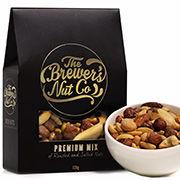 Brewer's Nut Company Premium Nut Mix 120g
A blend of the freshest and best tasting roasted, salted Brazilian nuts, creamy cashews, hazelnuts and Australian peanuts and almonds.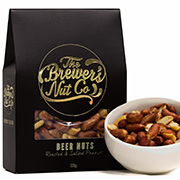 Brewer's Nut Co. Classic Beer Nuts 120g
Crack open a cold beer or cider and treat yourself to our delicious Aussie beer nuts; guaranteed to go down a treat.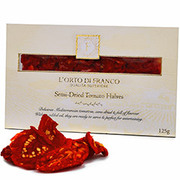 L'Orto Di Franco Semi-Dried Tomato Halves 125g
Delicious Mediterranean tomatoes, semi-dried & full of flavour. With no added oil, they are ready to serve & perfect for entertaining.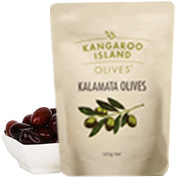 Kangaroo Island Olives Kalamata Olives 185g
Plump, juicy and bursting with flavour, Kangaroo Island Olives are 100% Australian. This is island produce at it's best.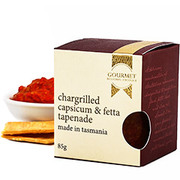 Gourmet Regional Chargrilled Capsicum Tapenade 85g
A delicious combination of Australian capsicums, chargrilled to perfection, fresh fetta cheese and olive oil. Handmade in Tasmania.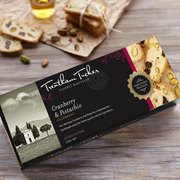 Trentham Tucker Cranberry Pistachio Crispbread 150g
A delectable combination of cranberries and pistachios, handmade into delicious crispbread.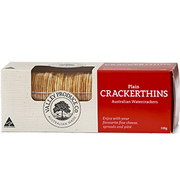 Valley Produce Cracker Thins Plain 100g
Versatile plain cracker thins from Valley Produce that are perfect with so many types of dips, spreads and condiments.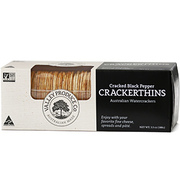 Valley Produce Cracker Thins Cracked Pepper 100g
Tasty Valley Produce Cracker Thins with a robust cracked pepper flavour that matches well with so many different options.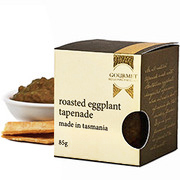 Gourmet Regional Smokey Eggplant Tapenade 85g
A subtly smokey all-natural tapenade with roasted eggplant and chargrilled capsicum. Simply delicious!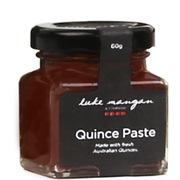 Luke Mangan Tasmanian Quince Paste 60g
A sensational Australian quince fruit paste made in Tasmania with the freshest ingredients. A delicious addition to cheese platters.
Biscuits & Sweets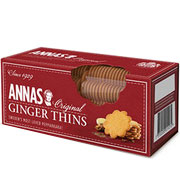 Anna's Original Ginger Thins 150g
In the 1920′s, Anna baked ginger cookies at Christmas in Sweeden. Now famous worldwide and enjoyed year round.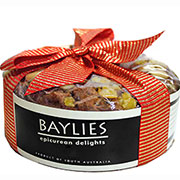 Baylies Epicurean Traditional Handmade Cake 750g
Handmade in the Adelaide Hills with the best quality South Aussie ingredients, including a dousing of Barossa Valley brandy.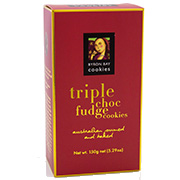 Byron Bay Cookies Triple Choc Fudge Box 150g
An Australian favourite for many years this gift box contains twelve baby buttons full of triple choc goodness. Made in Byron Bay.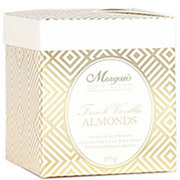 Morgan's French Vanilla Almonds 175g
Premium, crunchy Australian almonds roasted in a classic French Vanilla flavour. Made in Sydney.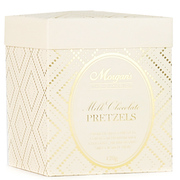 Morgan's Milk Chocolate Pretzels 135g
An irresistible salty and sweet treat. Crunchy salted pretzels covered in premium milk chocolate. Made in Sydney.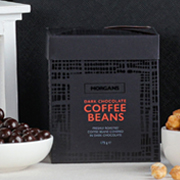 Morgan's Dark Chocolate Coffee Beans 175g
Freshly roasted coffee beans covered in smooth, rich 50% cocoa dark chocolate. Made in Sydney.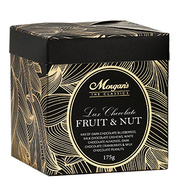 Morgan's Lux Chocolate Fruit & Nut Mix 175g
A luxury mix of dark chocolate blueberries & cranberries, milk chocolate cashews & peanuts, and white chocolate almonds. Made in Sydney.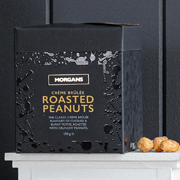 Morgan's Crème Brûlée Roasted Peanuts 175g
The classic crème brûlée flavours of custard and burnt toffee roasted with crunchy peanuts. Made in Sydney.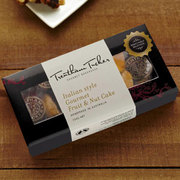 Trentham Tucker Gourmet Fruit & Nut Cake 250g
A handmade Italian style fruit & nut cake made with natural ingredients, perfect for any festive celebration.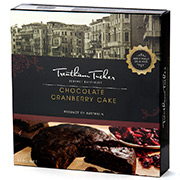 Trentham Tucker Chocolate Cranberry Cake 400g
A delicious mix of fine chocolate and cranberries made into a cake perfect for the festive season. Made in Australia.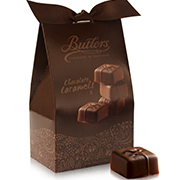 Butlers Chocolate Caramels 200g
Delightful caramels covered in the finest chocolate, these sweets are truly addictive.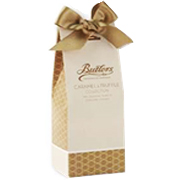 Butlers Chocolates Caramel Truffles 100g
Individually wrapped chocolate with irresistable creamy centres that will be loved by everyone.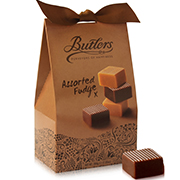 Butlers Assorted Fudge Gift Box 200g
Irresistible assorted fudge treats perfect for the whole family.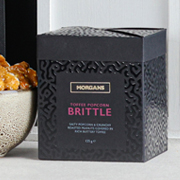 Morgan's Popcorn Toffee Peanut Crunch 135g
Salty popcorn and crunchy roasted peanuts covered in rich buttery toffee. Made in Australia.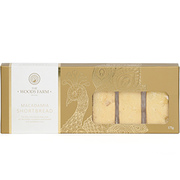 The Woods Farm Macadamia Pure Butter Shortbread 175g
Made with all Australian ingredients and crunchy macadamias this shortbread is a classic treat that everyone will enjoy.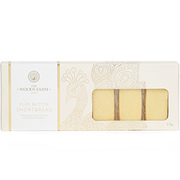 The Woods Farm Pure Butter Shortbread 175g
Rich and crumbly shortbread made with 100% Australian ingredients and using the finest creamy butter. Best enjoyed with a cup of tea.
Wine & Champagne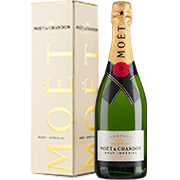 Moët & Chandon Brut Imperial NV Champagne 750ml
With its perfect balance of Pinot Noir, Chardonnay & Pinot Meunier is one of the world's most-loved Champagnes.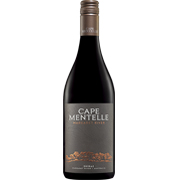 Cape Mentelle Margaret River Shiraz 750ml
Meticulously picked & processed using techniques of Northern Rhône Valley in France. A bold red with 10+ year cellaring potential.
Chocolate
Willie's Peruvian 70% Dark with Hazelnut & Raisin 50g
A delicious Peruvian chocolate studded with hazelnuts & raisins. This is one moreish square of chocolate you won't be able to resist. Mad
Willie's Sierra Leone 70% Dark with Ginger & Lime 50g
The beautiful honey notes in the Baracoan beans dancing with the ginger and lime to an irrepressible Cuban beat.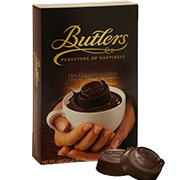 Butlers Chocolates Milk Hot Chocolate 230g
A rich chocolate truffle that when mixed with steaming milk creates a decadent, smooth & creamy hot chocolate. Made in Ireland.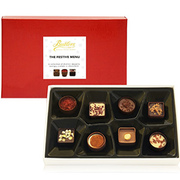 The Festive Menu by Butlers Chocolates 130g
A collection of Festive Desserts lovingly crafted in chocolate including Christmas Pudding Truffle, Hazelnut Brownie and Spiced Berry Parfait.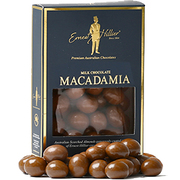 Ernest Hiller Milk Chocolate Macadamias 240g
Australian macadamia nuts generously coated in layers of Ernest Hillier's famous creamy Milk Chocolate.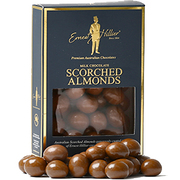 Ernest Hillier Milk Chocolate Scorched Almonds 240g
One of Australia's favourite chocolate brands for over 100 years, these scorched almonds are covered in milk chocolate.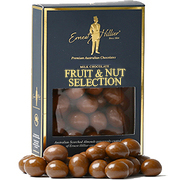 Ernest Hillier Chocolate Coated Fruit & Nut Selection 24
A classic fruit and nut combination covered in chocolate. In new look packaging but with the same creamy Hillier chocolate taste.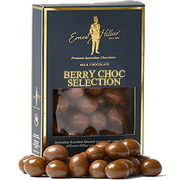 Ernest Hillier Berry Chocs Selection 240g
This all-Australian brand makes the best chocolate covered sweets available and this Berry Selection is one of their finest!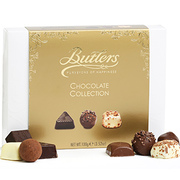 Butlers Gold Box Chocolate Assortment 100g
Butlers have produced a gold gift box that is filled with an irresistable milk, dark and white chocolate assortment.
Pantry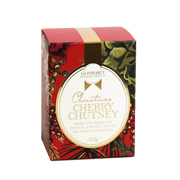 Gourmet Regional 'Ham Jam' Cherry Chutney 215g
A Cherry Chutney made with Tasmanian cherries, it's the perfect partner to a Christmas Ham. Made in Tasmania.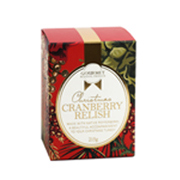 Gourmet Regional Produce Cranberry Relish 215g
A Cranberry relish made with native pepperberry. A delectable relish to go with your Christmas Turkey. Made in Tasmania.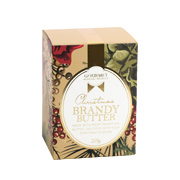 Gourmet Regional Produce Brandy Butter 215g
One of our favourites, this Brandy Butter is a true winner with Christmas pudding and even Nan's fruit cake!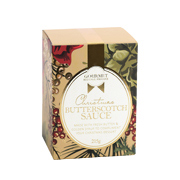 Gourmet Regional Produce Butterscotch Sauce 215g
A butterscotch sauce made with fresh butter and rich golden syrup. The ideal compliment to your Christmas dessert.
Also Included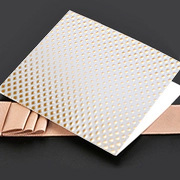 FREE Premium Embossed Greeting Card
Write a message for your recipient & they will receive it in this premium gift card designed & printed exclusively for The H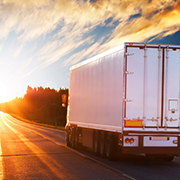 FREE Australia Wide Delivery
Delivered anywhere in Australia for free! See standard delivery times and Express upgrade options below.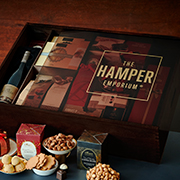 Large Handcrafted Wooden Box
This hamper is presented in true luxury style in a beautiful large wooden box with tinted sliding lid for an extra premium feel.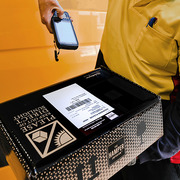 Comprehensive Track & Trace
Your parcel can be tracked as it is shipped anywhere in Australia. A tracking ID is emailed upon dispatch.
---
Standard Delivery - FREE
NSW, VIC, QLD metro areas
1 - 3 Business Days
TAS, SA metro areas
3 - 5 Business Days
Perth, Darwin & regional areas
5 - 8 Business Days
Express Delivery* - from $14.95 per hamper
Sydney Metro Area
Same Business Day
Melb, Bris, Adel, Perth, Can, NSW cities
Next Business Day
Darwin & outside of major cities
1 - 3 Business Days
*Delivery times based on orders placed before 1pm on the same or previous business day.
Visit our
Delivery page
for detailed delivery information.
Due to seasonal variations and exclusivity of our stock, items in hampers are occasionally substituted for products of the same or higher value and quality.
The Celebration of Xmas Hamper
Giving away the The Celebration of Xmas Hamper by the Hamper Emporium is a wise decision, rather than purchasing items that may end up useless in the long run. With a food hamper as your Christmas present, it's like taking your recipient to a whole new experience thanks to all the appetizing goodies of this hamper. A food hamper will always be a good choice especially at the office when most of the time, co-workers are not familiar enough with the wants and needs of their fellow workers. With a food hamper as your present, you are sure that it will be eaten or cherished by your recipient.

The Hamper Emporium also understands that big companies out there are usually thanking their employees for the wonderful work all year around during the Christmas season; this is why the Deluxe Office Share Xmas Basket was created to fulfil the needs of these corporate companies. So when your office is hunting for presents and hampers to give away to the office staff during Christmas, look no further as the Hamper Emporium has the perfect hamper for your office celebration. There are dozens of advantages when you opt for a Christmas hamper as your give away office present.

It is not always easy to find a corporate Christmas gift which will impress and suit everyones tastes. But with The Celebration of Xmas Basket both your colleagues and office staff can enjoy and celebrate together with gourmet food and wine which can be shared by all.

Your colleagues will definitely fall in love with this hamper as it comes with enticing goodies. Every bite of the carefully picked treats in this hamper will burst into a pleasing experience. So why purchase from somewhere else, when the Hamper Emporium has everything you need?

Aside from the pleasurable goodies, the chocolates that are included in this hamper will bring sweetness in the air. Yes, Butler's chocolate and pudding collection, Willie's products and Ernest Hillier are tempting treats that are hard to resist. So make a change at the office and start giving away the Hamper Emporium's The Celebration of Christmas Hamper. You will not regret giving this away for you are guaranteed with happy and fulfilled recipients. Thank someone you know this Christmas and let your hamper speak what you truly feel.
The Celebration of Christmas Hamper will surely make the occasion even more special and joyful. Who wouldn't be happy receiving this kind of hamper? It is big, sophisticated, stuffed with so many great and branded goodies, wine & champagne and it also comes with free delivery within Australia. If you want to make Christmas even more special for your recipient send them a hamper by The Hamper Emporium. So no more stressful Christmas shopping, simply check online, choose the hamper that will best suit the occasion, order and pay for it without any hassle and that's possible only at The Hamper Emporium.

For those in the office that are self confessed chocoholics, this joyful gift includes Chocolate Collections and Butlers Chocolate Caramels from Butlers Chocolates, the devine sweet and creamy Milk Chocolate Covered Scroched Almonds and the luscious Berry Chocs from Sydney-based chocolatier, Ernest Hillier and from Willie's is the moreish Cacao Peruvian 70% Dark Chocolate Hazelnut & Raisin and the amazing 70% Dark Chocolate Ginger & Lime.

Who doesn't love a tea break at work? Make the office tea break even better this Christmas season with the delicious variety of cookies and biscuits included in this whopping big hamper! Begin with the delectable nibbles of The Woods Farm Pure Butter Shortbread and The Woods Farm Pure Butter Macadamia Shortbread, then move onto the swedish made Anna's Original Ginger Thins and finish with the delicate Triple Chocolate Fudge Cookies from the pros at Byron Bay Cookie Company.

The range from Morgan's tops off this gift box's sweet treats with their decadent Popcorn Toffee Peanut Crunch. Their Finest crunchy slice is also delicious with a cup coffee or as an after dinner treat. Made with delicious Toffee, Peanuts and popcorn, this crunchy treat a variety of textures to enjoy.

If you're looking to sink your teeth into something a little more savoury, you won't want to miss the Gourmet Crackers with Sesame Seeds from Baylies Epicurean Delights, with a perfect balance of butter and seasoning these South Australian made crackers are a delight! Try them with the Paris Green Olive Spread with Fennel from Le Cordon Bleu to take your taste buds to an entirely new level of enjoyment. Or add them to a cheese platter with the Tasmanian Luke Mangan Quince Paste. This paste pairs sensationally with a creamy blue or an aged cheddar.

This hamper keeps giving with two Tapenades perfect for dipping, from Gourmet Regional Produce. Whether it's for a holiday party at the office or a gathering of friends and family, this hamper's quality selection of champagne, wine, sweets and nibbles is sure to be enjoyed at Christmas and well into the following year!
Deluxe Office Share Xmas Basket
Are you looking for the finest Corporate Christmas hamper that will not only impress someone, but rather make that important person feel special? Our Christmas gift hampers that will melt someone's heart, will turn a frown into smile and a hamper that will certainly not ruin your budget? Look no further as the Hamper Emporium offers you the best hamper collection thus far, The Celebration of Xmas Hamper. Giving a Christmas present requires a lot of thinking, from what item to give, where to purchase it and how much will it cost. These are few of the many questions you need to think about when giving away Christmas presents. Good thing there's the Hamper Emporium to keep everything under control.

The Celebration of Xmas Hamper is the perfect hamper if you need to thank someone at the office, or perhaps reward him for his good performance. Why is this hamper perfect? Simply because it is filled with items ranging from savoury ones, biscuits & sweets, wine & champagne and of course, a must have in all hampers, a collection of chocolates. Priced for a reasonable amount, this can already be considered as a wise option to take.
Now, evade stressful cashier lines at the mall and tiring shopping, at the Hamper Emporium shopping is made comfortable and all items are purchased in just a single click. So what are the contents of this hamper? To start with, the Deluxe Office Share Xmas Basket offers the recipient a chance to lavish on different savoury items such as the Tasmanian Fruit Pastes, and you have a choice of either a Fig & Walnut flavor or the Quince fruit. In addition, this Corporate Christmas hamper offers recipient a taste of a high quality gourmet from Baylies.

If you love a green Olive spread, then there's something for your cravings in this hamper such as the Le Cordon Bleu. Of course, the savoury collection wouldn't be complete without the Brewer's Nut Company products and Kangaroo Island Olives Kalamata Olives stuffs. To make it even more delightful, this hamper includes the Trentham Tucker Cranberry Pistachio Crispbread, and to make your savoury experience quite fantastic is the L'Orto Di Franco Semi-Dried Tomato Halves.
Last but not the least, savoury stuffs are also part of this tasty hamper collection. That's not all; The Celebration of Xmas Hamper is intended for people at the office. The Hamper Emporium understand exactly the need to share these magnificent items with co-workers, therefore this hamper is stuffed with lots of biscuits & sweets to enjoy together with co-workers and colleagues. To start the enjoyment, there are more than a dozen different high quality biscuits in this basket, and some of which are the Baylies, Gourmet Produce Sweet Condiments range, Byron Bay Cookies, The Woods Farm, Anna's Original biscuits, and the Morgan's range.

The wine & champagne will never be forgotten! Thanks to the Hamper Emporium's classic taste, this hamper includes the stunning Cape Mentelle Margaret River Shiraz as well as the world's most loved champagne, the Moët & Chandon Brut Imperial NV Champagne. To complete this gift basket and to satisfy everyone, a collection of chocolate is found within this elegantly prepared hamper such as the Butlers, Ernest Hillier, and Willie's chocolate collection. What more could you ask for? The Deluxe Office Share Xmas Basket will definitely make your colleague excited upon receipt of this hamper, as well as make the moment special.
The Hamper Emporium does not only create dedicated Christmas hampers for individual customers, because we also have an exclusive range of Christmas hampers for businesses. The Christmas hampers for businesses are often used by small, medium and large businesses to advertise their company with important suppliers, clients and business relations, strengthening the bond between both parties. If you have been looking for ways to advertise your business with your most important clients, other than annoying flyers and cold calls, one of our gift hampers is bound to be appreciated by a client you are trying to gain!
Even though there are many corporate gift hampers at The Hamper Emporium to take advantage of, we would like to put forward one of our finest gift hampers at this point – The Celebration Christmas Hamper. The Celebration Christmas Hamper is a gift hamper created for businesses during the holiday season. It contains many Christmas-themed gourmet products; this includes Baylies Epicurean Delights Tradition Christmas Cake, Trentham Tucker Gourmet Fruit & Nut Cake and many other popular nibbles you expect to have during the holidays. Of course, this hamper also contains biscuits and sweets that will make the holidays even more delightful, including some of our most popular releases from Gourmet Regional Produce.