What Is the Best Gift for Christmas?
Author: Nicole Adler Date Posted:23 March 2019


Finding the best gift for Christmas is never easy, especially when there are loads of personal preferences, likes, and dislikes to take into consideration. Fortunately, there is a gift that is always appreciated, the Christmas hamper!
At The Hamper Emporium, customers can take advantage of a huge Australian Christmas hampers collection. Filled with the finest gourmet products, cosmetics, wines, champagnes, and even customisable gifts, our Australian Christmas hampers will leave a lasting impression with your friends and family this holiday season. Curious to learn more? Find out why our Australian Christmas hampers are the best Christmas gifts in Australia.
What Makes the Australian Christmas Hampers from The Hamper Emporium So Special?
Our Australian Christmas hampers are packed with special things. To ensure customers always get the best, we only use the finest gourmet brands and champagne labels in our catalogue of Melbourne Christmas hampers; this includes brands such as Moet & Chandon, Baylies Epicurean Delights, Ernest Hillier, Butlers Irish Chocolates, and many others.
The brands used in our Melbourne Christmas hampers are hand-selected by our hamper designer. Naturally, all selected brands must meet certain criteria before they are added to our Melbourne Christmas hampers; this relates to quality as well as flavour and popularity.
Gourmet products are not the only things found in our Melbourne Christmas hampers though, as they can also contain cosmetics and customised leather items. Once again, we only use premium brands such as Jurlique, L'Occitane, and MOR Cosmetics, guaranteeing the best possible quality for our Melbourne Christmas hampers during the holiday season.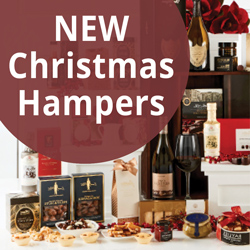 Can Corporations Benefits from the Christmas Hampers at The Hamper Emporium?
Businesses who want to advertise their business or pamper their employees with a nice selection of treats can also count on The Hamper Emporium this year, since we provide a large collection of corporate gift hampers too. Our corporate gift hampers are carefully compiled, providing that important recipient with some of the best gourmet products the world has to offer.
Customers can choose one of our premade corporate gift hampers to surprise someone during the holiday season. However, we must mention that any of our other gourmet hampers can be used as a corporate hamper too; this is where our corporate branding option come in.
At The Hamper Emporium, corporations and businesses can take advantage of corporate branding options on all corporate gift hampers and other predesigned hampers available at The Hamper Emporium. The options are quite diverse, so we urge businesses and corporations to check out our corporate branding pages to learn more.
The Hamper Emporium regularly offers a special deal on corporate gift hampers. If you intend on using this service regularly, or if you require a large number of corporate Christmas hampers during the holiday season, we certainly recommend returning to The Hamper Emporium regularly to uncover special deals!

Can All Customers Get Special Deals on Christmas Hampers at The Hamper Emporium?
Every customer who shops at The Hamper Emporium can count on a special deal. Customer satisfaction is important to us, so we aim to provide each customer with loads of benefits when they choose The Hamper Emporium.
One of the benefits customers can take advantage of this holiday season is our free delivery service. When you choose one of our Christmas hampers for a friend or a relative, you can select "Standard Delivery" during the checkout process. Our standard delivery is completely free; this means you do not have to pay anything on top to get your hamper delivered anywhere in Australia!
Of course, we understand that certain customers may require an expedited delivery during the holiday season. For these customers, we offer the "Express Delivery" option, which is available for a small additional fee and speeds up your delivery. To benefit from this option, simply select express delivery during the checkout process.
Last, but certainly not least, customers can count on a delivery up to Christmas Eve this holiday season. It is not uncommon for customers to come to The Hamper Emporium to buy a last-minute gift. Since buying such a gift still needs to impress, The Hamper Emporium provides you with the perfect options in the Christmas hampers range. With our extended delivery time up to Christmas Eve, you can get your Christmas hamper in time for the Christmas festivities.
When ordering from The Hamper Emporium, you can get a better idea about estimated delivery times by looking at the deliver section on all product description pages. We also provide an overview of estimated delivery times during the checkout; this includes the additional delivery options available to you.
Do you have a question about one of our Christmas hampers? Or would you like to discuss delivery options over the phone? Need to place a bulk order? For all this and more, do not hesitate to contact The Hamper Emporium today!