What Is the Best Hamper to Impress Your Boss?
Author: Nicole Adler Date Posted:23 March 2019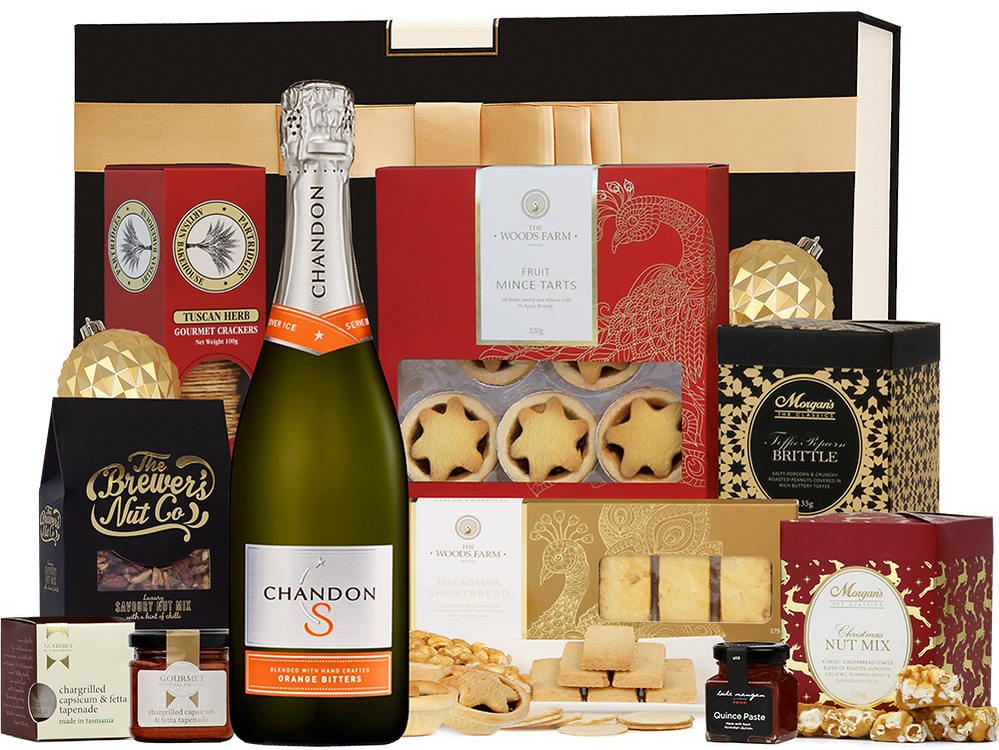 Christmas can be a great time to make a good impression with your boss, so many people tend to search our selection of best Christmas hampers for a great gift. Fortunately, the Hamper Emporium has an astonishing selection of Australian food hampers, Melbourne Christmas hampers, and even Sydney gift hampers to take advantage of this holiday season!
In addition to a range of Melbourne Christmas hampers and Sydney gourmet hampers that can be gifted to your boss, we also have corporate gift hampers you could consider. Our corporate hampers are usually gifted from a boss to his or her employees, but this kind of gift basket could be a lovely gift for your colleagues too!
If you have been browsing our Australian Christmas hampers for a great gift for your boss, explore our recommended Christmas hampers below and get one step closer to that promotion!
Which Christmas Hampers Would You Recommend for Male Bosses?
Male bosses are known to enjoy a good glass of whisky from time to time. For that reason, we would advise customers to get one of our whisky hampers as a Christmas gift.
The first whisky hamper in our range is the Glenmorangie Scotch Whisky Hamper, which contains an excellent bottle of Glenmorangie the Original Scotch Whisky. Glenmorangie whisky is considered to be a luxury product, so it will certainly be appreciated by your male boss. However, Glenmorangie Whisky is not the only reason why you should choose the Glenmorangie Scotch Whisky Hamper for your boss, because this hamper also contains a variety of gourmet products such as Le Cordon Blue olive spread, Baylies gourmet crackers and Comtesse du Barry terrine.
The second whisky hamper we can recommend for male bosses is the Glenlivet Founder's Reserve Hamper. Our Glenlivet Founder's Reserve Hamper is very similar to the Glenmorangie Whisky Hamper where gourmet products are concerned, but there is a difference in whisky. Instead of a bottle of Glenmorangie, the Glenlivet Founder's Reserve Hamper offers an excellent bottle of Glenlivet Founder's Reserve.
At the Hamper Emporium, you can find even more whiskey hampers for a male boss. Of course, you do not have to limit yourself to whiskey, especially if your boss is a big beer lover. We have many luxury Australian gift hampers filled with beers, whiskeys, and even classic port. So, be sure to check out all the options and benefit from our free delivery on hampers in Australia!
Which Christmas Hampers Would You Recommend for Female Bosses?
The Hamper Emporium can provide you with many recommendations for your female boss. Our recommendations are based on three products that are the favourites of female executives: chocolate, champagne and fine wine.
One of our best Christmas hampers for female bosses is the Luxury Chocolate & Veuve Hamper, since it combines two favourites in one hamper. The Luxury Chocolate & Veuve Hamper consists of a luxurious bottle of Veuve Clicquot Yellow Label Champagne as well as various chocolates from Butlers and Ernest Hillier.
Another good choice from our luxury Australian gift hampers range is the Champagne Triple Treat, which contains a bottle of Moet & Chandon Brut Imperial, a bottle of Piper-Heidsieck and a bottle of Bollinger Special Cuvee.
Most female bosses will also appreciate a good selection of cosmetics, considering they always need to look the part. Inside our Pure Indulgence Hamper from the Australian food hampers collection, you will find an outstanding selection of cosmetics products from MOR Cosmetics, therefore we would also like to recommend our Pure Indulgence Hamper. Of course, since this gift hamper is a part of the Australian food hampers collection, your recipient can also expect a lot of gourmet treats.
In our opinion, the Pure Indulgence Hamper from our Australian food hampers collection is the best choice for a female boss. The cosmetics are a big plus, but there are also two other favourites present in this hamper – chocolates and champagne.
Customers who know that their boss prefers a fine wine above all else should go for our Pamper Hamper with Rosé, another exquisite choice from the Australian food hampers collection. Inside this pamper hamper from the Australian food hampers collection, recipients can find an outstanding rose, complemented by delicious cookies, pastries, and even chocolate-covered biscuits.
What Do I Do If I Have More Than One Boss?
Having more than one boss in the office can be quite a challenge, since you will need one of our Sydney gift hampers or Melbourne Christmas hampers for all of them. However, this does not mean you have to purchase multiple hampers, since Hamper Emporium has the perfect solution in the form of the office gift hamper.
The Hamper Emporium offers various Australian Christmas hampers packed with office delights. You could choose our Celebration Hamper, or simply choose the Emporium Hamper from our Australian Christmas hampers range to give your entire office a lovely surprise.
Will I Need to Gift Wrap the Gift Hamper for My Boss?
Gift wrap will not be necessary when you purchase a gift for your boss on Hamper Emporium. Every hamper being sold in our range of Australian Christmas hampers comes in a beautiful keepsake box, which means you will not have to do any gift wrapping before you give your gift to your boss.
The gift box for each of our Australian Christmas hampers is displayed in the product image, so you can easily see what kind of box your hamper is going to come in when it is delivered. The materials for the gift boxes of our Australian luxury gift hampers can vary from wood to cardboard with a nice design, depending on the gift hamper you buy.
How Long Will I Have to Wait for This Gift?
The delivery time of each of our Sydney gift hampers depends on your location. Each hamper falls under the free standard delivery category, so you do not have to pay anything extra to get your hamper delivered, even if you want your hamper sent to your boss directly.
At the Hamper Emporium, we also provide some additional delivery methods, in case you need the gift for your boss quickly. Additional delivery options are always displayed during the checkout process, so you can easily select the option you wish to take advantage of.
For more information about our extra delivery options or the estimated delivery times for various locations in Australia, please head over to our delivery page.