Champagne Triple Treat Corporate Christmas Hamper
Author: Nicole Adler Date Posted:28 June 2016


Any big moment in people's lives calls for a decent bottle of champagne, and that is more important this December, just like Christmas celebrations? At Hamper Emporium, we understand just how important champagne is in celebratory events, and with this in mind, we would like to introduce you to our delightful Champagne Triple Treat Corporate Christmas Hamper that will surely gratify any champagne lover.
Champagne is something that people normally see during the holidays. Even when it is popped other times of the year, it is typically used to mark significant events such as promotions, graduations, divorces, weddings, marriages, and birthdays. Champagne is the vital celebratory tipple, yet this limited, slightly frivolous role obscures a critical point—Champagne is a wine, and can perfectly combine exceedingly well with numerous varieties of foods to offer all-year pleasure.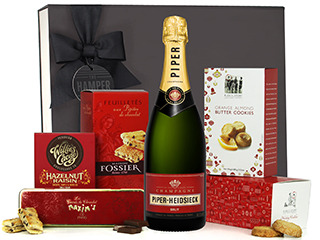 This is a time of the year when business proprietors need to treat their employees with some glasses of champagne to mark the end of the year. Managers can also purchase some champagne to congratulate the employees for a successful year. No matter what the occasion is, a glass of champagne will always add that unique touch to your business occasion. Our
Champagne Triple Treat
Corporate Christmas Hamper is just perfect for you.
Champagne is made to serve many purposes. This Christmas season, break out a bottle during meals to make your family, friends and families feel special and appreciated. To be honest, Champagne is not an everyday wine because of its cost and uniqueness, it is, therefore, paramount to use special occasions such as the festive seasons to treat your colleagues, friends, or family with our Champagne Triple Treat Corporate Christmas Hamper champagnes.
The Champagne Triple Treat Corporate Christmas Hamper Champagnes
In this Christmas hamper, we have selected three lovely bottles of champagne to brighten your Christmas. As our reputation precedes us, Hamper Emporium goes for the best products from the best manufactures within Australia and around the world. The collection of Champagnes we have in this hamper will surprise you.
 750 ml Piper-Heidjeck Brut NV Champagne -
This is champagne was created in 1875 in France and has gained worldwide popularity over the years. It is one of the world's favourite champagnes with its elegance and crisp with depth and complexity. It delivers a golden appearance and offers a fruity taste and aroma from Pinot Noir and Pinot Meunier grapes. Experienced wine tasters have given this brand high points and appreciated its palate
 750 ml Moet & Chandon Brut Imperial NV Champagne -
This lovely champagne pairs perfectly with most dishes, for example, white fish, oysters, scallops, sushi, and nearly all seafood. And if you are not a fanatic of seafood you can combine Moet & Chandon Champagne with white meat such as chicken served with herbs. Due to these kitchen advantages, Moet & Chandon is one of the most loved Champagnes in the world.
 750 ml Bollinger Special Cuvee Brut NV Champagne -
This is undoubtedly one of the finest French champagnes of all time, typically due to its full-bodied character. It was first manufactured back in 1869, so it has been in the market for a long time, one of the reasons why this wine is very trusted. There is plenteous of nuance, more precisely an added hint of white flowers and mineral. It has a golden yellow colour with understated green highlights. The taste hints some citrus fruits and green apple.
Quite lovely, right? And for only $229 you can have your Champagne Triple Treat Corporate Christmas Hamper right when you need it. We invest a lot of time to understanding our customers' needs and desires and we exceptionally put that into action. This wine combination gives you an astonishing experience of three different bestselling champagnes.

Are these champagnes available in other gift hampers?
Yes! If you like your gift hamper as an assortment, then Hamper Emporium will grant you your wish. You can have one of these champagnes combined with other items such as pastry, savoury, biscuits, sweets, and chocolate. We always place the desires of our customers first! Order your hamper today by calling us on 1300 459 452, or +61 2 9645 3516 for those calling from overseas; available between 9 am and 5 pm (AEDT) working days.
We offer FREE DELIVERY to all our customers around Australia. And offer a slight charge of $22.95 for express delivery. Check out our delivery times below;
| | |
| --- | --- |
| Region | Delivery Time |
| Darwin and outside major cities | 1 - 3 Business Days |
| NSW, VIC, QLD metro areas | 1 - 3 Business Days |
| Sydney Metro Area | Same Day Delivery |
| Melb, Bris, Adel, Perth, Hob, NSW cities | Next Business Day |
| TAS, SA metro areas | 3-5 Business Days |
| Perth and regional areas | 5 - 8 Business Days |
For more information on corporate hampers, email at corporate@thehamperemporium.com.au.