What is the Perfect Gift this Christmas for your Clients and Staff?
Author: Emily McWaters Date Posted:5 June 2019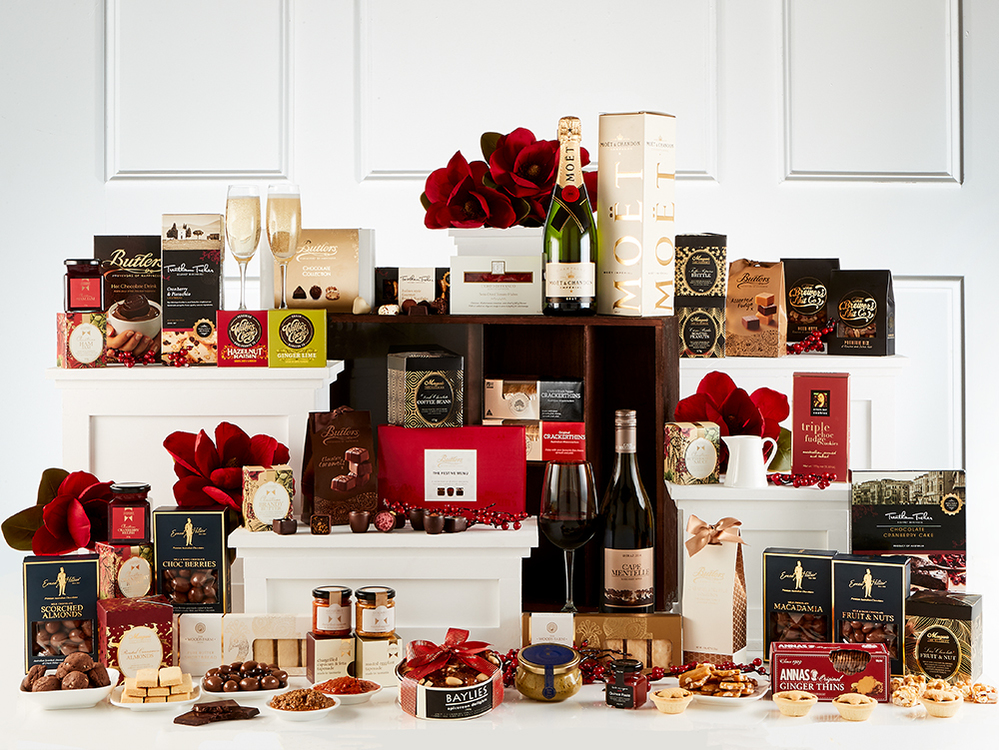 The best staff work hard the whole year through, especially for you, so reward their dedication with the enticing range of Christmas hampers devised specifically for your devoted employees from The Hamper Emporium.
There's a superb selection of staff and corporate gift hampers of the highest quality at ever-affordable prices for all tastes and inclinations.
Show them who's the boss with Christmas gift boxes and baskets that are jam packed with the spirit of festive rewards for a job well done.
With an extensive range of chocolate hampers, sweet treats, gourmet foods, fine wines, beers, spirits, ciders and world-famous Champagnes set to pop at after-hours Christmas celebrations, employers in the know turn to the premium online gift givers at The Hamper Emporium.
If you're the type of boss that employees clamour to please, productivity is not only set to rise, but also the spirit of festive occasion this Christmas.
The best leaders reward their staff with unmistakable gestures of luxurious food and wine hampers and a specialty range of staff and corporate gift hampers from The Hamper Emporium.
There's a brilliant selection of highly recommended fine wines, sweet and savoury gourmet nibbles from the dazzling range of corporate and staff Christmas hampers offered online.
With free Australia-wide delivery on all your Christmas hampers and gift purchases for staff, family and friends, a breathtaking selection of premium gift-giving choices at a price range that's designed for multiple purchases, The Hamper Emporium is your one-stop shop for planting winning grins on the festive-season faces of all your loyal staff.
What are some good Christmas hamper ideas for the staff?
The festive season embodies the spirit of sharing, and there's no finer selection of premium wines and the cream of gourmet foods than in the range of staff Christmas hampers that have been curated for caring and sharing.
You can choose from the abundant and indulgent luxury of The Classic Celebration Hamper. There is also the custom-made share package for epicureans in the Foodies Hamper. The White Wine and Nibbles Hamper or the Moet and Gourmet Nibbles Hamper have also been compiled with the spirit of celebration in fine wines, leading Champagnes and premium gourmet foods to suit sweet and savoury tastes.
Are sweet treats good Christmas gifts for staff?
Corporate and staff Christmas hampers brimful of the sweetest treats are their own reward, simply in the unveiling. Your chocolate-loving staff will be in cacao heaven when you choose from the irresistible selection of chocolates, shortbreads, cakes and tempting nutty treats offered throughout the entire range.
The Sweet Bites Hamper provides an endless selection of gourmet chocolate, shortbread, sweet nutty treats, even the delectable indulgence of salted caramel sauce. It's the perfect Christmas hamper for sweet-tooth staff in premium abundance and quality goods, either as a shared gift package or as an individual gift to last the whole holiday season through.
Can The Hamper Emporium help me choose the best Christmas hampers for staff?
The online customer support service at The Hamper Emporium is in a class of its own. Expert staff is on hand to provide one-on-one gift-giving guidance for your corporate and staff Christmas hampers and on all gift purchases offered in the extensive collection at The Hamper Emporium.
Do you offer gift cards if I order Christmas hampers for staff?
All staff Christmas hampers and every gift purchase from The Hamper Emporium come complete with a complimentary gift card for you to personalise for your valued staff, as well as premium gift-wrapping.
But if you're seeking to up the ante and truly make a statement, the best bosses can choose to upgrade the professional presentation of their premium staff and corporate Christmas hampers. Gift givers have the option to purchase custom-designed gift tags and satin ribbons with unique corporate branding in company logos, company names and professionally printed messages, offered online for a nominal fee.
These unforgettable corporate flourishes are produced in house at The Hamper Emporium by a dedicated team of professional graphic artists. The small gestures make the biggest impact in all your staff, corporate and personalised branding requirements when you turn to the expert gift givers at Christmas for staff and all special-occasion gifts at The Hamper Emporium.