The Hamper Emporium – Delivering Outstanding Australian Christmas Hampers for Everyone!
Author: Nicole Adler Date Posted:23 March 2019


Anyone who needs outstanding Australian food hampers only goes to one place – the Hamper Emporium. Our selection of Australian Christmas hampers is unmatched by any other company and the big variety of products ensures there are suitable Australian food hampers for everyone. Let us take a closer look at the Hamper Emporium's Australian Christmas hampers before you make your Christmas hamper choice!
Where Does Hamper Emporium Get the Products for Their Australian Food Hampers?
The products in the Australian food hampers of the Hamper Emporium are selected by the Hamper Emporium team with the utmost care. Product quality is extremely important to us, so only the best brands conquer a spot in our luxurious Australian food hampers.
Products and brands that could potentially conquer a spot in our Australian Christmas hampers are evaluated on a number of things. Some of the things that accepted products need to have are high quality, a renowned brand name and experience.
Many products accepted into the Hamper Emporium range have been around for centuries, as is the case for brands such as Maison Fossier and Jules Destrooper. However, there are also brands who have been around for only twenty years but were selected based on the outstanding quality the brand delivers.
What About the Products in Sydney Gourmet Hampers?
The Hamper Emporium does not only provide hampers for Christmas, because we also have Sydney gourmet hampers for other occasions such as weddings, engagements, anniversaries, birthdays, bachelor parties, births, christenings and so much more.
All products in our Sydney gourmet hampers are subjected to the same evaluations we mentioned for our Christmas hampers. The Hamper Emporium values quality above all else, so we guarantee that the products in our other Sydney gourmet hampers are equal to the products you can find in our Australian Christmas hampers.
Does the Hamper Emporium Gift Wrap Its Best Christmas Hampers?
The Hamper Emporium does not need to gift wrap its best Christmas hampers, considering the fact that we deliver each of our best Christmas hampers in a beautiful keepsake box. The materials the box is made of depends on the hamper itself and the weight of the products it contains. For example, most of our best Christmas hampers containing a bottle of alcohol will be delivered in a wooden box.
How Do I Find the Perfect Gift?
Getting the perfect gift somewhat depends on how well you know the personal preferences of the recipient. However, the Hamper Emporium ensures a lot of product variety in each of its best Christmas hampers, so there is bound to be something in each hamper that the recipient appreciates.
To get the best Christmas hampers, we recommend that you base your choice on a product you know the recipient likes. Common choices made by customers are champagne, chocolate, biscuits, wine, whisky, cake and beer. However, the product you base your decision on could be any product within the Hamper Emporium range.
Once you have found your base product, you can start searching our Australian luxury gift hampers range for a hamper that mainly contains this product. For example, if the base product you are working with is chocolate, you could choose Australian luxury gift hampers such as the "Festive Bubbles & Chocolate Hamper", "Chocolate & Red Hamper" and the "Australia's Finest Sparkling & Chocolates Hamper".
Customers who cannot decide on a hamper from our Australian luxury gift hampers collection are also free to contact the Hamper Emporium for some advice. Our team is always ready to give advice and we are even able to provide you with a great hamper choice based on very little information.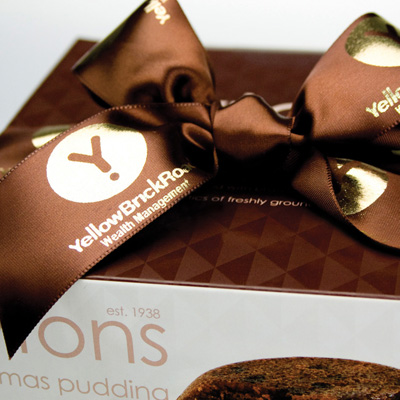 Does the Hamper Emporium Deliver Corporate Gift Hampers Too?
Hamper Emporium has a large selection of corporate gift hampers. Businesses can come to Hamper Emporium to find the perfect business gift by selecting a hamper from our range and by taking advantage of our corporate branding options, this can be done by contacting Hamper Emporium and hiring the services of our in-house graphics designer.
Corporate gift hampers from the Hamper Emporium are the perfect gift to cement the bond between your business and a supplier, business associate or big client. With the help of our graphics designer, you can transform any hamper on the Hamper Emporium into a corporate hamper. Hamper Emporium will be able to provide you with many personalisation options such as a gift tag with corporate design, personalised ribbons and more.
Businesses who could not find suitable corporate gift hampers on our website can also custom-design their hamper. Instead of having to look for a pre-made hamper, simply contact Hamper Emporium with your ideas. We also offer special discounts for businesses who order their corporate gift hampers in bulk, so if you need a considerable amount of corporate gift hampers, be sure to take advantage of Hamper Emporium!
Where Does the Hamper Emporium Deliver To?
The Hamper Emporium delivers Australian luxury gift hampers all across Australia. So, whether you live in a big city like Melbourne or a country town, you can always take advantage of our large selection of Australian luxury gift hampers.
In order to cater to all our customers, we provide a free standard delivery with each of our Sydney gourmet hampers. However, we also understand that customers may need to speed up the delivery of their gift. For that reason, we also offer additional delivery options for various locations within Australia. One of these additional delivery options for Sydney gift hampers is the express delivery.
The available delivery options will depend on your location. Each delivery option that is available to you will be displayed during the checkout process, so you can easily speed up your delivery if you wish to do so.
Are There Certain Conditions Connected to Special Delivery Options?
In order to take advantage of any special delivery option, customers need to order their hamper before 1 pm on a business day; this to guarantee we can catch the delivery service before the end of the day.
Special delivery options are also connected to the location where you are ordering from. For example, if you live in Sydney Metro, you will be able to use the same day delivery option. If you live outside Sydney Metro, you will have to choose another delivery option to speed up the delivery of your hamper.
Customers are not obligated to use our special delivery options for Sydney gifts hampers, because we also offer free delivery on Australian hampers. To benefit from the free delivery on Australian hampers, simply select the standard delivery option during the checkout process.
Do you have a question about free delivery on Australia hampers? Or do you need delivery information? Do not hesitate to contact the Hamper Emporium team for more info!