Corporate Christmas Hamper Favourites
Author: Nicole Adler Date Posted:17 November 2015


Anyone who needs Christmas hampers for the holiday season knows where to go. The Hamper Emporium has become Australia's favourite supplier of Christmas hampers, given the fact that the Hamper Emporium offers products of the finest quality and also provides a great diversity for every type of recipient. Want to know more about the Hamper Emporium and our range of Christmas hampers? Read our information below to discover everything about the Hamper Emporium today!
Who Is Behind The Hamper Emporium?
The Hamper Emporium is a company that consists of experts with a variety of skills. In our team you will find a customer service expert, operations manager, customer service manager, dispatch & fulfilment manager, ecommerce manager, graphics designer, director and a warehouse team. Each person in the team is the reason why Hamper Emporium became such a big success. Customers know they can always count on us when they need help or some valuable gift advice.
To find out more about each of our team members and the people behind the Hamper Emporium, please click on "Meet the Team".
Why Should I Get My Christmas Hampers From The Hamper Emporium Website?
Once you have ordered a Christmas hamper from the Hamper Emporium, you will never choose another hamper supplier again. The Hamper Emporium takes their Christmas hampers and gift hampers seriously. Each
product
that is chosen for our hampers is thoroughly tested and evaluated, ensuring that only the best products make their way to the consumer.
Another reason to shop with the Hamper Emporium is the large diversity of hampers we have available. On the Hamper Emporium, you will find a suitable hamper for any occasion. We provide customers with dedicated gift hampers for weddings, christenings, anniversaries, birthdays, births and so much more. Just take a look at our extensive range and see for yourself!
The last reason why Hamper Emporium is the ideal place to shop for gift hampers is the incredible amount of delivery options you are offered. We understand that gifts may be needed quickly, so we offer all our customers delivery options that enable them to receive their hamper in the timeframe that fits them. Common delivery options you can find on the Hamper Emporium is the free standard delivery, same-day delivery, next day capital city delivery, express delivery and bulk delivery. To find your ideal delivery option, please head over to our delivery page to explore all the options.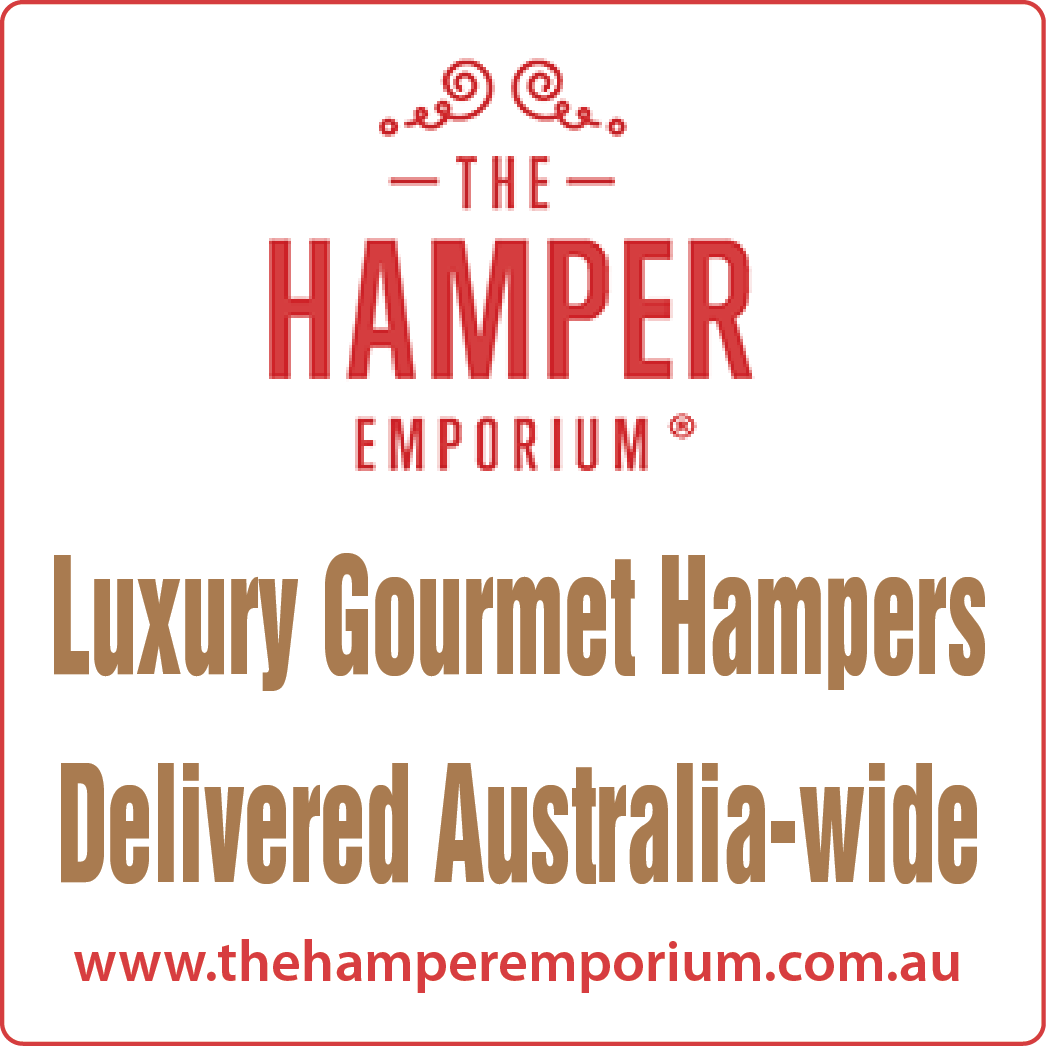 What Does Your Christmas Hamper Range Offer This Year?
Hamper Emporium has focussed on products made from fresh ingredients this year. Every Christmas hamper that has been placed on the Hamper Emporium contains products made from local ingredients, providing a gourmet experience that you will never forget.
Of course, gourmet products are not the only products you can find in the Christmas hampers of Hamper Emporium. Many men are also looking for gifts for their partner on our website, so we also added a selection of cosmetics to our female orientated gift hampers. Quality and results are two important denominators when it comes down to cosmetics, so we chose the best cosmetics brand in Australia for our Christmas hamper range – MOR Cosmetics.
What Alcoholic Beverages Does Hamper Emporium Use For Christmas?
Christmas is a time where alcohol is flowing freely, so a good range of alcoholic beverages needed to be added to our Christmas range. In the Christmas hampers range of Hamper Emporium, customers can find champagne, port, wine, whisky and shiraz.
The brands we use for our alcoholic beverages are quite diverse, but each of these brands is still known for their superior quality. A good example of such a product is Jameson Whisky, which can be found in one of our finest Christmas hampers. In addition to Jameson, customers can also find other big brands such as Brown Brothers, Moet & Chandon, Veuve Clicquot, Scarpantoni and Piper-Heidsieck.
Any Australian Christmas Treats I Should Be Aware Of?
Hamper Emporium included a number of Australian Christmas treats in the hamper range this year. One of the brands we use quite often for our Christmas hampers is Baylies Epicurean Delights, a supplier of exquisite gourmet products that have been handmade in the Adelaide Hills.
Of course, there are other Australian gourmet suppliers that are definitely worth mentioning. Other great Australian brands used in our Christmas hampers are Partridges Artisan Bakehouse, Fardoulis, Tasmanian Fruit Pastes and Random Harvest.
Can Businesses Get Special Deals When Shopping For Christmas Hampers On The Hamper Emporium?
Businesses can get many benefits when they purchase their corporate Christmas hampers on the Hamper Emporium. When you have a considerable amount of hampers to buy, Hamper Emporium can provide you with discounts and deals that will make your advertising effort less expensive.
For example, businesses who order more than 25 corporate hampers get a free corporate hamper setup. Businesses also get a free standard delivery Australia-wide, no matter how many hampers they order from us. To finish our excellent offer for businesses, we can also provide you with the services of an in-house graphics designer and a quick turnaround time.
Businesses who wish to know more about our corporate branding options can head over to our corporate hampers page. Hamper Emporium
has become the preferred hamper supplier for many successful businesses, which includes 3AW693 News Talk, American Express, SumoSalad, Allianz and many more.
Can Hamper Emporium Provide Superior Hampers For Other Occasions?
Hamper Emporium has an exquisite selection of Christmas hampers, but also an outstanding selection of gift hampers for other occasions. So if you need a suitable gift hamper for a wedding, anniversary or any other occasion, you can count on the Hamper Emporium as well.
When you shop at Hamper Emporium you can also count on our expert advice. Our customer support team is always happy to provide you with personalised gift advice, so if you are struggling to find a specific hamper for a recipient, you can always contact Hamper Emporium. Individuals are not the only ones that can benefit from the advice of Hamper Emporium, because we also offer personalised advice for businesses.