Jameson Whiskey Xmas Hamper from The Hamper Emporium
Author: Nicole Adler Date Posted:28 June 2016


How are you planning to celebrate this Christmas? Whether you want to enjoy it with your significant half, friends or family, plan well in advance and make sure their day will be magnificent.
Christmas is perhaps the most celebrated day in the world, and as the old adage goes, "It comes only once a year." It's a special occasion, and it calls for special celebrations. No one knows this better than us, at The Hamper Emporium. We have carefully prepared the Jameson Whiskey Xmas Hamper to help you share the festive mood with the people closest to you in styles.
Just like its name suggests, this hamper makes sure the recipient taste buds are sizzling with anticipation; mainly because Jameson is the single most popular whiskey brand in the world. The fact that it is Irish makes it even more alluring. We have made the
Jameson Whiskey Xmas Hamper
with the goal to help the recipient enjoy the ultimate sophistication this x-mas. Inside the basket, you will find nine different products, including a 700ml bottle of the legendary Irish Jameson Whiskey, delightful potato chips, sumptuous crackers, and more. Let's dip our heads inside the Jameson Whiskey Xmas Hamper and see what your loved ones will get;
 700 ml of Jameson Select Reserve Small Batch Whiskey -
There is perhaps no better way of expressing your love to your other half than a bottle of Jameson. A bottle of this expertly brewed whiskey is enough to make the boldest statement.
Jameson is made with delicate vanilla waves, toasted wood and traditional spices. The drink has exotic fruits such as apricots, nectarines and papayas. To top it up, there is a delicate hint of mixed fruit spices added in painstaking proportion. Whether you want to take it neat, straight or on the rocks, the 40% alcoholic volume is ideal for a meal's accompaniment any time of the day.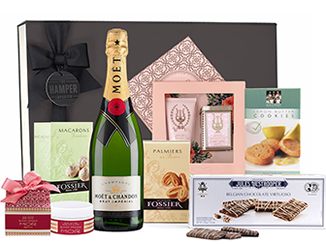  60g of Cat Cora's Organic Green Olives with Basil & Lemon –
Cat Cora is an internationally-acclaimed chef who has produced leading recipes. Her green olive recipe features a careful preparation. The olives are prepared for several days after which they are dipped in lemon juice and basil. The result is a delightful taste that you need to treat loved ones this festive season.
 100g of Morgan & Albert's Premium Nibbles Brewer's Blend –
Morgan & Albert is a re-known company that prepares several nut varieties and packages them in a pleasant blend. This particular blend consists of macadamia nuts, almonds, cashews, and hazelnuts among others. It is a perfect snack for a recipient of this Christmas gift hamper to enjoy right away. Wash them down with any beverage of your choice. They are ideal for leisurely evening just as they are great for breakfast.
 100g or Morgan & Albert's Premium Nibbles BBQ Peanuts -
Again, we want you to enjoy the very best that the vast nut family can offer. This is why we include these barbequed peanuts in the gift pack. Its preparation involves Portuguese chili and the treat is best for summer parties. Additionally, anyone who loves the savory taste of chilies will delight in these nibbles.
 100g of Thomas Chipman Cracked Pepper Organic Potato Chips –
The potato is among the world's most versatile foods. Thanks to its adaptability, Thomas Chipman prepares a tasty recipe of organic potato chips that are grown traditionally in Australia.
After harvesting, the potatoes are cut thick with the skin on. After that, they are seasoned with cracked pepper to introduce their unique chili taste. As these have been passed and certified by BPA, anyone can enjoy them any time.
 130g of Baylies Gourmet Crackers with Sesame Seeds -
Any recipe of crackers adds value to a celebration. In addition, these crackers with sesame seeds make your Christmas even lovelier. They are handmade to guarantee you exquisite detail. The addition of extra virgin olive oil ensures a healthy treat for everyone you gift.
 100g of Partridges Artisan Bakehouse Tuscan Herb Crackers -
Partridges Artisan Bakehouse is among leading bakers of themed cakes, biscuits and crackers. We include their Tuscan Herb Crackers in the Jameson Whiskey Xmas Hamper because they add organic value to any meal. As they are prepared with fresh herbs, they provide great nutritional value.
 60g of Random Harvest Kalamata with Roasted Garlic Tapenade -
Random Harvest is known for its dish of finely chopped olives and garlic paste. The fact that the kalamata olives are fresh means that you come as close to nature's best herbs as possible. You can spread the tapenade generously over pizza, bread and other wheat products. After that, bake the dish until it achieves golden brown color. Enjoy with any beverage of your choice.
 60g of Tasmanian Fruit Pastes, Fig & Walnut Paste –
Your cheese platters this Christmas will benefit from the addition of a unique paste. Apart from these fig and walnut ingredients, fresh carageenan and a pinch of sugar enhance the paste's aroma.
These fruit is sourced from Tasmanian growers, as they are the healthiest. The company prepares this treat in a commercial kitchen in Australia to guarantee you quality and food safety.

Your Christmas promises to be different from all the others, thanks to the Jameson Whiskey Xmas Hamper from The Hamper Emporium. We like to ensure that our customers get the best that the food and drink industry can provide. In addition, the fact that the hamper is affordable is a welcome advantage.
As we are usually full of activity during the festive season, we recommend that you place your order in advance. We hate to turn you down just because we are overwhelmed. Take advantage of our attentive customer care representatives in good time. If you are in Australia, call us on phone number 1300 459 452. Otherwise, feel free to talk to us on +61 2 9645 3516 if you are calling from overseas.
Learn our Delivery Schedule so that you make your order on the most convenient day. We deliver orders from Monday through Friday (9.00 AM-5.00PM Sydney, Australian Time) excluding public holidays. You can select same-day or next-day shipping options. For all standard orders made in Australia, our delivery services are absolutely free. This applies to all our hampers including the Jameson Whiskey Xmas Hamper. Order today, and experience the luscious taste of this creamy drink with your loved one this Christmas.