How to Personalise Your Corporate Gift Hampers?
Author: Emily McWaters Date Posted:8 June 2019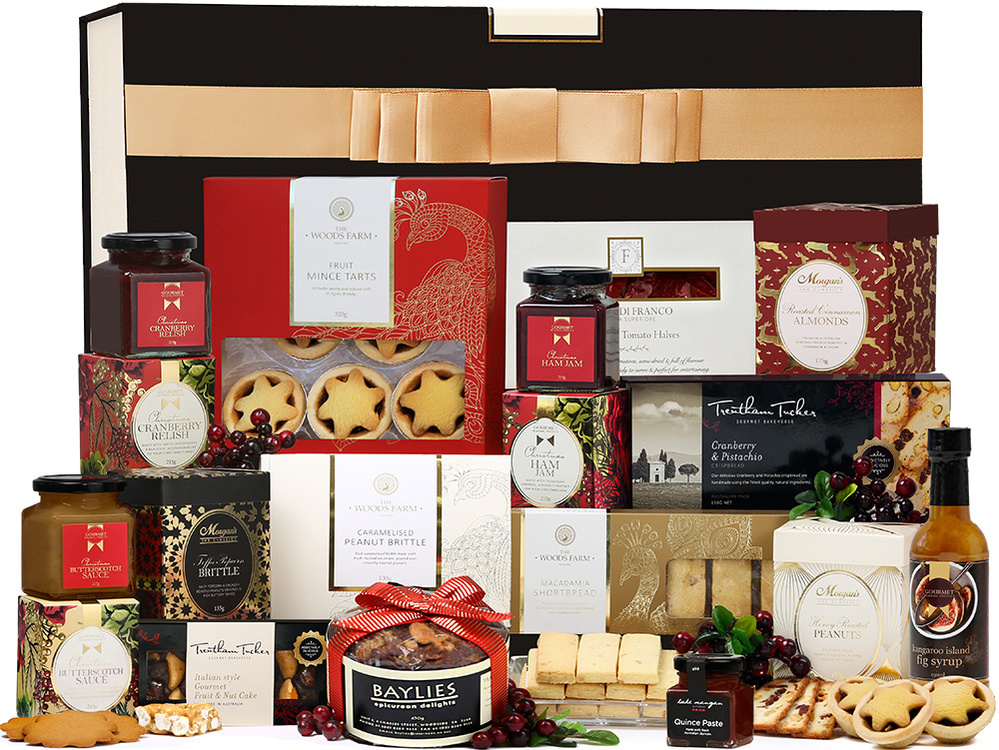 Personalised corporate Christmas hampers at The Hamper Emporium are all designed to uniquely reward your valuable clients for their loyalty and priceless custom.
The qualities of luxury, abundance and recipient delight abound in the extensive range offered online for business owners to peruse, choose, customise and order.
Professional, personal touches of corporate branding and individual festive messages make no mistake about where they're from, what these festive gestures represent and for whom they are intended.
The Hamper Emporium also provides a one-on-one online customer support service for gift-giving guidance and fine-tuning in all your corporate Christmas hamper requirements.
So beat the retail rush and start your corporate Christmas shopping today, online at The Hamper Emporium.
Reward your prized clients and business associates at Christmas with the priceless gesture of premium gifts to treasure.
The Hamper Emporium offers a custom selection of personalised corporate Christmas hampers that are not only uniquely presented and filled with supreme-quality luxurious goods, but also contain the wow factor.
There's a range of corporate branding options and the offer to stamp your recipients' company logos and name, with expert in-house graphic design services on gift-wrapping, gift tags and satin ribbons.
The gift of high-quality luxury in gourmet foods, fine wines, craft beers, spirits and the world's leading Champagnes is assured in every selection from the wide range of personalised corporate Christmas hampers on offer at The Hamper Emporium.
What are great personalised corporate Christmas hampers this year?
The Moet and Gourmet Nibbles Hamper or Red Wine and Nibbles Hamper are perennial winners among the corporate gift-giving selection. They're filled with the spirit of style, luxury and tasteful gourmet foods, supreme Champagne and fine wines to savour.
You could also choose from the festive collection in abundant gift offerings that the whole office can enjoy. The Festive Cheer Christmas Hamper is a prime example, which includes an artful taste of traditional festive foods, such as handmade Christmas cakes, fruit mince pies, buttery shortbreads and so much more. There's also an endless range of gourmet savoury treats and the highly recommended feature bottle of Barossa Valley Shiraz.
The premium indulgence of The Deluxe Christmas Hamper is also a glittering prize of the world's best Champagne, fine wines, sweet and savoury gourmet treasures that are made for corporate caring and sharing.
Do you offer corporate branding for personalised corporate Christmas hamper orders?
Corporate branding is a specialty at The Hamper Emporium. An in-house graphic design service ensures that all of your personalisation requirements are met artfully, promptly and unmistakably.
Gift ribbons and presentation that have been uniquely branded in individual corporate style also provide keepsake gestures to indelibly remember and treasure.
Do you offer discounts for bulk personalised corporate Christmas hamper orders?
A bulk purchase order form, available to download online at The Hamper Emporium, provides the convenience of completing your personalised corporate Christmas hampers shopping requirements promptly, efficiently and fine-tuning every gift-giving detail.
Free Australia-wide delivery is included in all corporate Christmas hamper purchases.
Gift givers also have to option to purchase personalised gift vouchers at The Hamper Emporium for your valued clients at Christmas and for all special occasions.
Uniquely branded corporate gift vouchers start from $30 to $1000 and there are discounts available on bulk purchases. All vouchers are valid for three years and can be used to purchase luxurious gift hampers and all premium products online at The Hamper Emporium.
How soon to order personalised corporate Christmas hampers at The Hamper Emporium?
You can avoid the Christmas crowds by ticking off your corporate gift list today with the convenience of online shopping.
The Hamper Emporium makes the experience of choosing, honing your personalised corporate gift and purchasing an added bonus, with online customer support and expert guidance in selecting and uniquely packaging all of your corporate Christmas hampers.
Prompt delivery, expertly gift-wrapped and presented gift hampers, complete with complimentary gift cards for you to personalise, are all part of the online shopping experience at The Hamper Emporium.