Why Is It Important to Give Corporate Gift Hampers During Christmas Time?
Author: Nicole Adler Date Posted:23 March 2019


Corporate gift hampers can be the ultimate way to advertise your business. Clients who receive one of our beautiful Australian Christmas hampers with corporate branding are more likely to remember you. A friendly gesture never goes unrewarded, so have a look at our range of corporate gift hampers and corporate branding options to get the ultimate corporate gift.
What Are the Corporate Branding Options for Corporate Gift Hampers?
When you shop at Hamper Emporium, you can take advantage of corporate branding on all our corporate gift hampers. The first thing you need to do before heading over to corporate branding options, is choose one of the corporate gift hampers in our catalogue.
After clicking on the Australian Christmas hampers category, you will see our entire collection of Australian food hampers suitable for the Christmas period. From Australian food hampers to great bottles of wine and champagne, there is no limit to the items you can acquire.
As soon as you have chosen one of our Australian food hampers, you can contact the Hamper Emporium to discuss your branding options. Our company has an in-house graphics designer, who can create the corporate branding design for you. For example, you can add your company's logo to the hamper, but also use some nice bows or ribbons with the colours of your company on it.
In addition to ribbons and logos, businesses can also take advantage of a personal corporate gift card. When you order online, the Hamper Emporium will add the card to the hamper you have chosen from the Australian food hampers range.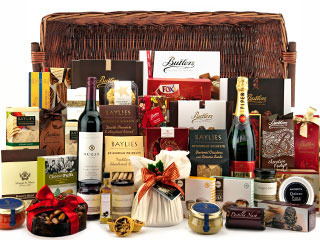 Can I Deliver the Corporate Hamper from the Australian Food Hampers Range to My Business Relation?
Do you want to send your corporate hamper from our Australian food hampers range to your business relation directly? No problem at all, because at the Hamper Emporium, you can request a delivery straight to the recipient. It is also possible to do this for multiple Australian Christmas hampers and recipients, simply contact Hamper Emporium and we will sort it out for you.
Can I Get Discounts on A Bulk Order from the Australian Christmas Hampers Range?
Customers who order a bulk amount of Australian Christmas hampers can get their corporate branding setup for free.
Want to order more than five gift hampers from our Australian Christmas hampers catalogue? We recommend using the form on our corporate branding page for more convenience. Alternatively, you can also arrange the delivery to multiple addresses through the shopping cart, so you will not have to do anything special.
Businesses who intend to place a large order of our Best Christmas hampers can get benefit from calling Hamper Emporium in advance. Our customer service team will be able to tell you what deals you can take advantage of, so be sure to give us a call!

Can I See Some Examples of Corporate Branding?
Customers who want to know more about our corporate branding for our best Christmas hampers and see some examples only need to scroll down on the corporate branding page. There you will find some beautiful gift tag and ribbon designs, giving you a better idea of what you can expect from our corporate branding service.
Where Do I Call to Arrange Corporate Branding for Hamper Emporium's Best Christmas Hampers?
Need to get in touch with the Hamper Emporium for corporate branding on our best Christmas hampers? Contact the Hamper Emporium via telephone or email. Our team will be more than happy to assist.
Do you want to view more Australian luxury gift hampers before deciding? Head over to our collection of best Christmas hampers to get some additional inspiration!