What are the Best Corporate Christmas Hampers for those with a Sweet Tooth?
Author: Nicole Adler Date Posted:23 March 2019


Corporate gifts are the most tedious to select and purchase. We are always at a loss of what to give during the holidays for our employees, clients, and business partners. We want them to feel special and for our gift to stand out from the throngs of holiday gifts. That is why it is important that we don't give something generic or ordinary.
Corporate gift hampers reflect you as an individual or you as a company. Whatever your goals for giving gifts are, you should make sure that they are of premium quality. We often think that the more expensive the gift is, the greater gratitude we get; or the more valued the recipient will think of themselves. However, that is not always the case. We should view our gifts using two important factors – the immediate effect and the lasting experience.
What Should I Consider When Buying Corporate Gift Hampers?
The immediate effect is what the recipient will feel right after receiving your gift. Easy, right? Everybody loves receiving gifts, so even if it is something generic, the recipient will appreciate it. However, we want to give gifts that do not just give the immediate gratitude, we also want your recipient to have a lasting experience.
We want the recipient to remember our gift, and one-size-fits-all gifts will not do that. A gift card will surely earn immediate gratitude, but personalised corporate gift hampers will bring both immediate and lasting impact. Giving personalised corporate gift hampers does not need to be expensive. A bottle of wine, a dinner at a nice restaurant, or one of our Australian food hampers can produce lasting memories.
Corporate gift hampers are getting more popular than ever. The reason behind this is Australian food hampers give the recipient a chance to share his or her blessings. Since Australian food hampers are loaded with a lot of treats, it can be shared to produce that lasting experience.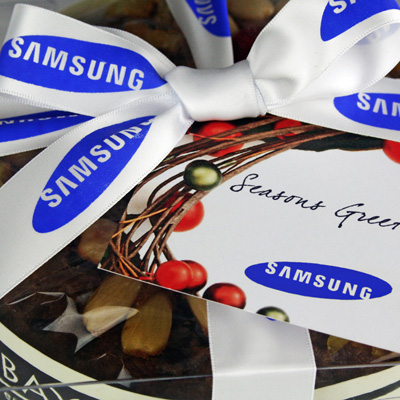 What are the Best Australian Food Hampers for Those with a Sweet Tooth?
There are a lot of factors affecting your choice of corporate gifts – theme, image, and budget are some of these factors. If you want to give Australian food hampers to impress, you might want to go the gourmet road. There are wine baskets, savoury treats, and our favourite, the chocolate gift hamper. Who does not love chocolates anyway?
Nobody has ever turned down a box of sweets. Even if you are not a chocolate lover, you still indulge from time to time. There is no better time to indulge our sweet tooth than during the holidays. Australian Christmas hampers filled with chocolates are the best gifts you can give or have during the holiday season.
The Luxury Chocolate & Veuve Hamper lets you experience true luxury. It is filled with Butlers Irish Chocolates, Ernest Hillier chocolate-covered nibbles, and the Veuve Clicquot Yellow Label Champagne. Fortunately, you can easily obtain this gift basket from our Australian Christmas hampers range.
Another great chocolate gift hamper from the same store is the Moet & Christmas Cake Hamper; this gift ensures a celebration with champagne and Christmas-themed nibbles. Treat the recipient to some luxurious chocolates and champagne. From creamy Ernest Hillier chocolates and handmade Christmas cake, to the exquisite Moet & Chandon Brut Imperial Champagne.
Where Can I Find Other Sweet Australian Christmas Hampers?
The Hamper Emporium has a lot of Australian Christmas hampers to choose from. We offer an array of items that you and your friends will enjoy!
One of the bestsellers from our Australian Christmas hampers collection, the Sparkling Christmas Foodies Hamper, will never do you wrong; this hamper features an outstanding bottle of bubbly from Chandon. Our Sparkling Christmas Foodies Hamper from the best Christmas hampers collection is also filled with an amazing selection of chocolates from Willie's Cacao and Butlers Irish Chocolate.
No sweet gift hamper shopping trip is complete without the Sweetest of Gift Hampers from our best Christmas hampers collection; this best-selling hamper is filled with gourmet chocolates, biscuits, and a lot more. It does not get any sweeter than a hamper filled with products from Maison Fossier, Butlers Irish Chocolates, and Morgan's.
Our best Christmas hampers will surely bring delight to your family, friends, colleagues, and clients. Buying Australian luxury gift hampers has never been easier this holiday season! With the popularity of online businesses, you can get the best Christmas hampers without going leaving the convenience of your home.
The Hamper Emporium has been catering to Australia's best Christmas hampers needs since 2007. Our wide range of Australian luxury gift hampers will make your gift shopping more fun and less stressful.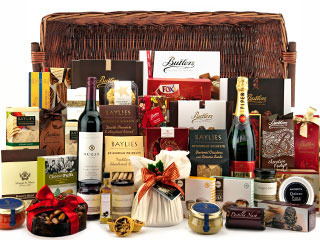 Why Should I Buy My Australian Luxury Gift Hampers Online This Holiday Season?
The process of selecting and buying Australian luxury gift hampers in-store may require a lot of time and effort. For people who do not have the luxury of going out and hopping from one store to another to look for that amazing gift that will fit the budget, shopping online is the way to go.
With the internet by your side, you have a new way to secure the finest Australian luxury gift hampers without having to leave your home. There are a lot of vendors online, offering the perfect selection for every need and budget. Shopping online prevents us from just picking out whatever's in the rack, because we do not have the energy of going around after a long and tiring day. With online shopping, you can endlessly browse for items with your feet up and wearing your most comfy pyjamas.
One of the largest and most trusted Australian-owned online stores is The Hamper Emporium. Since 2007, it offers a wide selection of Sydney gourmet hampers and Melbourne Christmas hampers at a reasonable price. Shopping at The Hamper Emporium will not only save time, it will also save money.
We at The Hamper Emporium are committed to providing the finest products at affordable prices. Because of our partnerships with large food producers and wholesalers, we offer premium quality items and our range of Sydney gourmet hampers and Melbourne Christmas hampers at an exceptional value.
The Hamper Emporium delivers countrywide and we also have items that we deliver without an additional charge. Your Sydney gourmet hampers and Melbourne Christmas hampers will be sent in a luxury gift box that is custom-designed to make the recipient feel that they received something unique and special. These are the reasons why Australia's biggest corporations - like Qantas and Citibank among others, to the local corner stores trust us to deliver beautiful Sydney gourmet hampers and Melbourne Christmas hampers for their special occasions.
At the Hamper Emporium, we have dedicated Christmas hampers for all areas in Australia; this includes our range of Sydney gourmet hampers and Melbourne Christmas hampers. Of course, our range also includes great options for other areas such as Perth, New South Wales, and other locations!
Of course, you do not have to take our word for it. Head over to the Hamper Emporium online catalogue and check out all the amazing gift baskets and gift wrapping options waiting for you. Do not forget! The Hamper Emporium also gives you free delivery on Australian hampers this holiday season! Happy shopping!