Which Is the Best Website for Gift Lovers?
Author: Nicole Adler Date Posted:23 March 2019


The Hamper Emporium is the place to be for gift lovers. We provide the largest range of Australian Christmas hampers, but also Sydney gourmet hampers for other special occasions such as birthdays, anniversaries, christenings, and more. So, if you need an excellent gift this holiday season, our website has everything you need.
What Makes the Sydney Gourmet Hampers from the Hamper Emporium Stand Out This Holiday Season?
Our Sydney gourmet hampers are the best in the country, and we have no problems saying that. To fill our Sydney gourmet hampers, we only use the finest Australian and international brands; this ensures that our customers get the superior quality they want and deserve.
The quality brands customers can find in our range of Sydney gourmet hampers are incredibly diverse. We have gourmet treats from Aussie brands such as Baylies Epicurean Delights and Trentham Tucker this holiday season. Of course, we also provide French labels in our Sydney gift hampers; this includes the likes of Moet & Chandon and Veuve Clicquot.
Our range of Sydney gift hampers does not solely include champagnes, wines, and sophisticated gourmet nibbles, because we also have a range of outstanding beers from the best breweries; this includes beers from renowned Aussie breweries such as James Squire. So, even if you are looking for Sydney gift hampers for beer lovers, you will find them at The Hamper Emporium this holiday season.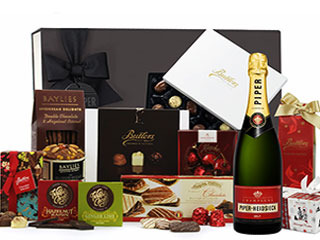 Does The Hamper Emporium Only Provide Food and Drink in Sydney Gift Hampers This Holiday Season?
The food and drink in our Sydney gift hampers are incredibly popular during the holidays, but they are not the only products we provide. In addition to food and drink, our range of Australian Christmas hampers also includes items such as cosmetics, aromatherapy, and even personalised leather gifts.
At The Hamper Emporium, we do not believe in generalised Australian Christmas hampers. Instead, each of our Australian Christmas hampers is made with the utmost care, providing a unique selection of gifts for a specific type of recipient. If you are tired of general gifts during the holidays, then The Hamper Emporium will become your new favourite!
How Are Australian Christmas Hampers from The Hamper Emporium Presented?
We all know that a good Christmas hamper is not just about the items inside. Even though the items inside are vital for the success of your gift, you cannot forget about presentation! Fortunately, you do not have to worry about presentation if you choose one of the Australian Christmas hampers from The Hamper Emporium.
Each of the Australian Christmas hampers at The Hamper Emporium is delivered in a stunning presentation box. Our presentation boxes are designed with utmost detail, ensuring the box matches the special occasion while looking elegant and sophisticated.
At The Hamper Emporium, we usually use two types of presentation boxes. The type of presentation box used for your hamper can be subject to the weight of the items inside. For example, if you order one of our Australian Christmas hampers with beers, the hamper must carry a considerable amount of weight. In these cases, we will use a handcrafted wooden box opposed to our standard presentation boxes.
Customers can always view an example of the presentation on the product image of their respective gift hamper. However, we must mention that presentation boxes can be different for various special occasions. So, if you decide to buy one of our Christmas hampers for another special occasion throughout the year, the presentation box may be slightly different to match that occasion.
How Long Does the Delivery of Christmas Hampers Take?
The delivery times for our Christmas hampers is subject to your location. If you live close to our warehouse, delivery may be as fast as the next day. So, to ensure you have an accurate view of the delivery times at The Hamper Emporium, we put delivery estimates on each of our product description pages. You can also view your estimated delivery time during the checkout.
This year, customers can also benefit from an extended delivery time for Christmas presents. The Hamper Emporium decided to deliver its Christmas hampers up to Christmas Eve, so customers who order a little later can still benefit from the superior quality of The Hamper Emporium.
When you choose The Hamper Emporium, you can also take advantage of a free standard delivery. We provide this free standard delivery on all Christmas hampers during the holiday season, but also outside the holiday season. If you wish to benefit from free shipping this Christmas or another special occasion, be sure to return to The Hamper Emporium.
Need your hamper even quicker? Take full advantage of our "Express Delivery" option. With Express Delivery, you can speed up the delivery of your hamper considerably! Of course, be sure to refer to the estimated delivery times for a more accurate insight into your delivery.