The 2015 Christmas Hampers List!
Author: Nicole Adler Date Posted:23 November 2015


The best Christmas hampers can only be found on the Hamper Emporium. If you still have to create your Christmas hamper list for 2015, we recommend reading our recommendations below. The Christmas hampers below are some of our finest hampers, so be sure to add them to your list when you get the chance.

What Christmas Hampers Should I Add To My Relative List?

Hamper Emporium has several gift hampers suitable for relatives. Whether you need a gift hamper for your mum, dad, aunt, uncle, niece or nephew, we definitely have a great choice in our range of Christmas hampers.

The first hamper we would like to recommend for relatives is the Champagne Festive Hamper. Inside this hamper, you get an outstanding selection of exotic chocolates, French champagne, English biscuits and French pastry. Our Champagne Festive Hamper has something suitable for every relative, so it is the ideal choice for your uncle, father, mother and aunt.

Our Gourmet Treats Festive Hamper is also a great Christmas hamper for relatives. It contains some traditional Christmas treats such as AB Ginger Biscuit Flavoured Syrup, Copperpot Christmas Spiced Butter Fudge, Shropshire Cranberry Orange & Roast Chestnut Stuffing Mix and Baylies Epicurean Delights Traditional Handmade Cake.

Customers who are looking for gifts for male relatives specifically should also have a look at the Classic Port Hamper. The hamper contains a Penfold's Father 10 Year Old Grand Tawny Port, Butlers Chocolates, a selection of biscuit and French gourmet appetisers.

For female relatives, we can recommend the Pure Indulgence Hamper. Our Pure Indulgence Hamper contains MOR Cosmetics, Moet & Chandon Champagne, Maison Fossier Biscuits, Butlers Chocolates, Willie's Cacao Exotic Chocolates and Luken & May Lemon Citrus Butterbursts.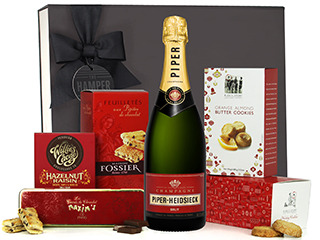 What Christmas Hampers Should I Add To My Friends List?

Hamper Emporium also has a great Christmas hamper selection for your closest friends. Due to the variety of products in each hamper, you can easily pick a hamper from our recommendations below and be sure you have made the right decision.

A great gift hamper for your friends is our Champagne Triple Treat, because it sets the tone for a very pleasant Christmas Eve. The Champagne Triple Treat offers your friends three exquisite bottles of French champagne, including Moet & Chandon Brut Imperial, Bollinger Special Cuvee and Piper-Heidsieck.

Customers who want to spoil their closest friends with the finest Christmas treats they can find should choose the Best of All Christmas Gift Hamper. Inside this deluxe Christmas hamper, you can find excellent treats such as shortbread, panforte, butter biscuits, terrine and chocolate.

Anyone who wants to gift their friends a great gift, but have to keep themselves to a budget can still get an outstanding gift on the Hamper Emporium. When you are on a budget, you can choose our exquisite Brown Brothers Limited Release Gift Pack. Inside the hamper there are two exquisite bottles of wine from the Brown Brothers wine house – the Prosecco and the 2010 Limited Cellar Release Shiraz.

Another great budget choice in our range is the Mini Delight Xmas hamper, which contains a variety of products that can be consumed during the holiday period. With the Mini Delight Xmas Hamper, you get an amazing selection of savoury nibbles, biscuits and sweets.

Are your friends planning a sophisticated Christmas party? Then you might want to gift the Red Wine & Nibbles Hamper. Inside you will find an amazing 2014 Devil's Corner Tasmanian Pinot Noir and a selection of Australian gourmet products.

Last but not least, we can also recommend the James Squire Ale Hamper for your male friends. The James Squire Ale Hamper is more than likely to provide your friends with a pleasant Christmas Eve, considering the variety of craft beers from the James Squire Brewery and the
large amount of savoury nibbles that will make your Christmas party a success.

Does Hamper Emporium Have Hampers For Young Children?

Do you want to gift something to a newborn baby girl or baby boy for Christmas? Then head over to our baby hampers to get some excellent choices. For some recommendations from the Hamper Emporium, please find our recommendations below.

A great gift hamper for baby boys is the Sophie La Giraffe with Navy Stripes. With this hamper, the newborn baby boy will be able to enjoy a soft cotton singlet from Marquise, a Sophie La Giraffe Teether, a pop-up peekaboo book, cotton knot hat and a gorgeous growsuit from the Pure Baby brand.

Customers looking for a great gift for newborn baby girls can go for our "Guess How Much I Love You" Baby Girl Hamper. The hamper has a selection of four books, a rattle, three cotton singlets from baby fashion brand Marquise and a pair of soft cotton booties.

Not quite sure if you are buying a gift for a girl or a boy this Christmas? In this case you can still go for one of our unisex options. A great unisex hamper in our range is the Sophie La Giraffe with Red Stripes. The Sophie La Giraffe with Red Stripes has a growsuit, cotton singlet, knot hat, book and an excellent teether.





What Christmas Hampers Should I Add To My Business Relations List?

Christmas is the perfect time to send a great gift to your business relations. On our website, you will find several hampers that are suitable for businesses. Take advantage of our great choices below to ensure the future success of your business.

The first hamper we can recommend for businesses is the Deluxe Office Share Christmas Basket, which can be used to treat your employees or can be send to your most important business relations. The Deluxe Office Share Christmas Basket contains the finest products from all around the world, which includes tapenade, fruit paste, pudding, olive spread, crackers, cake, pastries, macarons, champagne, chocolate and wine.

Another great business relations hamper is the Premium Office Share Gift Basket. With this hamper, your employees or business relations are going to be able to enjoy delicious crackers, fruit paste, oat biscuits, cupcakes, butter crisps, biscuit roses and an exotic chocolate selection.