Discover Our Stunning Christmas Hampers For Melbourne!
Author: Nicole Adler Date Posted:27 November 2015


Customers living in Melbourne can also take advantage of the Hamper Emporium Christmas Hampers. Our magnificent selection of products and high-end brands we use in each hamper ensures that Melbourne customers can celebrate Christmas in style. Let us take a closer look at our Christmas hampers and the high-end brands that make our Christmas hampers the best in Australia.

Which Brands Does Hamper Emporium Use For Melbourne Customers?

The brands used in our Christmas hampers are the same for all Australia. Whether you live in Melbourne, Sydney or any other part of Australia, you will still be able to enjoy international gourmet products and local, Australian products.

One of the brands you can find in many Christmas hampers on the Hamper Emporium is Maison Fossier. Maison Fossier is the name of a French bakery, who created their first biscuit release as early as 1690.

The first biscuit release of Maison Fossier, biscuit roses, has been extremely popular for centuries. However, there are more Maison Fossier biscuits just waiting to be discovered. Inside our Christmas hampers, you will be able to find the original Maison Fossier biscuit roses, macarons and French palmier pastries.

Another quality brand that can be found in our Christmas hampers is Brown Brothers. Brown Brothers is a wine house located in the heart of Australia. The wine house has been around since 1889 and is still managed by the Brown family until this day. Brown Brothers has also tried their hand in a variety of wines, which includes prosecco, red wine, white wine, shiraz and rosé.





Customers who take a look at our range of Christmas hampers will notice a large variety of Brown Brothers wine releases. If you are an Australian wine lover, you simply cannot afford to try a real Brown Brothers release. We also offer some limited edition wines from the Brown Brothers wine house, so be sure to keep an eye on our Christmas hampers for some unique Brown Brothers releases.

The last brand we would like to mention at this point is Jules Destrooper. Jules Destrooper is a Belgian biscuit manufacturer with centuries of experience. They are best known for their butter crisps, but also for their traditional yet adventurous biscuits with exotic cinnamon.

Jules Destrooper became a big success thanks to the company's experience as a colonial trader. The founder of Jules Destrooper was an expert in obtaining exotic ingredients from faraway lands, leading to the creation of a cinnamon biscuit that would be awarded with some of the most prestigious food awards in the world.

What Champagnes Or Wines Are Most Popular In Melbourne?

Even though most Australians have similar preferences where champagnes and wines are concerned, there can be some minor differences depending on the location where a person resides. For example, Melbourne can be seen as a modern city with modern tastes. For that reason, it is a good idea to go for a modern bottle of wine or champagne for someone residing in Melbourne.

There are several modern champagnes and wines in our range, but if we have to put one forward for the modern Melbourne resident we would choose the Brown Brothers Limited Release Gift Pack. Inside the Brown Brothers Limited Release Gift Pack, you will find two releases from the Brown Brothers wine house that can be considered modern – the Brown Brothers Prosecco and the Brown Brothers 2010 Heathcote Shiraz.

When you look at the Brown Brothers Prosecco, you will immediately notice it has a very modern feel to it. However, the bottle design is not the only modern aspect of this wine, because the aroma and taste palate is unique as well.

The Brown Brothers Prosecco is an outstanding sparkling wine with a clear aroma of pear and apple. The Prosecco is also suitable for vegetarians and vegans, another modern twist that has been added to this excellent Brown Brothers release.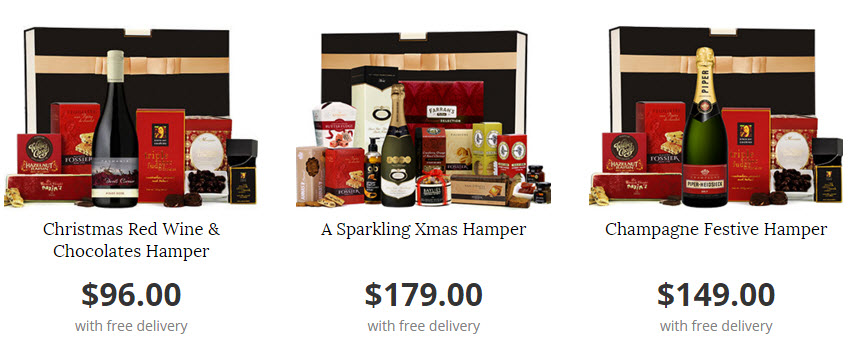 Hamper Emporium also added the Brown Brothers 2010 Heathcote Shiraz to the modern wine mix. The shiraz has obtained excellent wine scores from a variety of wine experts all around the world, which includes an outstanding 90 points from wine expert James Halliday.
Since the creation of the wine, Brown Brothers 2010 Heathcote Shiraz won the Sydney International Wine Competition and the International Wine Challenge. It is also one of the most popular wines from all Australian wine regions, so it is definitely worth a try.

What Delivery Options Are Available For Melbourne Customers?

All customers residing in Melbourne can take advantage of Hamper Emporium's free standard delivery. The free standard delivery option applies to all the hampers in our range, which includes Christmas hampers, corporate hampers, gourmet hampers, baby hampers, chocolate hampers and more.

Customers who order their Christmas hamper with a free standard delivery can expect their hamper to arrive in one to three business days. When you order your hamper during the Christmas period, please take into account any delays that may occur with the Australian post services. Any delays that occur during the holiday season are out of the control of Hamper Emporium, so it may be a good idea to order your Christmas hamper a few days in advance to guarantee your gift arriving on time.

Of course, customers in Melbourne can also speed up the delivery of their gift hamper with the Next Day Capital City Delivery Options. In order to ensure the timely delivery of your hamper, please order your gift hamper before 1 pm on business days. During the holiday season, your hamper will still get delivered the very next day when you choose this option. However, during the holiday season, your Christmas hamper may be delivered as late as 7 pm.

Hamper Emporium also offers special delivery options for businesses situated in Melbourne. Businesses in Melbourne can benefit from bulk delivery options, depending on the amount of Christmas and corporate hampers the business in question orders. If you want to discuss your special delivery options, feel free to contact the Hamper Emporium for additional advice.