Hamper Emporium – Offering Great Christmas Hampers Online!
Author: Nicole Adler Date Posted:24 November 2015


When you shop on the Hamper Emporium, you can count on a large selection of quality Christmas hampers online. With top brands such as Maison Fossier, Jules Destrooper, Brown Brothers and Moet & Chandon, it is really difficult not to find a Christmas hamper to your liking. Wondering what quality brands are hiding in our selection of Christmas hampers? Discover some of our most luxurious brands below!

Who Is Maison Fossier?

Maison Fossier is the oldest biscuit manufacturer in France. The company was created in 1756 and invented one of the most recognisable biscuits in the world – Biscuit Roses. If you would like to try the very first creation of Maison Fossier, be sure to have a look at our Christmas hampers and try the Biscuit Roses for yourself!

The Maison Fossier Company is located in Reims, which is also the champagne region of France. The Biscuit Roses which were invented before the creation of Maison Fossier in 1690, were biscuits meant to accompany champagne from Reims. When you try Biscuit Roses today, it is definitely a good idea to have a glass of French champagne in hand.

Over the course of the years, Maison Fossier have tried their hand at a number of biscuit releases and sweet treats, which includes all-time favourites such as marzipan, gingerbread, macarons and more. In our range of Christmas hampers, you will find several delightful releases from the Maison Fossier bakery.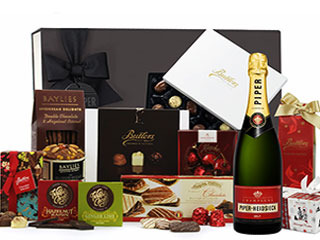 Who Is Jules Destrooper?

Belgian Jules Destrooper started in 1886 as colonial trader, importing spices from faraway lands such as Africa and the Middle-East. Thanks to these imported spices, Jules Destrooper discovered a unique flavour for their almond thins, leading to the worldwide success of this biscuit manufacturer.

Another great invention of Jules Destrooper was the Belgian butter waffle, which was first released on the Belgian market in 1890. Approximately twenty years later, the Belgian butter waffle from Jules Destrooper was rewarded with a golden award at a food show in France. Since its founding, Jules Destrooper also obtained other awards for their selective exports and the quality of their products.

Jules Destrooper is now under the management of the fourth generation of the Jules Destrooper family. Their biscuits are still made according to secret family recipes, but with a few minor alterations that match the needs of the consumer. When you purchase one of our Christmas hampers containing Jules Destrooper biscuits, you can be sure they will not contain any artificial colourings or flavourings.

Who Is Butlers?

Butlers is an Irish chocolatier with its headquarters in Dublin. It was founded in 1932 by Marion Butler, a talented woman born in India but who made her career in Ireland. Her first chocolate creations "Chez Nous Chocolates" were a big success and put Butlers chocolates on the map.
Marion Butler eventually sold Butlers Chocolates to Seamus Sorensen, which is the same family that still manages Butlers Chocolates until this day. They have expanded the Butlers empire with numerous shops all across Ireland, but also with distributors all over the world.

Nowadays, Butlers Chocolates can also be found in the United States, Canada, China, India, Japan, Africa, New Zealand and Australia.
Butlers Chocolates is best known for their beautiful gift boxes containing creamy chocolates, so many of these chocolate gifts can be found in our selection of Christmas hampers. To discover all Butlers Chocolates, be sure to have a look at our gourmet hampers.

Who Is Moet & Chandon?

Moet & Chandon is a champagne house located in the heart of the French champagne region. The champagne house was founded over two centuries ago, in 1743. The grapes used in Moet & Chandon champagne are harvested according to tradition and the vineyards are maintained with the utmost care for quality and perfection.

The Moet & Chandon Champagne House is best known for its Moet & Chandon Brut Imperial Champagne, which was dubbed the most popular champagne in the world. However, there are more exquisite releases from Moet & Chandon waiting to be discovered. These releases include the Moet & Chandon Rosé Imperial, Moet & Chandon Grand Vintage 2004 and the Moet & Chandon Grand Vintage 2006.

Moet & Chandon Brut Imperial Champagne, the best known release from the Moet & Chandon Champagne House, has also been released in limited edition bottles. Customers can also acquire Moet & Chandon Brut Imperial in an exclusive diamond or gold suit bottle, which can be found in our extensive selection of gourmet hampers.

Who Is Brown Brothers?

When it comes down to Australian wine and shiraz, Brown Brothers is probably the best known and most popular Australian wine house. Within our gourmet hamper range, you will find various Brown Brothers releases including the 2014 Devil's Corner Tasmanian Pinot Noir, the 2010 Brown Brothers Cellar Release Shiraz and the 2013 Brown Brothers Heathcote "18 Eighty Nine" Shiraz.

The Brown Brothers wine house owns several vineyards in Australia, which leads to a variety of brands under the Brown Brothers name. Popular Brown Brothers brands you may come across in classy restaurants or high-end wine distributors are Brown Brothers, Devil's Corner Tasmania, Pirie Tasmania and Tamar Ridge.

Brown Brothers was founded in 1889 by John Francis Brown. Their claim to fame came with their willingness to experiment with grape varieties, delivering some outstanding shiraz and wine.

Since their founding in 1889, the Brown Brothers family created more than sixty wines. Each wine has a unique flavour that cannot be compared to any other Australian wine available for purchase. If you are ready to explore Brown Brothers yourself, take advantage of our outstanding selection of hampers.





Who Is Farrah's Of Harrogate?

Farrah's of Harrogate is an English biscuit manufacturer, located in North Yorkshire, England. The company started creating their delicious biscuits in 1840, under the management of founder John Farrah.

Founder John Farrah retired from the company in 1900 and the company was then passed on to the Armitage family and later the Waddington family. Farrah's of Harrogate had some struggles until father and son team Gary and Peter Marston took over the business in 1997. Since then, Farrah's of Harrogate has been transformed into a British favourite with customers going all the way up to the royal family.