Christmas Gift Ideas for Your Parents for 2015
Author: Nicole Adler Date Posted:8 October 2015


Looking for the perfect gift for your parents this year? At Hamper Emporium, you can take advantage of dozens of Christmas hampers filled with the most exquisite products from all around the world. If you really wish to spoil your parents this Christmas, check out our recommendations below!

What Can You Tell Me About Your Christmas Delights Hamper?

The Christmas Delights Hamper can be considered as an all-time favourite. One of these Christmas hampers contains a nice selection of biscuits, sweets, wine and chocolate, so there is something suitable for both mum and dad.

Our selection of biscuits and sweets in the Christmas Delights Hamper have one general theme – Christmas! Your parents will be able to
enjoy a gorgeous handmade cake from Baylies Epicurean Delights, the finest chocolate butter biscuits from Belgian Butters, Maison Fossier puff pastries and Baylies chocolate & hazelnut biscuits.

Of course, Christmas would not be Christmas at all without a good bottle of wine. For our Christmas Delights hamper, we selected the 2014 Devil's Corner Tasmanian Pinot Noir from wine house Brown Brothers. When you take a look at our selection of Christmas hampers this year, you will notice we use Brown Brothers quite often. The reason why we use Brown Brothers a lot in our Christmas hampers is the fact that it is one of the most praised and awarded wine houses in Australia. Each Brown Brothers release has something unique to offer, so a bottle of Brown Brothers pinot noir could not be missing from the Christmas table.

The selection of chocolate in our Christmas Delights Hamper is quite exquisite as well. Your parents will be able to enjoy the taste of handmade Butlers Chocolates and discover the unique flavour of Venezuelan Willie's Cacao.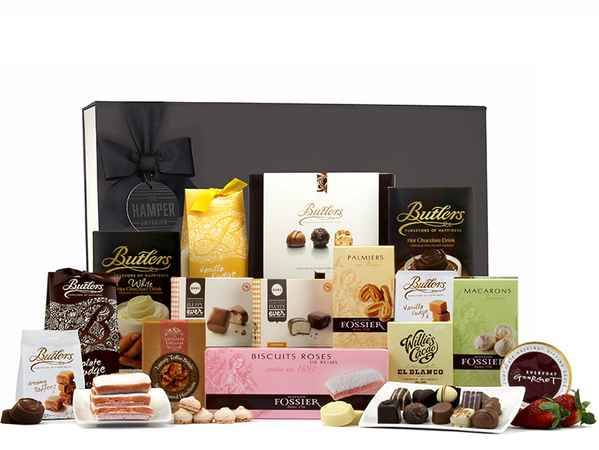 What Can You Tell Me About The Moet & Chandon Christmas Hamper?

The Moet & Chandon Christmas Hamper is another favourite amongst our Christmas hampers range. The hamper contains one of the most luxurious champagnes in the world – the Moet & Chandon Brut Imperial Champagne!

Moet & Chandon Brut Imperial comes from the French wine house Moet & Chandon. It is a remarkable champagne based on a hundred different wines. The wines used to create the Moet & Chandon Brut Imperial also contained a number of reserve wines, which were selected according to their maturity and complexity. If your parents are real champagne lovers, you can be sure the Moet & Chandon will go down well. The champagne delivers all the positive features of the pinot meunier, pinot noir and chardonnay, which makes your choice a lot easier.
Our Moet & Chandon Christmas Hampers also contain handmade chocolates. Butlers has been known throughout the world as one of the most exquisite chocolate brands there is, so when you get the opportunity to taste them you really should! In our Moet & Chandon Christmas Hampers, you will find three boxes of handmade Butlers Chocolates, which should certainly fulfil the chocolate craving of your parents. You also get two unique chocolate combinations from Willie's Cacao, so if your parents love chocolate, this will be the ultimate treat.

Should I Go For the "Everything but the Ham Festive Hamper"?

When your parents are not that fond of alcohol, you should go for the "Everything but the Ham Festive Hamper", a Christmas hamper that does not contain any alcohol, but does contain a variety of savoury nibbles, biscuits, sweets and pantry items. All the savoury nibbles, biscuits, sweets and pantry items in this Christmas hamper have one common theme – Christmas. From fruit pastes to flavoured syrup, you can find it all in this gorgeous hamper.

The "Everything but the Ham Festive Hamper" also has some brands you simply cannot afford to miss. One of them is Maison Fossier, the famous French biscuit manufacturer. Maison Fossier is the inventor of the biscuit roses, the original pink biscuits with vanilla and sprinkled sugar. Biscuit roses were invented in 1690 and were even served at the royal courts of England, Belgium and France.

Naturally, Maison Fossier has also created some other biscuits since the creation of their biscuit roses, so Maison Fossier is known for more than their biscuit roses nowadays. In the "Everything but the Ham Festive Hamper", you will also find some of their later releases, including the French Palmier Pastries and Puff Pastries.

What Is Your Most Luxurious Champagne Hamper?

When you want to gift your parents one of our champagne hampers this year, we can recommend our Luxury Chocolate & Champagne Hamper. In the Luxury Chocolate & Champagne Hamper, you will find a Veuve Clicquot Yellow Label NV Champagne, a champagne with a very unique palate.

The Veuve Clicquot Yellow Label NV Champagne is made from grapes coming from fifty to sixty different growing areas, this provides the champagne with an amazing blend of pinot noir, pinot meunier and chardonnay.

Savouring the Veuve Clicquot Yellow Label is quite a unique experience. The Champagne has a very fruity aroma, but also some subtle toasty notes. When you drink Veuve Clicquot for the first time, you will immediately notice white fruit and raison. Customers who leave the Veuve Clicquot to age for a couple of years, will be able to taste hints of brioche and vanilla, so it is a fine bottle of champagne for collectors as well.

In addition to the excellent champagne, you can also count on luxurious Maison Fossier biscuits and Butlers handmade chocolates in this hamper. Should your parents need some nice nibbles for Christmas Eve, they can also enjoy the nice selection of Morgan & Albert's Brown Sugar Candied Peanuts.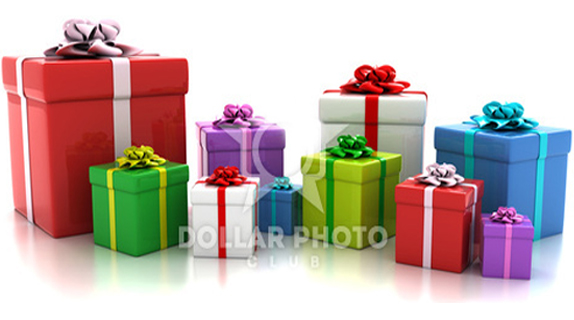 Could Hamper Emporium Provide Me With Some Hamper Advice?

Do you need some advice on suitable Christmas hampers for your parents? Do not hesitate to contact Hamper Emporium, because our staff will be more than happy to make some additional recommendations for you and help you pick the perfect present. To speak to one of the hamper experts at Hamper Emporium, please call 1300-459-452 or send a message to sales@thehamperemporium.com.au.