Finding the Best Christmas Hamper from The Hamper Emporium
Date Posted:23 March 2019


Making your own Christmas hamper is difficult especially if you don't have any strain of creativity in you. If you really want to please special people in your life, a hamper is indeed a good idea. The question is; what kind of hamper and how will you wrap it to make it look simply attractive? If you don't know how to make your own hamper or if you really find it hard, why not check out the Hamper Emporium and select from the different Christmas Hampers the site has to offer? You see, opting for a food hamper that is readily available and wrapped elegantly by a creative team will definitely make your Christmas errands smooth and less worrisome. Add up the sites free delivery service within Australia which made this idea more commendable.

End this year with a loud bang through the Hamper Emporium's affordable and impressive collection of hampers. You have dozens of hampers to choose from with varying concepts. There's the gourmet food & wine hampers, corporate gift hampers, sweet and super tasty chocolate baskets, beer, BBQ & cider hampers for the men of the family and male bosses, pamper gift hampers for women, and gourmet food hampers without any hint of Alcohol and above all, the Christmas 2019 hampers. If the occasion isn't for Christmas but rather an occasion involving adding new members in the family, or maybe for someone special like a romantic gift set, there are hampers for these occasions too, the new baby hampers, for women hampers and for him hampers. All these are found within the Hamper Emporium's website.

Christmas 2019 Hampers

Christmas hampers are currently in demand that is why the Hamper Emporium features varying kinds of Christmas hampers with affordable prices and even expensive ones. Most of the Christmas hampers are prepared with wine & champagne in then, delicious cookies from well known brands, pastries from Maison Fossier and other goodies that are hard to resist once given. Some of which are even imported from England, France and Italy. Prices range from the lowest Christmas hamper at $69 to the most expensive one at $549. All these Christmas hampers are delivered for free provided the recipient is within Australia.

Gourmet Food & Wine Hampers

This type of hamper is also perfect for Christmas and it mostly includes gourmet food, ample amount of red and white wine and champagnes. Most presented wines vary in flavor and some of which are even perfect for BBQ gatherings and Christmas too. Prices of this type of wine are not impossible. The cheapest of all is a $99 priced Gourmet Food & Wine hamper and the priciest of all is at $549 too. So if you are into gourmet food, cheese, red and white wine then this type of hamper from the Hamper Emporium is the best choice.
Corporate Gift Hampers
The Hamper Emporium has a vast collection of more than 40 corporate hampers perfect for small and big companies about to celebrate Christmas. Thanks to the Hamper Emporium, the stressful task of planning what to give to employees and colleagues is no longer a problem. With the Hamper Emporium's corporate hampers, it would be easy to find the perfect give away to symbolize the company's gratitude towards loyal employees. It can be a cheap hamper but filled with great goodies or expensive one for the most valuable employee of the company. Whatever Christmas hamper you need in the office, the Hamper Emporium has it ready.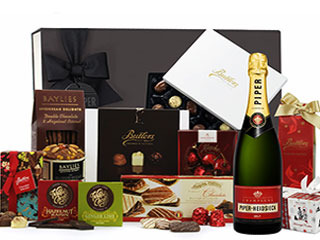 Chocolate Basket Hampers

Romantic people definitely love expressing their feelings through their gifts. Usually, people who want to express sweetness and love give away hampers filled with sweet goodies. So this coming Christmas you can give the Hamper Emporium's chocolate hampers and sweet gifts without worrying of the cost. There are 23 available hampers to choose from such as the Sweet Bites Hamper, Pure Indulgence Hamper, Sweet & White Hamper and more. All these are made available in the season of gift giving.

Pamper Gift Hampers

Food indeed is a great source of comfort, which is why the term "comfort food" exists. So if you plan on sending comfort gifts to friends and relatives, the Hamper Emporium has all the needed Pamper Gift Hampers for those who need comforting in this upcoming Christmas. Food can certainly make one feel comfy and full at the same time. In addition, Pamper Gift hampers also includes luxurious items and gift sets from MOR which makes the gift even more interesting. So give love on Christmas and check the Hamper Emporium for more practical and affordable options to give.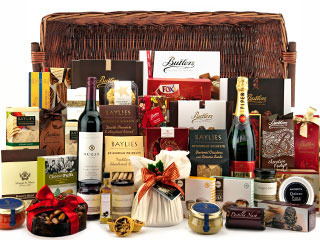 Select Only the Best Christmas Hamper

There are more available hampers online, all you have to do is check the Hamper Emporium's website and choose which among the hampers you think will satisfy your recipient. Even if your budget is limited the Hamper Emporium has a Christmas hamper within your budget. So if you have a tight budget, fret not as there are hampers priced for as low as $100. If you want something extravagant, something that will shower the recipient with so many amazing goodies and gift sets, then there are hampers intended for such need that also come with a reasonable price.

Christmas is an important season that is celebrated by many before the year ends. You wouldn't want to end the year with lousy gifts for someone, right? So for once, why not give in and indulge in the spirit of Christmas. Don't hesitate to look for the best Christmas hamper for your love ones. At the Hamper Emporium, you will never regret purchasing one of our hampers. We aim to deliver a world class hamper regardless of its price, whether affordable or priced reasonably, with good quality and most especially, with elegant and attractive packaging. So where will you purchase your Christmas presents? We say purchase from the Hamper Emporium, you and your recipient will be one of the luckiest people this Christmas and that is a guarantee! Thanks to The Hamper Emporium, premium selection of treats and quality goodies are especially collected in one gift basket. The Hamper Emporium is the only online shop that can provide Christmas Hampers and prepare it in the fondest way ever as compared to other hamper providers.