The Deluxe Christmas Hamper
The pinnacle in the finest gourmet food & wine
pre-order - released 10 November 2018
$899
This festive hamper is our pinnacle, the ultimate in Christmas crowd-pleasing indulgence, it doesn't get much better than this! Including the world's finest French Champagne and two incredible Australian wines, plus an amazing array of fine festive goodies, your recipients won't know where to start. A huge hamper with FREE Shipping Australia-wide too.
---
Savoury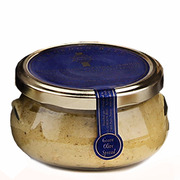 Le Cordon Bleu Paris Olive Fennel Spread 180g
Le Cordon Bleu brings a deliciously unique flavour to any cheese platter or simply dip in crackers. Made in France.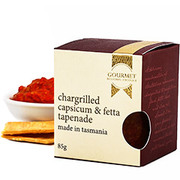 Gourmet Regional Chargrilled Capsicum Tapenade 60g
A delicious combination of Australian capsicums, chargrilled to perfection, fresh fetta cheese and olive oil. Handmade in Tasmania.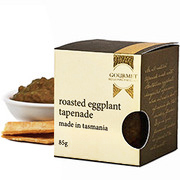 Gourmet Regional Smokey Eggplant Tapenade 60g
A subtly smokey all-natural tapenade with roasted eggplant and chargrilled capsicum. Simply delicious!
Biscuits & Sweets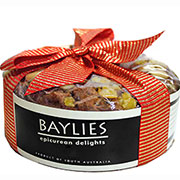 Baylies Epicurean Traditional Handmade Cake 750g
Handmade in the Adelaide Hills with the best quality South Aussie ingredients, including Barossa Valley brandy.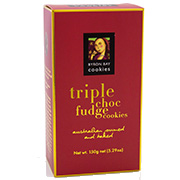 Byron Bay Cookies Triple Choc Fudge Box 150g
Twelve baby buttons full of triple choc goodness. Made in Byron Bay with over 20 years experience.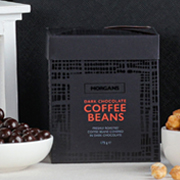 Morgan's Dark Chocolate Coffee Beans 175g
Freshly roasted coffee beans covered in smooth, rich 50% cocoa dark chocolate. Made in Sydney.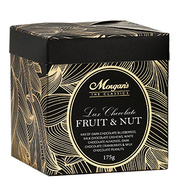 Morgan's Lux Chocolate Fruit & Nut Mix 175g
Luxurious fruit and nut combo coated in deliciously smooth dark, milk and white chocolate. Made in Sydney.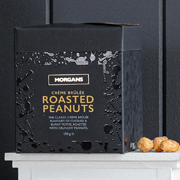 Morgan's Crème Brûlée Roasted Peanuts 175g
The classic crème brûlée flavours of custard and burnt toffee roasted with crunchy peanuts.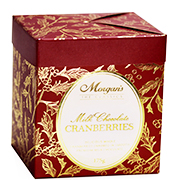 Morgan's Christmas Milk Chocolate Cranberries 175g
A Christmas treat of delicious whole cranberries enrobed in smooth premium milk chocolate. Made in Sydney.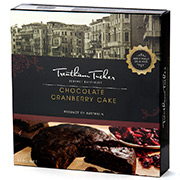 Trentham Tucker Chocolate Cranberry Cake 800g
A delicious mix of fine chocolate and cranberries made into a cake perfect for the festive season.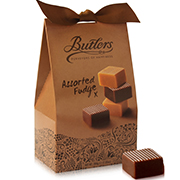 Butlers Assorted Fudge Gift Box 200g
Irresistible assorted fudge treats perfect for the whole family to share and enjoy together.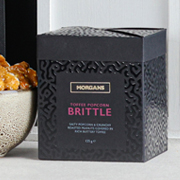 Morgan's Popcorn Toffee Peanut Crunch 135g
Salty popcorn and crunchy roasted peanuts covered in rich buttery toffee. Made in Australia.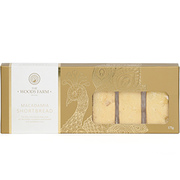 The Woods Farm Macadamia Pure Butter Shortbread 175g
Made with all Australian ingredients and crunchy macadamias this shortbread is a classic treat for all.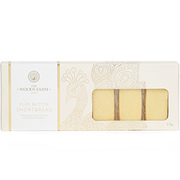 The Woods Farm Pure Butter Shortbread 175g
Rich and crumbly shortbread made with 100% Australian ingredients and using the finest creamy butter.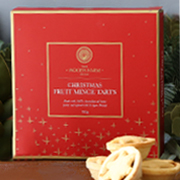 The Woods Farm Christmas Fruit Mince Tarts 320g
Eight tarts made with quality ingredients including 100% Australian all butter pastry and St Agnes Brandy.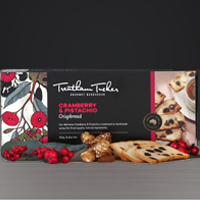 Trentham Tucker Cranberry & Pistachio Crispbread 150g
Handmade in Australia, these crispbread are made using the finest quality natural ingredients.
Wine & Champagne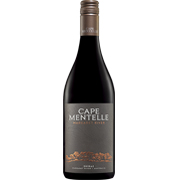 Cape Mentelle Margaret River Shiraz 750ml
Meticulously picked & processed using techniques of Northern Rhône Valley in France. A bold red with 10+ year cellaring potential.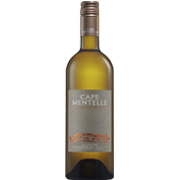 Cape Mentelle Wallcliffe Semillon Sauvignon Blanc 750ml
96 pts. A power of flavour. This is an emphatic release. As sophisticated as it is, simply, delicious - James Halliday.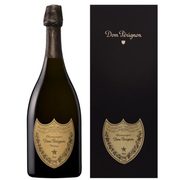 Dom Pérignon Brut Vintage
A simply stunning french champagne, fine and delicate yet with complexity and depth. Enjoy the world's most famous champagne.
Chocolate
Willie's Peruvian 70% Dark with Hazelnut & Raisin 50
Delicious Peruvian chocolate studded with hazelnuts & raisins, handmade in the UK by expert chocolatiers.
Willie's Sierra Leone 70% Dark with Ginger & Lime 50
The beautiful honey notes in the Baracoan beans dancing with the ginger and lime to an irrepressible Cuban beat.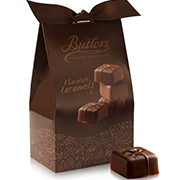 Butlers Chocolate Caramels 200g
Delightful caramels covered in the finest chocolate, these sweets are truly addictive.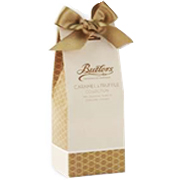 Butlers Chocolates Caramel Truffles 100g
Individually wrapped chocolate with irresistable creamy centres that will be loved by everyone.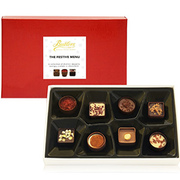 The Festive Menu by Butlers Chocolates 130g
Festive Desserts lovingly crafted in chocolate including Christmas Pudding Truffle, Hazelnut Brownie an Spiced Berry Parfait.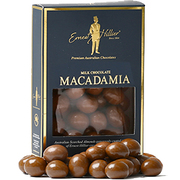 Ernest Hiller Milk Chocolate Macadamias 240g
Australian macadamia nuts generously coated in layers of Ernest Hillier cream Milk Chocolate.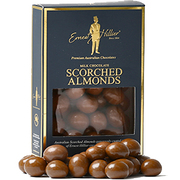 Ernest Hillier Milk Chocolate Scorched Almonds 240g
Australian Scorched Almonds coated in Ernest Hillier milk chocolate with over 100 years in chocolate passion.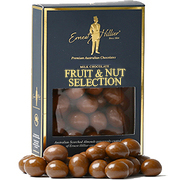 Ernest Hillier Chocolate Coated Fruit & Nut Selection 24
One of Australia's favoutite chocolate brands, Ernest Hillier chocolate create Australia's favourite choc treats.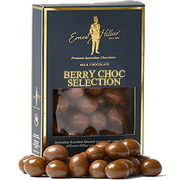 Ernest Hillier Berry Chocs Selection 240g
Australian owned and made to ensure the finest in flavours and quality from the team at Ernest Hillier.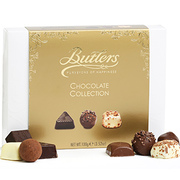 Butlers Gold Box Chocolate Assortment 100g
Irresistible chocolate joy beautifully presented in a golden gift box because first impressions always count.
Pantry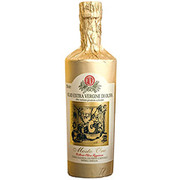 Calvi 'Mosto Oro' Extra Virgin Olive Oil 250ml
Wrapped in gold foil to protect it from light this Extra Virgin Oil is delicate with a mild almond flavour. Will enhance the most refined dish.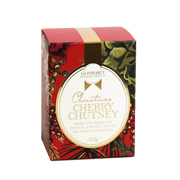 Gourmet Regional 'Ham Jam' Cherry Chutney 215g
A Cherry Chutney made with Tasmanian cherries, it's the perfect partner to a Christmas Ham. Made in Tasmania.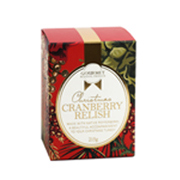 Gourmet Regional Produce Cranberry Relish 215g
A Cranberry relish made with native pepperberry. A delectable relish to go with your Christmas Turkey. Made in Tasmania.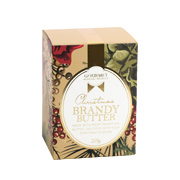 Gourmet Regional Produce Brandy Butter 215g
One of our favourites, this Brandy Butter is a true winner with Christmas pudding and even Nan's fruit cake!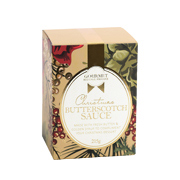 Gourmet Regional Produce Butterscotch Sauce 215g
A butterscotch sauce made with fresh butter and rich golden syrup. The ideal compliment to your Christmas dessert.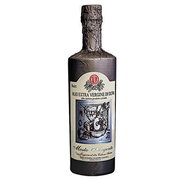 Calvi 'Mosto Argento' Foil Wrapped Olive Oil 250ml
The Mosto Argento is one of the finest Olive Oil's blended with Taggiasca olives, it's gentle flavour perfect for almost any dish.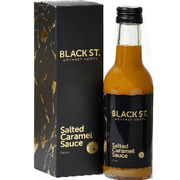 Salted Caramel Sauce by Black St. Gourmet 200ml
2016 Aussie Food Awards Gold Medal Winner, this dessert sauce is so moreish it will be hard not to finish the bottle.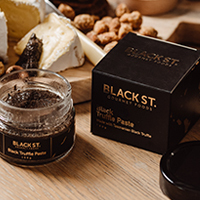 Tasmanian Black Truffle Paste by Black St. Gourmet 100g
True Australian made indulgence, featuring the aromatic flavour of Tassie black truffles.
Also Included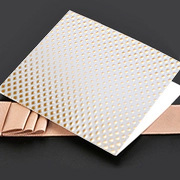 Optional FREE Premium Greeting Card
Write a message for your recipient & they'll receive it in this premium gift card, printed exclusively for The Hamper Emporium.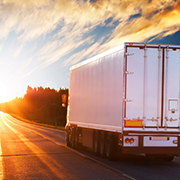 FREE Australia Wide Delivery
Delivered anywhere in Australia for free! See standard delivery times and Express upgrade options below.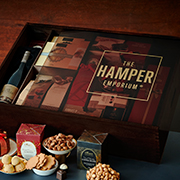 Large Handcrafted Wooden Box
This hamper is presented in true luxury style in a beautiful large wooden box with tinted sliding lid for an extra premium feel.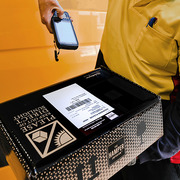 Comprehensive Track & Trace
Your parcel can be tracked as it is shipped anywhere in Australia. A tracking ID is emailed upon dispatch.
---
Standard Delivery - FREE
NSW, VIC, QLD metro areas
2 - 4 Business Days
TAS, SA metro areas
3 - 5 Business Days
Perth, Darwin & regional areas
5 - 8 Business Days
Express Delivery* - from $14.95 per hamper
Sydney Metro Area
Same / Next Business Day
Melb, Bris, Adel, Perth, Can, NSW cities
Next Business Day
Darwin & outside of major cities
1 - 3 Business Days
*Delivery times based on orders placed before 10am on the same or previous business day.
Visit our
Delivery page
for detailed delivery information.
Due to seasonal variations and exclusivity of our stock, items in hampers are occasionally substituted for products of the same or higher value and quality.
Pamper Your Recipient Like Never Before This Christmas! Choose the New Deluxe Christmas Hamper from the Hamper Emporium!
At the Hamper Emporium, customers can find countless Christmas hampers that could provide their recipient with a pampering gourmet experience. To keep things interesting for our customers this holiday season, our hamper designer added some new Christmas hampers to the mix; this includes our Deluxe Christmas Hamper. Curious why this hamper could provide the ultimate gourmet experience? Find out by reading the information provided by the Hamper Emporium below.
Is the Deluxe Christmas Hamper Suitable for Wine Lovers?
The Deluxe Christmas Hamper from our Christmas hampers collection is a suitable gift for wine lovers this holiday season, because this hamper from our Christmas hampers catalogue contains two exquisite wines and a bottle of champagne. For this hamper, our hamper designer has obtained two wines from Cape Mentelle, and the world's most recognised champagne.
Cape Mentelle is a brand that is used regularly in our Christmas hampers, so it is no surprise our hamper designer selected the Cape Mentelle Margaret River Shiraz and Cape Mentelle Wallcliffe Semillon Sauvignon Blanc. Both wines received high ratings from wine reviewer James Halliday, making them exquisite choices for connoisseurs and collectors.
The champagne inside this new Christmas hamper is also quite special, since it is the Dom Perignon Brut Vintage. If you are a collector yourself, you already know that the Dom Perignon Brut Vintage is one of the most exclusive and celebrated champagnes in the world. The champagne is made from a select range of grapes, which lend their outstanding flavour and aroma to this champagne. Since this is a true collector's item, it is certainly recommended for collectors and connoisseurs.
Is the Deluxe Christmas Hamper Suitable for Chocoholics?
Considering the incredible collection of chocolates inside the new Deluxe Christmas Hamper, it is no surprise that this new Christmas hamper is the ultimate gift for chocoholics. This new hamper contains more than just one chocolate selection, since it contains several chocolate selections from brands such as Butlers Irish Chocolates, Ernest Hillier, and Willie's Cacao.
Each of the chocolate brands featured in the Deluxe Christmas Hamper has an impeccable reputation. Ernest Hillier is one of Australia's most celebrated chocolate brands, while Butlers Irish Chocolates and Willie's Cacao are internationally recognised chocolatiers. So, the chocolate selections inside this Deluxe Christmas Hamper will appeal to a wide range of chocolate lovers in Australia and the rest of the world.
Is the Deluxe Christmas Hamper Suitable for Gourmet Lovers?
While the extensive selection of wine and chocolates is more than enough to please the average gourmet lover, the Deluxe Christmas Hamper at the Hamper Emporium offers much more than that! In addition to chocolates, wine, and champagne, the Deluxe Christmas Hamper contains loads of pantry items, nibbles, biscuits, sweets, and savoury treats.
Of course, the Deluxe Christmas Hamper contains some Christmas-themed treats to match the holiday season. Typical Christmas treats that have been included in the Deluxe Christmas Hamper are The Woods Farm Christmas Fruit Mince Tarts, The Woods Farm Pure Butter Shortbread, Butlers Assorted Fudge, Trentham Tucker Chocolate Cranberry Cake, and more. So, opening this hamper certainly ensures the start of a wonderful holiday season.
The Deluxe Christmas Hamper also contains gourmet treats that could be gifted throughout the year; this to ensure enough variety in this large hamper. So, in addition to Christmas-themed treats, customers can also find delicious treats such as Le Cordon Blue Paris Olive Fennel Spread, Gourmet Regional Chargrilled Capsicum Tapenade, Tasmanian Black Truffle Paste by Black St. Gourmet, and more!
Could Businesses Use the Deluxe Christmas Hamper as a Corporate Gift?
Our Deluxe Christmas Hamper could certainly be used as a corporate gift, because this hamper is bound to impress any important business relation. Businesses can order corporate branding for the Deluxe Christmas Hamper by contacting the Hamper Emporium but could also order their corporate branding from the website.
Corporate branding options for the Deluxe Christmas Hamper can be found on the corporate hampers section on the Hamper Emporium website. Options include gift tags and ribbons, but also branded experience vouchers, gift vouchers, and engraved gifts. There is no limit to the corporate branding options available at the Hamper Emporium.
Does the Hamper Emporium Provide More Australian Christmas Hampers for Wine Lovers, Chocoholics, and Gourmet Lovers?
Not quite sure if the Deluxe Christmas Hamper is the right choice for your recipient? Head over to our catalogue of Australian Christmas hampers to find more exquisite hampers suitable for wine lovers, chocoholics, and gourmet lovers.
No matter which of our Australian Christmas hampers you choose, you can always count on a free standard delivery with your hamper. The other Australian Christmas hampers at the Hamper Emporium also have additional delivery options, which could speed up the delivery of your chosen hamper.
The Australian Christmas hampers at the Hamper Emporium have plenty to offer, but there are other hampers aside from our Australian Christmas hampers you should look at. If you cannot find what you are looking for in our collection of Australian Christmas hampers, be sure to check out our gourmet hampers and wine hampers too.
Customers can also count on the expert advice of the Hamper Emporium team, who will be more than happy to provide you with some recommendations from the Xmas gift basket range. So, if you have problems deciding, be sure to get in touch with us for some advice.
Where Can I Get More Information on the Deluxe Christmas Hamper?
Since the Deluxe Christmas Hamper is one of the biggest Christmas hampers in our collection, it is not unusual for customers to have some questions about this hamper. If you want some additional information about this hamper, we kindly refer you to the product description page. Cannot find the answers in the product description? Feel free to contact the Hamper Emporium today.
Customers can contact the Hamper Emporium with questions about our hampers or to order corporate branding for their chosen hamper. To contact our team today, simply get in touch by telephone, email, or instant messaging.