What Are The Best Christmas Hampers In Australia?
Author: Nicole Adler Date Posted:17 July 2019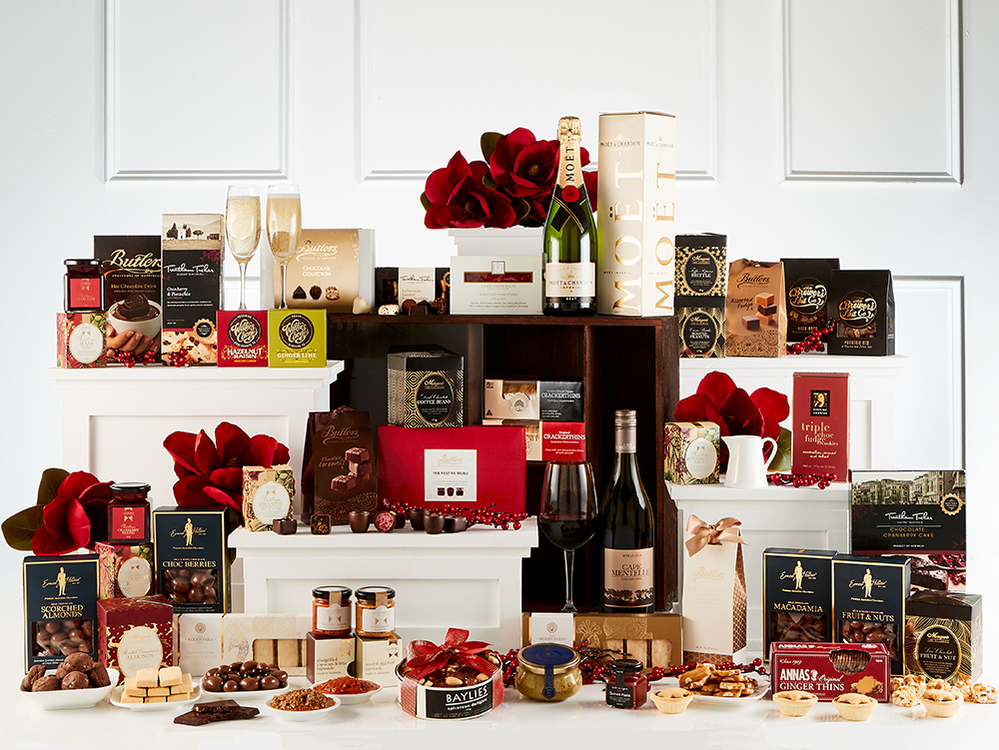 To be the best is a matter of supreme taste, luxury and variety at The Hamper Emporium.
The best Christmas hampers are defined by their measure of status. They all combine the ultimate in quality and quantity for festive gift giving that leaves a lasting impression for recipient and giver alike.
The Hamper Emporium fills their treasure chest of Christmas hampers with only the finest food and beverages, skincare and pampering items. Each and every gift hamper or basket is brimming with premium wines, gourmet festive-themed foods, such as deluxe Christmas pudding, handmade cakes and fruit mince tarts, world-leading Champagnes, spirits, craft beers, ciders and endlessly more. These are artfully packaged in elegant keepsake gift boxes, festooned with expert gift-wrapping and complimentary gift cards for you to personalise your festive greeting.
The Hamper Emporium also offers online customer service for one-on-one shopper guidance and fine-tuning of all gift hamper purchases.
The best part is The Hamper Emporium's Christmas gift of free Australia-wide delivery on any hamper selection. Express or same-day delivery is also available when you shop online at any time for the extensive range of premium Christmas hampers at The Hamper Emporium.
What are the best Christmas hampers for 2019?
Whether for family, friends or corporate gifts, the best Christmas hampers for 2019 are united in their unparalleled quality.
The Christmas Epicure Hamper takes centre stage in gift-giving finesse with family and friends of all tastes and discerning palates. Featuring a premium Shiraz from Cape Mentelle, this abundant selection is complemented by a range sweet and savoury gourmet treats, such as the Baylies Epicurean Delights Christmas Cake, The Woods Farm traditional and macadamia shortbread, Black St. Gourmet salted caramel sauce, fruit mince tarts, premium roasted nuts, tapenades, semi-dried tomato halves and a feature bottle of artisan olive oil.
For a corporate Christmas hamper with maximum share quality, the Deluxe Office Share Gift Basket corners the market. Inside, the office floor will delight in their discovery of premium gourmet foods by Le Cordon Blue (olive and fennel paste), Black St. Gourmet (decadent salted caramel sauce) and Baylies Epicurean Delights (exquisite handmade Christmas cakes).
What is the best food and drink Christmas hampers for 2019?
Chocolates and Champagne anyone or, should that be, everyone? These two luxurious commodities comprise the ultimate in desirability for premium essentials in some of the best Christmas hampers on offer for 2019.
The Pure Indulgence Hamper combines these delectable elements and enhances them with a selection of MOR Blood Orange Body Butter and MOR Marshmallow Moments Gift Set. There are also a range of Ernest Hillier chocolates, biscuits and sweet, nutty brittles by The Woods Farm and Morgan's to tempt discerning palates.
For Champagne tastes, it's impossible to surpass the premium gift-giving trio to treasure in the Champagne Triple Treat gift hamper. Connoisseurs will save the selection of three of the world's finest Champagnes in the one deluxe surprise package. These include Moet & Chandon Brut Imperial NV Champagne, Bollinger Special Cuvee Champagne and Piper-Heidsieck Champagne.
What is the best luxury Christmas hampers for 2019?
When it comes to being the best, the name says it all. The Best of all Gourmet Hampers takes the cake for a 2019 Christmas hamper with flair, finesse and festive value.
The award-winning Rascal 2016 Shiraz by Hentley Farm in the Barossa Valley is best in class. This fine wine selection is enhanced by a smorgasbord of gourmet products, including Kangaroo Island kalamatas and artisan crackers, Gourmet Regional Produce tapenades, Luke Mangan quince paste, Brewer's Nut Co. savoury nut mix, L'Orto Di Franco semi-dried tomato halves and a gold foil-wrapped feature bottle of extra virgin olive oil. The sweetest finish is found in the Byron Bay Cookies triple chocolate fudge cookies and Morgan's crème brulee roasted peanuts.
How to find the best Christmas hampers?
Simply peruse the extensive range of Christmas hampers online at The Hamper Emporium. There's a gourmet food and beverage selection that's bound to be the best choice for your ultra-deserving gift recipient.
Where to buy the best Christmas hampers online?
Once you have decided on the Christmas hamper that best suits your needs, gift givers can purchase their select item online for immediate delivery or your preferred time of arrival. With a range of credit options and free Australia-wide delivery on every hamper purchase at The Hamper Emporium, the best is yet to come when your enthralled gift recipient receives their perfect Christmas hamper selection for 2019.
The beautifully packaged gourmet food and drink luxury hampers make the ideal gift for the festive season and all special occasions.