What Are The Best Christmas Hampers In Australia?
Author: Nicole Adler Date Posted:12 November 2015


Customers who have been looking for the best Christmas hampers in Australia do not have to look much longer, since the Hamper Emporium has the most exquisite Christmas hampers waiting for you. Curious what the best Christmas hampers of 2015 are? Find the answer below!

What Is The Best Corporate Christmas Hamper Of 2015?

The best corporate hamper for 2015 is the Deluxe Office Share Christmas Basket. Inside this amazing hamper, you will find premium brands such as Le Cordon Blue, Maison Fossier and Baylies Epicurean Delights.

Le Cordon Blue is one of the most prestigious gourmet brands in the world, so it could not be missing from our best Christmas hampers this year. Le Cordon Blue has more than 120 years of experience in the culinary industry, leading to some extraordinary gourmet releases such as Le Cordon Blue Paris Green Olive Spread with Fennel.

In addition to creating excellent gourmet products, Le Cordon Blue is also a great teaching facility. Le Cordon Blue has trained chefs and hospitality students all over the world, which basically means that this French company has had a tremendous impact on the culinary world.

Maison Fossier is another brand that you can find in one of the best corporate Christmas hampers. The Maison Fossier bakery was founded in 17th century France and has been going strong ever since. They became the official biscuit supplier of the French royal family and the have been exporting gourmet biscuits all over the world over the last twenty years.

Last but not least, there is also Baylies Epicurean Delights. Baylies Epicurean Delights is an Australian company that was founded in 1995. They are based in the Adelaide Hills and best known for their use of fresh local ingredients from the Adelaide Hills.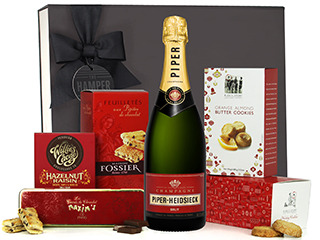 What Is The Best Cosmetics Hamper Of 2015?

Customers looking for the best cosmetics hamper in our range should head over to the Pure Indulgence Hamper. The Pure Indulgence Hamper does not only contain good cosmetics, since it also contains a fine selection of chocolate and champagne.

The cosmetics brand used in the Pure Indulgence Hamper is MOR Cosmetics. MOR Cosmetics has become a famous brand, not only in Australia but also in the rest of the world. Their best known cosmetics line is the Marshmallow range, featuring a fragrance of vanilla musk.

Inside the Pure Indulgence Hamper you will find two of the finest releases from the MOR Cosmetics brand, the MOR Blood Orange Body Butter and the MOR Marshmallow Moments Gift Set. So be sure to take advantage of this hamper if you want to surprise your other half.

What Is The Best Gourmet Hamper Of 2015?

Looking for the best gourmet hamper for 2015? Head over to our "Best of All Christmas Gift Hamper", which contains a limited release Shiraz from Brown Brothers, Belgian biscuits with real Belgian chocolate from Belgian Butters and handmade chocolate from Butlers.

Brown Brothers is a wine house that is frequently used by the Hamper Emporium. Brown Brothers was originally founded by John Francis Brown and is still run by this family until this day. The wine house is well-known all across the world for their excellent Shiraz, but also for their Sauvignon Blanc that has conquered a spot in the heart of every wine lover.

Belgian Butters is another brand that can be found in the "Best of All Christmas Gift Hamper". Belgian Butters is actually a company that belongs to the world-famous Jules Destrooper, who became famous by creating the first Belgian butter crisps. Inside this hamper, you will find the classic butter biscuits from Belgian Butters, which have been coated in the finest Belgian chocolate.

Last but not least, this hamper also contains a delicious selection of handmade chocolates from Irish chocolate manufacturer Butlers. Butlers Chocolates have become a gourmet treat loved by many, not only in Ireland, but also in Australia and the rest of the world. Butlers Chocolates are renowned for their full, creamy flavour and unique flavour combinations, so be sure to try some Butlers Chocolates when you get the chance.





What Is The Best Champagne Hamper Of 2015?

The Hamper Emporium also offers some outstanding champagne hampers this year, but the champagne hamper that has the most to offer to champagne lovers is without a doubt the Champagne Triple Treat.

Hamper Emporium's Triple Treat contains three bottles of champagne that are considered to be the most popular champagnes in the world, this includes the Moet & Chandon Brut Imperial NV Champagne, the Bollinger Special Cuvee Champagne and the Piper-Heidsieck Champagne.

Moet & Chandon is a champagne house located in France. They are best known for their elegant champagne combinations and have been recognised for their most popular champagne, the Moet & Chandon Brut Imperial NV Champagne. The Moet & Chandon Brut Imperial has been the world's most favourite champagne over the last couple of years, so there have been some limited releases of this particular champagne. One of these limited releases can also be found in our Christmas hampers, more specifically the Moet & Chandon Brut Imperial NV Champagne in a diamond suit.

Bollinger is also a champagne brand that has been around for a considerable amount of time. The champagne house was founded in 1829 and has been known for their powerful, sophisticated and complex champagnes ever since. Even though Bollinger is a champagne house that is quite old, it does not mean that the company has been left behind because of modernisation. The Bollinger champagne house has recently been modernised, but still pays a lot of attention to tradition. So when you try a glass of Bollinger, you can expect amazing quality from this champagne house.

Last but not least, customers can also find a genuine Piper-Heidsieck champagne in this hamper. Piper-Heidsieck is one of the oldest champagne houses in the world, considering the fact that the champagne house was founded in 1785 in Reims, France. The Piper-Heidsieck Champagne is mainly known for the fact that it has been created with more than a hundred different crus. The champagne has a characteristic golden colour and a fruity aroma, making it the perfect champagne for high-end restaurants and lounges.

Conclusion? When you want to taste the best champagne this world has to offer, be sure to take advantage of our Champagne Triple Treat this year!