What Are the Perfect Gift Hampers for My Boss?
Author: Emily McWaters Date Posted:18 July 2019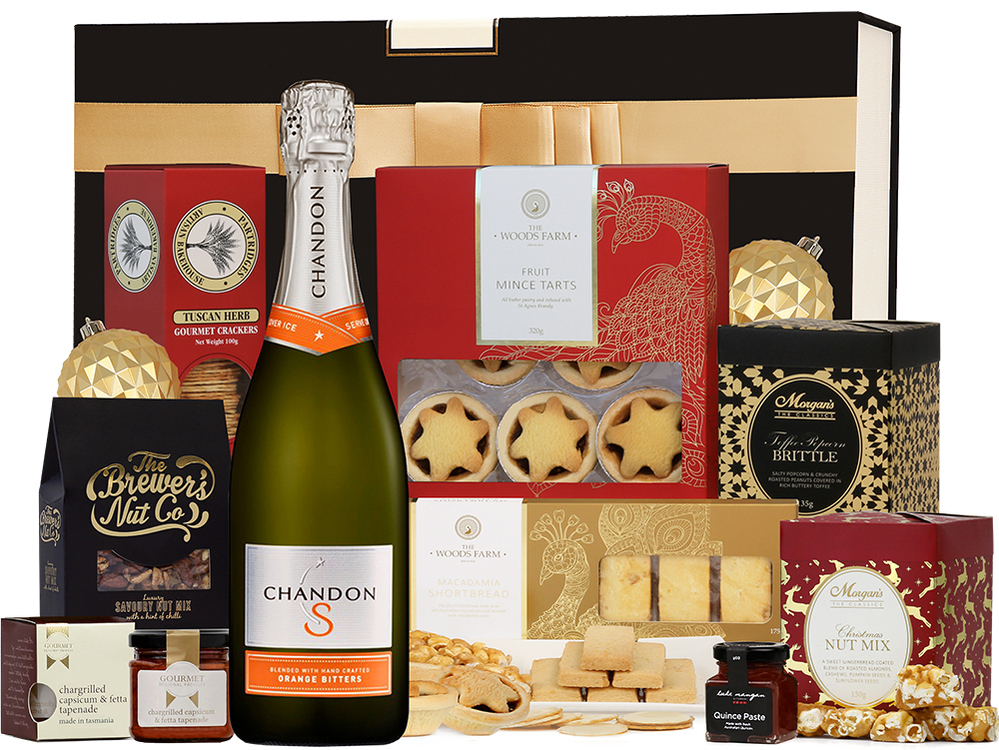 Show your valued employer who's the boss when you choose from the winning selection of Christmas hampers and gift baskets on offer at The Hamper Emporium.
Giving the gift of gratitude to your work leader will always lead to rich rewards and heartfelt appreciation with the extensive range of gift basket ideas designed with your boss in mind.
The Hamper Emporium has expertly curated a selection of Christmas hampers filled with luxurious offerings and embellished by unique touches for unforgettable corporate gift giving.
Find the perfect gift basket for your highly deserving boss when you shop online, any time, at The Hamper Emporium.
What is a good gift basket for boss?
Corporate head honchos would love the caring and sharing spirit of the Moet & Australian Chocolates and Nuts Hamper. This premium selection, featuring an exquisite bottle of Moet & Chandon Brut Imperial and artisan confectionery from the cream of Australian producers, makes the perfect chocolate gift for the world's best boss to share with staff.
The work team can also pledge their festive contributions and share in the luxurious abundance of a selection of specialty Christmas hampers and gift baskets.
If your boss is an inspirational figurehead on the office floor, the Luxury Christmas Icons Hamper makes the perfect choice.
Moet & Chandon Grand Vintage Champagne and Tasmanian black truffle paste are the leading lights in this discerning selection, but every other gourmet inclusion shines with festive sparkle.
Food lovers will savour the fine tastes of an assortment of Christmas delicacies, including the Baylies Epicurean Handmade Christmas Cake, Trentham Tucker Gourmet Fruit & Nut Cake and Chocolate Cranberry Cake, The Woods Farm fruit mince tarts and plenty more. There's also an extensive selection of sweet and savoury, sauces, condiments and gourmet nibbles, such as premium roasted nuts, semi-dried tomato halves and a feature bottle of gold foil-wrapped olive oil to enhance all of your boss's sampling and cooking pleasures.
What are some nice Christmas gift ideas for my boss?
The Hamper Emporium's specialty range of festive-themed gift ideas are set to delight and entice. There is a handpicked selection of gourmet treats, including exquisite Christmas cakes, fruit mince tarts, traditional and macadamia shortbreads, hot drinking chocolate, premium fortified wines, salted caramel sauce for all your ice cream desserts and Christmas puddings, and so much more in store.
Why choose luxury gift baskets for boss?
Luxury gift baskets make the perfect gift at Christmas, birthdays, anniversaries and for all special occasions. Corporate gift giving is a specialty at The Hamper Emporium and your discerning boss will be spoilt for choice when you choose from the huge range of luxurious Christmas hampers on offer.
Savvy employees can also tailor their selection to include personalised corporate branding in gift tags, gift cards and decorative satin ribbons. These are all artfully stamped by the in-house graphic design team with your company's name or logo, which provides an unmistakable and unforgettable gesture for your boss to store in the memory bank.
What is an appropriate Christmas gift basket for my boss?
The ideal Christmas gift basket for your boss should always match his or her tastes, but also remain in line with budgetary restraints.
At the Hamper Emporium, you can impress for less with luxurious gift baskets that are filled with the finest local wines, world-famous Champagnes, spirits and fortified wines, craft beers, ciders and so much more. There's a huge array of Christmas hampers and gift baskets of every shape and size that are brimful with artisan chocolates and the cream of gourmet foods for sweet and savoury palates.
The Indulgence Xmas Hamper offers a tempting selection of festive gourmet foods, such as handmade Christmas cakes, fruit mince tarts, artisan shortbreads, nutty brittles and other sweet treats, yet is priced to meet most budgets.
Why buy gift baskets for boss at The Hamper Emporium?
Your boss will remember the considerate gesture of your Christmas Day gift selection during the festive season and the whole year through.
Free Australia-wide delivery on all hamper purchases at The Hamper Emporium is the gift of gratitude to the gift giver. If time is of the essence, online shoppers can also choose to purchase express or same-day delivery.
Your premium hamper selection is set to arrive in its keepsake gift box, expertly gift-wrapped, with a complimentary gift card for you to personalise your festive message to the king or queen of your working world. These unique gift touches are the icing on the Christmas cake when you provide for the provider with your supreme surprise package for the boss.
The Hamper Emporium also offers a dedicated account manager for ongoing clientele and super-prompt turnaround for bulk purchases on all of the corporate gift range.