The Christmas Food Brands Used by the Hamper Emporium!
Author: Nicole Adler Date Posted:15 May 2017


Our Australian Christmas hampers always contain delightful gourmet treats, so customers have a lot to look forward to this year. If you are not yet familiar with the gourmet foods inside our collection of Australian Christmas hampers, we urge you to read on, since we are about to disclose our top gourmet brands for Christmas 2017!
Baylies Epicurean Delights
The first brand you will come across quite frequently in our collection of Australian Christmas hampers is Baylies Epicurean Delights. Baylies Epicurean Delights is an Australian gourmet brand, known for the superior quality of their gourmet products; this is also one of the reasons why our Australian Christmas hampers contain so many of their treats!
In our collection of Australian Christmas hampers, you will find numerous products from this brand; this includes their delicious crackers, handmade cakes and more! So, if you are looking for a hamper that is packed with good Christmas food, then we urge you to choose one of our hampers containing Baylies Epicurean Delights!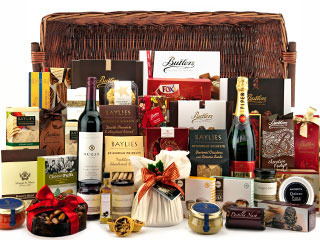 Moet & Chandon
Christmas is not complete without a good bottle of bubbly, so customers can count on one of the classic French champagnes this holiday season. Moet & Chandon is present in many gourmet hampers at the Hamper Emporium, so customers always have many choices when they need a Christmas hamper with champagne.
Even though we have more bottles from Moet & Chandon in our range, the product customers should be looking out for is undoubtedly the flagship champagne of the Moet & Chandon champagne house – the Moet & Chandon Brut Imperial NV Champagne. Moet & Chandon Brut Imperial NV Champagne is characterised by its delightful complexity, yet with an easy-drinking nature; this is quite rare for both wines and champagnes! A bottle of Moet & Chandon is ideal for special occasions, so this specific champagne can be used for more than just the holidays.
Butlers Irish Chocolates
Like last year, our collection of Australian Christmas hampers would not be complete without a premium selection of chocolates. Fortunately, the Hamper Emporium already has a trusted brand in place, which has been used by us for many years – Butlers Irish Chocolates.
Even though Belgium has the best reputation when it comes to chocolates globally, one should not underestimate the deliciousness of these Irish chocolates either! Butlers Irish Chocolates are known for superior creaminess, but also unique flavour combinations that recipients cannot get enough of.
In our collection of gift hampers, customers can find several different selections of Butlers Irish Chocolates, so you are not limited to one chocolate selection from this delightful brand. At the Hamper Emporium, you can find truffles, chocolate-covered caramels, award-winning chocolate confections and more, all from our number one chocolate supplier Butlers Irish Chocolates!
Customers do not have to look far to find a selection of Butlers Irish Chocolates in our collection, because almost all gift hampers at the Hamper Emporium contain a Butlers Irish Chocolates product. This especially applies to our Australian Christmas hampers, which are usually packed with them!
Byron Bay
Another gourmet brand to look out for is Byron Bay, known internationally for the finest cookies. Byron Bay has affiliates all over the world; this includes the United Kingdom, United States and Australia.
Even though Byron Bay has affiliates across the globe, the company finds it origins in Australia. Byron Bay is the original café cookie of Australia, so you might have come across them in many cafés over the past twenty-five years.
Of course, Byron Bay has grown much since they started in a small little farmhouse in Byron Bay. Their success greatly rests on a traditional family recipe, which is currently unmatched by any other cookie manufacturer. Still, this recipe has allowed them to grow tremendously.
When you look at our range of hampers, you will notice many Byron Bay Cookies; this includes a customer favourite – the Byron Bay Chocolate Fudge Cookies. Of course, there are many others to discover, so be sure to check out all our hampers containing Byron Bay.

Maison Fossier
Some of the brands included in our hampers have acquired serious international renown; this includes Maison Fossier, a French biscuit manufacturer and the inventor of the world-famous biscuit roses.
Biscuit Roses were invented several centuries ago, but have not lost any popularity! These biscuits can be eaten on their own, because they are simply delicious! Of course, if you want to try something unusual, we can recommend dipping these biscuits in a glass of champagne. While this might sound a little strange, these biscuits were made for this purpose; this means that dipping biscuit roses in some champagne brings the superior flavour forward even more.
The Hamper Emporium made sure that customers can try biscuit roses in combination with some delicious champagne, mainly by adding an extra bottle of champagne to the gift hampers containing Maison Fossier biscuits!
Of course, Maison Fossier has created more than biscuit roses alone, so customers can find more biscuits and treats from this French bakery inside our collection of gift hampers. Therefore, when you browse to our collection of hampers, you might come across other options such as macarons, palmier pastries and much more.
Brown Brothers
Wine connoisseurs and collectors will love our collection of Australian Christmas hampers too, because customers can find some of the finest wines from Brown Brothers. Brown Brothers is still one of the most popular wineries in Australia, so if you are buying for a wine collector, you could certainly consider any of our hampers with a Brown Brothers wine.
Discover More Christmas Food & Drink Today
Before you make your final decision, make sure you check out the other Christmas food & drink available at the Hamper Emporium! Our hamper designer adds new gourmet foods regularly, but also searches for the best celebration wines and champagnes to delight your recipient this holiday season! Therefore, don't miss out and hurry to our main Christmas collection to see what all the fuss is about!