Cheaply Priced Christmas Hampers to Meet Your Budget!
Author: Nicole Adler Date Posted:23 March 2019


Gift giving is a tradition that can get expensive at times; this is why, when giving gifts, you need to be clever in choosing your gifts as it may ruin your budget and probably leave you in debts until the following year. It is certainly not a good idea to start the following year filled with debts, right?
To help you out, the Hamper Emporium has created a detailed overview of the most affordable Christmas hampers. These hampers still deliver luxurious products for your recipient but are offered for the most affordable prices.
Customers looking to save some money on presents this holiday season should certainly check our overview of affordable Xmas hampers. Check out our top picks below and save big this holiday season!
What Is the First Cheaply Priced Christmas Hamper?
One of the best value hampers offered by the Hamper Emporium is the Mini Delight Xmas Hamper. This hamper is purchased by many because of its impressive contents despite its affordable price.
Obviously, the Hamper Emporium knows how to satisfy customers with tight budget. This hamper holds biscuits and sweets from Anna's, Elsa's Story, Morgan & Albert's and more that you wouldn't really think you'll find in a cheap Christmas hamper.

What Is the Second Cheaply Priced Christmas Hamper?
Hunting for a cheap Christmas hamper is not a problem, especially with the Christmas Bites Hamper. The Christmas Bites Hamper is affordably priced, yet it presents you a genuine bottle of Islander Estate 'Bark Hut Road' Shiraz Cabernet.
When it comes to biscuits and sweets, you will not be disappointed with its contents. Inside the Christmas Bites Xmas Hamper contains Butlers Chocolate Cracker, Woods Farm Macadamia Pure Butter Shortbread, Christmas Fruit Mince Tarts, Popcorn Toffee Peanut Crunch, and so much more.
What Is the Third Cheaply Priced Christmas Hamper?
Customers can also indulge this Christmas with the Indulgence Xmas Hamper. If you're aiming to give away a budget friendly hamper to someone special, brother, sister, wife, husband, or a friend, something that is affordable yet has a classy touch and sophisticated effect, this hamper is your perfect choice.
With the Indulgence Xmas Hamper, customers can expect products such as Partridges Artisan Bakehouse Tuscan Crackers, Gourmet Regional 'Ham Jam' Cherry Chutney, Woods Farm Caramelised Peanut Brittle, and tons more. In short, the perfect selection of nibbles, biscuits, and sweets for the holiday season.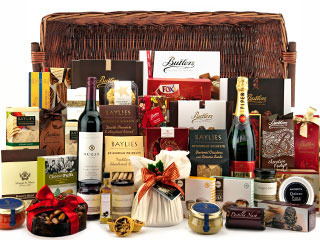 What Is the Fourth Cheaply Priced Christmas Hamper?
Another affordable option is our Red Wine & Nibbles Hamper. With this exquisite choice from our Christmas range, you will get an amazing selection of gourmet treats, complemented by an award-winning bottle of wine from the Robert Oatley winery!
What Is the Fifth Cheaply Priced Christmas Hamper?
Is your recipient a fan of tasty beers? Then be sure to choose the Microbreweries of Australia hamper as your affordable Christmas hamper this year. This hamper offers you more than you can imagine, including tasty beers and savoury nibbles.
Imagine this Christmas enjoying the different beers ranging from Burleigh Brewing, Hawthorn, Lord Nelson, Murray Craft and Moon Dog in just one hamper? If you or your recipient loves beer, then this is the best hamper you could ever have for such a low amount. To make it even better, you can also enjoy the potato chips of Thomas Chipman! If you need peanuts, then the Morgan & Albert's BBQ peanuts is your top choice which is also found in this affordable hamper. There are more savoury items so hurry and grab this hamper before it's too late.
Does the Hamper Emporium Provide More Cheaply Priced Christmas Hampers?
There are more cheaply priced Christmas hampers at the Hamper Emporium. If you browse the different Christmas hampers on the site, you will come to realize that Christmas gifts do not have to be expensive to be classy and sophisticated.
Anyone can afford gifts with abundant goodies, because the Hamper Emporium makes it all possible. So, make sure to make your Christmas merry this year with the affordable Christmas hampers from the Hamper Emporium!