Why are Australian Christmas Hampers a convenient gift during the festive season?
Author: Nicole Adler Date Posted:23 March 2019


Convenience is a big deal at Christmastime. When holidays are looming it can feel like your to-do list keeps getting longer with each passing day. We all know how panic inducing those mad dashes to the local shops can be, especially if you're trying to find a unique present to honour a loved one.
It's safe to say that a lot of people feel a little jaded when it comes to holiday shopping but at The Hamper Emporium we want to change that. We've created an anti-frazzle Christmas shopping zone where you can browse luxury gifts in the comfort of your home, making finding a meaningful gift that much quicker and easier.
Our Christmas hampers are a convenient gift for five simple reasons -
They are many gifts in one big package.
You don't have to brave the stores.
Hampers are versatile.
They are easy to order and easy to deliver.
They bring the WOW factor.
Are gift hampers really more than one gift?
They sure are. While you'll receive your hamper neatly packaged and looking amazing, your present actually consists of many small, luxury items. All of our hampers contain between three to almost 40 items ranging from the best Champagnes, chocolate, biscuits, nuts, savoury snacks, pantry items, skin care products and fashion accessories. All of the inclusions have been carefully curated to ensure the hamper fits a certain theme and offers a unique experience.

Do I have to go to a store to order?
One of the most frustrating parts of Christmas is having to tackle the crowds that flock to local stores to do their Christmas shopping. Not only do you need to brave the car park but you've then got to find gifts that are meaningful and special. That's hard to do when people have picked the shelves clean.
The benefit of ordering your Christmas presents online through The Hamper Emporium is you don't have to step a foot inside a shopping centre. We've got a huge range of hampers to suit every person in your life and they are quick and easy to order.
Are Christmas gift hampers versatile?
Gift hampers from The Hamper Emporium are one of the best presents you can buy. Why? Because they are so versatile. They can be given to work colleagues or clients, next door neighbours or family members and everyone will love them. They don't necessarily need to be a Christmas present either – they can be given any time of the year.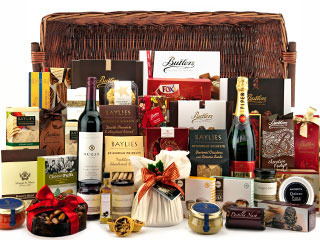 How easy is it to order hampers online and have them delivered?
Our Christmas hampers are perfect for those who want to do their Christmas shopping from the comfort of their own home and at a time that suits them. Our website is easy to use and simple to navigate.
We offer free, standard delivery of our Christmas hampers Australia-wide that takes 1 - 3 business days in New South Wales, Victoria and Queensland metropolitan areas. 3 - 5 business days in Tasmania and South Australia metropolitan areas and 5 - 8 business days in Perth, Darwin and regional areas.
If you need your hamper delivered quicker we provide express delivery for $15 per hamper.
Do hampers really bring the WOW factor?
There is nothing quite like the thrill of opening the front door and being handed one of our beautifully decorated, carefully curated, handcrafted hampers. They make anyone who receives them feel thankful and extra special. The luxury products inside the hamper impress as does the care we take in crafting an experience not just another gift basket.
Looking for more Christmas gift hampers?
The Hamper Emporium is proudly Australian-owned and operated and is the best place to shop online for gourmet and luxury Christmas hampers. Melbourne, Sydney, Brisbane, Adelaide, Perth - it doesn't matter where you are in Australia, we'll deliver Australia-wide. We have a great selection of Christmas hampers available including Gourmet Food & Wine, Beer & Cider, Pamper Gifts, and Gourmet Food hampers. Need help with your purchase? Get in touch with our team.