Why are family Christmas hampers such a popular Xmas gift?
Author: Nicole Adler Date Posted:23 March 2019


Don't you think that hampers make the perfect Christmas gift for families? Not only are they convenient to purchase and deliver but they are luxurious, indulgent and they show family and friends how much you care about them. Never bought a luxury hamper before? Here's what you should know.
What types of hampers can I order?
The Hamper Emporium has a huge range of gift hampers available. Some of our most popular Christmas options include Gourmet Food & Wine hampers, Chocolate Gifts hampers, Beer & Cider hampers, Pamper hampers, Gourmet Food hampers that don't contain alcohol and New Baby hampers.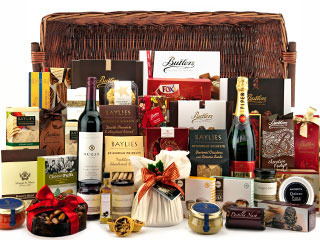 What types of products are included in Christmas hampers for families?
At the Hamper Emporium we pride ourselves on the outstanding goodies we include in our hampers. Our team are constantly working with some of the most well known luxury brands in the world to deliver products that are high quality with exceptional value.
Some of the brands that we include in our Christmas hampers include Moët & Chandon, the Mini Delight, Veuve Clicquot, James Squire, Little Creatures, Brown Brothers, Le Cordon Bleu Paris, Cape Mentelle wines, Jurlique, L'Occitane, Rifle Paper Co, Willies Cacao, Morgan's, The Woods Farm, Butlers and Ernest Hillier.
How easy are Christmas hampers to send?
A big reason why our Christmas hampers are so popular around the festive season is because of how easy they are to send. You don't need to stand in line at the post office or spend time wrestling with wrapping paper - we do all the hard work for you.
Our gift hampers can be delivered anywhere in Australia which comes in handy if you are out of the state or country but you want to spoil your friends and family with a gift they'll be talking about for years.
How are the Christmas hampers presented?
We spend as much time thinking about the best ways to present our hampers as we do putting them together. Presentation is one of the most important ingredients of a luxury Christmas hamper which is why we've spent considerable time working on our packaging. Our hampers come presented in elegant and sturdy boxes and handcrafted wooden chests. These boxes ensure our hampers arrive safely and in style.
What are two of the most popular Christmas hampers in Australia?
It's hard to narrow down our range of hampers to just two that are popular with families at Christmas but if we are forced to choose we'd say that the Classic Celebration Hamper and the Ultimate Foodies with Moët Hamper are always in high demand around the holidays.
The Classic Celebration Hamper is one of the biggest hampers we have available and it is a perfect Christmas gift for family. It has an extended range of delicious treats and is a real crowd pleaser.
The Ultimate Foodies with Moët Hamper is a perfect little collection of all the best things to enjoy with families and friends. It has a great selection of savory and sweet goodies as well as a bottle of Moët & Chandon Brut Imperial NV Champagne.

Can I personalise my hamper?
You certainly can. Your hamper can include a luxury gift card so that you can include a message with your order.
How much will it cost to deliver a hamper?
We offer free delivery of our Christmas hampers Australia-wide. We also provide Track & Trace for your Christmas hamper so you know when it's been delivered. Need express delivery? Our express delivery rates start at $15 per hamper.
Looking for more gifts for Christmas hamper inspiration?
The Hamper Emporium is the best place to shop online for gourmet and luxury Christmas hampers; Melbourne, Sydney, Brisbane, Adelaide, Perth it doesn't matter where your family is in Australia, we'll deliver to their door. We have a large selection of Christmas hampers available including Chocolate Gifts, Beer & Cider, Pamper Gifts, Gourmet Food (no alcohol), Gourmet Food & Wine and New Baby hampers.