Hamper Delivery Over Christmas


Hamper Delivery over Christmas

The Hamper Emporium is the most efficient gift hamper provider today. It has a very systematic technique in handling orders. It offers you transparent and reliable ways to deliver hamper goodies and treats. Since the season of gift giving is fast approaching, this online hamper outlet ensures that the promise of Christmas hampers are delivered on the day you request. The Hamper Emporium doesn't want to hinder your excitement from opening your delightful hamper on this special occasion. We understand the overwhelming feeling of unpacking a basket of surprises especially during the best time of the year like Christmas. It also feels rewarding seeing happy people with their Christmas hampers delivered on time. The Hamper Emporium guarantees that all Hampers are delivered on time right to your doorstep.
Whether the hampers are ordered for corporate reasons, household use or as a special present to someone, The Hamper Emporium secures the package with utmost care. This gift specialist wants Christmas Hampers delivered in good condition to all its customers. This way, people can enjoy their gift even more even before they unseal the packaging of the hamper.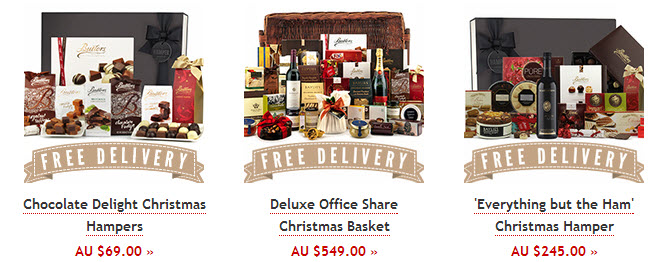 Tender Delivery Service

The Hamper Emporium showcases many different gift hampers giving customers a large variety of option. Each hamper includes items which will surely impress the recipient of the gift basket. Our team has specially picked and set each product to create a perfect hamper combination. All our products come from the most trusted food producers and wholesalers to ensure superior quality. At the Hamper Emporium we want you to take and receive the best of everything. We aim to help buyers choose the perfect gift for their loved ones and them package and deliver the hamper on time.

The Hamper Emporium is your convenient online gift shop that offers a tender touch to each of our gift hampers. We never fail to charm you with our lovely and classy presentation, which gives each Hamper a personalized look. So make sure you look online today for all of our promotions and special offers. At the Hamper Emporium it is our guarantee to offer you the best variety of products and make sure that all Hampers purchased are delivered to you or to your recipient exclusively free within Australia.

Tips to Avoid Shipping Delays of your Christmas Hampers

Undeniably, the Christmas season is one of the most hectic times and shipping services can be quite busy. This is why we have provided you tips to consider when purchasing a Christmas hamper so you are ensured on time delivery.

• Create a Name List of Your Recipients – When purchasing a hamper list down the names of the people whom you're giving it to. This way you can instantly figure out which Hamper is perfect for your intended recipient and this will save you time too.

• Order Ahead of Time – Ordering ahead of time is very helpful. You must note the date you need the hampers to be delivered and order ahead of time to avoid the shipping line-up! We can't deny the fact that every Christmas season, people tend to buy few days before the occasion and as a result, shipments can be delayed. To ensure your Christmas hampers are delivered without any problems, order a few weeks or months ahead of time. The Hamper Emporium offers free delivery to anywhere Australia wide so make sure you make use of this saving.

• Know the Delivery Timeframe – This consideration is a must. Before placing an order online, try to check the FAQs page of the online store. See how many days will it take them to deliver your items to your specified address. You certainly don't want to disappoint your recipient? So be responsible enough to know the shipping estimates and be organized.

Premium Christmas Hampers

Receiving a surprise gift from someone comes with an exciting feeling. How about unexpected treats during the Christmas season? Certainly, your emotions are elevated. Giving and receiving Christmas Hampers can give great satisfaction, and The Hamper Emporium knows how it feels so we aim to provide each customer with an extraordinary experience. We only include the top brands and items in all our Hampers. No matter how small or big your gift is, as long as you give it with love, your recipient will certainly appreciate it and this is where The Hamper Emporium comes in. Here you'll find premium Christmas hampers at affordable prices, making it possible for your recipients to feel appreciated and remembered on this special occasion.

So what are you waiting for? Check out the range of Christmas Hampers we have to offer on our website. We have gourmet food and wine hampers, corporate gift hampers, new baby hampers, pamper hampers, chocolate hampers and of course our very special Christmas hampers. Opting for any of our special products will definitely put a smile on your face as well as your recipient. Our Christmas Hampers are delivered just as described on our website to meet your expectations and to keep you coming back for more.