Complete this year's Christmas holiday feast with this glorious gourmet hamper. Any family, friends or co-workers playing host this Christmas would welcome this hamper full of festive fare to their table. With endless gourmet supplies for entertaining & visiting loved ones, this Christmas hamper is truly everything but the ham! Presented in a luxury keepsake box, it includes FREE Shipping Australia-wide.
---
Savoury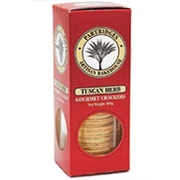 Partridges Artisan Bakehouse Tuscan Crackers 100g
Delicious Artisan herb crackers made with the freshest rosemary, basil and oregano. Ideal for dips, fruit pastes & cheeses.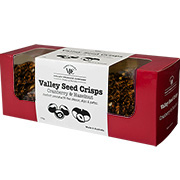 Valley Seed Crisps Cranberry & Hazelnut 170gm
Delicious seed crisps made from local ingredients from the Yarra Valley, an exquisite snack for everyone.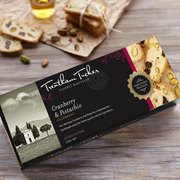 Trentham Tucker Cranberry Pistachio Crispbread 150g
A delectable combination of cranberries and pistachios, handmade into delicious crispbread.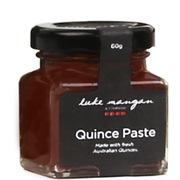 Tasmanian Fruit Pastes, Quince Paste 60g
Blended from the finest Tasmanian ingredients; this is the perfect quince paste to accompany the finest quality cheeses.
Biscuits & Sweets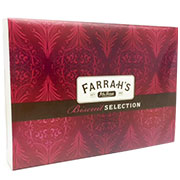 Farrah's of Harrogate Biscuit Selection 300g
Selection of the finest English biscuits, created by Farrah's of Harrogate since 1840.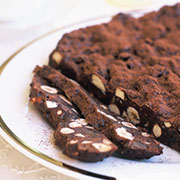 Baylies Epicurean Delights Panforte 290g
Delicious and nutritious panforte from Baylies Epicurean Delights, made with the best fruits and almonds.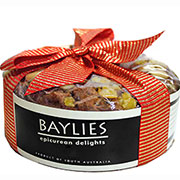 Baylies Epicurean Traditional Handmade Cake 750g
Exquisite Baylies Epicurean Delights cake with fresh South Australia ingredients, including the authentic Barossa Valley brandy.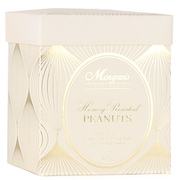 Morgan's Honey Roasted Peanuts 175g
Great selection of crunchy peanuts, traditionally prepared in 100% Australian honey.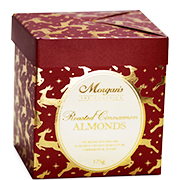 Morgan's Christmas Roasted Cinnamon Almonds 175g
The ultimate Christmas treat – a gorgeous mix of cinnamon, sugar and Australian peanuts.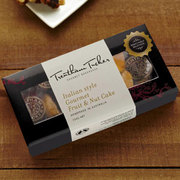 Trentham Tucker Gourmet Fruit & Nut Cake 250g
A handmade Italian style fruit & nut cake made with natural ingredients, perfect for any festive celebration.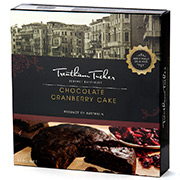 Trentham Tucker Chocolate Cranberry Cake
A delicious mix of fine chocolate and cranberries made into a cake perfect for the festive season.
Pantry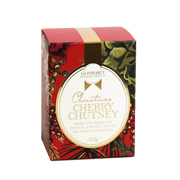 Gourmet Regional Produce Cherry Chutney 215g
Delicious Australian chutney made with fresh cherries.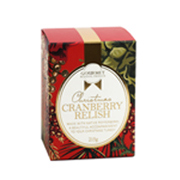 Gourmet Regional Produce Cranberry Relish 215g
Delicious cranberry relish to accompany your Christmas dinner.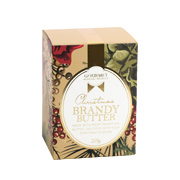 Gourmet Regional Produce Brandy Butter 215g
Fresh brandy butter created by Australian brand Gourmet Regional.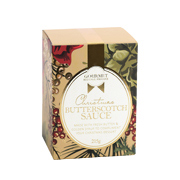 Gourmet Regional Produce Butterscotch Sauce 215g
Fresh butterscotch sauce to accompany your desserts during the holiday season.
Also Included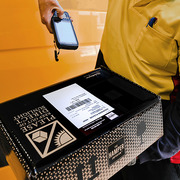 Comprehensive Track & Trace
Your parcel can be tracked as it is shipped anywhere in Australia. A tracking ID is emailed upon dispatch.
---
Standard Delivery - FREE
NSW, VIC, QLD metro areas
1 - 3 Business Days
TAS, SA metro areas
3 - 5 Business Days
Perth, Darwin & regional areas
5 - 8 Business Days
Express Delivery* - from $14.95 per hamper
Sydney Metro Area
Same Business Day
Melb, Bris, Adel, Perth, Can, NSW cities
Next Business Day
Darwin & outside of major cities
1 - 3 Business Days
*Delivery times based on orders placed before 1pm on the same or previous business day.
Visit our
Delivery page
for detailed delivery information.
Due to seasonal variations and exclusivity of our stock, items in hampers are occasionally substituted for products of the same or higher value and quality.
Get Ready for a Gourmet Adventure this Christmas!
If your recipient is cooking a nice ham this Christmas, you may want to consider acquiring the Everything but the Ham Festive Hamper as their gift this year. Considering the large amount of gourmet items, this hamper is also suitable as an office sharing gift. Let us take a closer look at some of the products inside this hamper to determine if it is the right gift for the recipient you have in mind.
Tuscan Herb Crackers from Partridges Artisan Bakehouse
Snacks are quite common during the holiday season and crackers are probably a big part of that as well. Therefore, you will find a pack of the most delightful Australian crackers in the Everything but the Ham Festive Hamper.

The crackers in this hamper are provided by Partridges Artisan Bakehouse. They are only made with fresh ingredients, which also applies to herbs such as rosemary, basil and oregano. The superior taste of these crackers means your recipient can eat them as they are, or they can combine them with their favourite selection of dips, fruit pastes or cheeses.
Seed Crisps from the Valley Produce Company
Another genuine Australian Christmas treat inside this gift hamper are delicious seed crisps with cranberries and hazelnuts. This delightful treat is made in the Yarra Valley, with ingredients sourced from local farmers.

Valley Seed Crisps are a true recommendation for all foodies and gourmet lovers, because the complementing flavours of cranberries and hazelnuts is an experience on its own. While recipients can eat these seed crisps on their own as a snack, they also work well with a selection of fine brie, blue cheese or cheddar cheese.
Cranberry & Pistachio Crispbread from the Trentham Tucker Gourmet Bakehouse
There are certain foods that are always associated with special occasions and Christmas. One of these foods is crispbread, because this party food matches the Christmas season perfectly. Crispbread is also a treat that is loved by young and old, which gives you a lot more freedom where gift selection is concerned.

The Cranberry & Pistachio Crispbread from Trentham Tucker is made with fresh ingredients. The crispbread approximately contains 12 percent of cranberries and 12 percent of pistachio nuts, which makes sure you can enjoy the superior flavour of these premium ingredients in this crispbread.
Quince Paste from Tasmanian Fruit Pastes
The crackers inside this hamper could use a nice fruit paste to accompany it, which is why our hamper designer selected a premium quince paste from the Tasmanian Fruit Pastes brand. We can also recommend serving a little bit of cheese with the Partridges Artisan Bakehouse Crackers and the Tasmanian Fruit Paste, because this combination is something you will never forget.
Biscuit Selection from Farrah's of Harrogate
Farrah's of Harrogate is a brand that is known for their fudge all around the world. The company has been around since 1840 and expanded their brand with more products over the years.
In addition to their range of delicious fudge, Farrah's of Harrogate is also known for their biscuits. The biscuits inside the selection are the pinnacle of British biscuit manufacturing history, so they are bound to be loved by anyone who receives them as a gift.
Panforte and Handmade Cake from Baylies Epicurean Delights
When it comes to handmade Christmas foods, no other brand can top Baylies Epicurean Delights. Therefore, we have chosen two of their best products to add to the Everything but the Ham Festive Hamper, more specifically the Baylies Epicurean Delights panforte and handmade cake.

The Baylies Epicurean Delights panforte is handmade with the finest fruits and fresh almonds, while the handmade cake is also made with fresh ingredients as well as a helpful dose of genuine Barossa Valley brandy. In conclusion, a real treat that cannot be missing from your recipient's Christmas table.
Morgan's Christmas Treats
Our Everything but the Ham Festive Hamper also contains some Christmas treats from Australian brand Morgan's. The first treat is a wonderful selection of crunchy peanuts, which have been roasted in 100% Australian honey and packed in a Christmas-themed gift box. The hamper also contains Morgan's Christmas Roasted Cinnamon Almonds, containing two flavours that Christmas is commonly associated with.
Gourmet Fruit & Nut Cake from Trentham Tucker
The Everything but the Ham Festive Hamper contains numerous treats from Trentham Tucker, which also includes their popular Gourmet Fruit & Nut Cake. Trentham Tucker gourmet cake is made according to an Italian recipe, infused with delicious fruits and nuts. This nut cake is perfect for the holidays, but will also go down well during other special occasions. So, even if you need a gift for another special occasion outside the holiday season, you could also consider this excellent fruit and nut cake from Australia's favourite bakery.
Cranberry Cake from Trentham Tucker
In addition to a scrumptious fruit and nut cake from Trentham Tucker, recipients can also enjoy a delicious cranberry cake during the festive season. The cranberry cake is made with fresh cranberries and premium chocolate, providing all recipients with a wonderful Christmas experience.
Christmas Pantry Items from Gourmet Regional Produce
When a recipient receives a hamper as a gift, they usually do not have the time to enjoy all the items on the same day or in the same week. Therefore, our hamper designer has included numerous pantry items that can be used throughout the holiday season; this includes cherry chutney, cranberry relish, butterscotch sauce and brandy butter. So, no matter what is on the schedule for your recipient this Christmas, they will always have these delicious ingredients to fall back on.
Conclusion
The Everything but the Ham Festive Hamper is an excellent choice for gourmet lovers and foodies, but it can also be used as a corporate gift. The versatility of this hamper makes it suitable for a wide variety of recipients with numerous preferences, so if you do not know the personal preferences of your recipient, the Everything but the Ham Festive Hamper could be the perfect choice for you.

The Everything but the Ham Festive Hamper contains wonderful treats you cannot miss out on during the holidays. From traditional flavours featured in crispbread and crackers, to more unusual flavours noticeable in the panforte and nut cake, these Christmas treats are bound to take Christmas to the next level for your recipient. Of course, the large variety of treats also means this hamper is extremely suitable for foodies and gourmet lovers, but it could also be a wonderful gift for a couple during the holiday season.

Since the Hamper Emporium has many gourmet hampers, we simply cannot forget to mention the other Christmas hampers filled with gourmet treats on our website. If you didn't have the opportunity yet to explore all gourmet treats the Hamper Emporium could offer you, we certainly urge you to do so. Every year, our hamper designer searches for the best and most flavourful treats to add to our Christmas hampers, so check out the latest hampers if you don't want to miss out on the new Christmas treats that have been added by our hamper designer!