Discover the Australian Christmas Hampers with the Finest Selections of Chocolate!
Author: Nicole Adler Date Posted:23 March 2019


Most of our Australian Christmas hampers contain a nice selection of chocolate, but there are some Australian Christmas hampers that stand out from the rest where chocolates are concerned.
The Hamper Emporium team searches the globe for the finest chocolate confections; this enables us to offer delicious chocolates from Ireland, England, and Australia too. True chocoholics will always find something intriguing in our chocolate selection.
If you want to get more familiar with these Australian Christmas hampers, be sure to read our overview below, since it includes numerous Australian Christmas hampers with the finest chocolates in our range!
What Is the Cape Mentelle Shiraz & Chocolates?
Our first recommendation is the Cape Mentelle Shiraz & Chocolates; this exquisite Christmas hamper contains everything a person needs during the holidays; this includes a nice bottle of Cape Mentelle Shiraz and three boxes of Morgan's treats.
When you want to obtain one of the finest bottles of shiraz Australia can offer, Cape Mentelle should be on the top of your list. It features a vibrant body with hints of blueberry, mulberry and raspberry. Therefore, this is an excellent option for anyone who likes their shiraz extra fruity.
The chocolates inside the Cape Mentelle Shiraz & Chocolates match the Cape Mentelle shiraz perfectly. One of them even contains flavours such as blueberries, cashews, peanuts and almonds. Therefore, this Christmas hamper is not only suitable for those who like a fruity shiraz, but also for those who like their fruity treats.

What Is the Sweet Bites Hamper?
Our Sweet Bites Hamper is also an excellent choice for a recipient who like sweet treats, since this hamper contains products from brands such as Black St. Gourmet, Butlers Irish Chocolates, Ernest Hillier, and Morgan's.
One of the most remarkable treats inside the Sweet Bites Hamper is the salted caramel sauce from Black St. Gourmet. The award-winning treat is perfect as a dessert sauce, so you can add it to things such as cake and vanilla ice cream. If your recipient likes his or her desserts extra sweet, a bottle of this salted caramel sauce cannot be missing from the Christmas spread.
What Is the Chocolates & Red Hamper?
Another great hamper you could consider for the holiday season is the Chocolates & Red Hamper. Inside the Chocolates & Red Hamper, you can find one of our best chocolate selections; this features delicious chocolates from Butlers Irish Chocolates and Willie's Cacao!
To ensure the Chocolates & Red Hamper appealed to all Australian chocoholics, our hamper designer selected the classic Butlers Handmade Chocolate Selection. It contains some of their trademarked chocolates that have won numerous taste awards; this includes options made with milk, dark and white chocolate.
The Butlers Handmade Chocolate Selection inside this hamper is supplemented with Byron Bay Cookies Triple Chocolate Fudge. The selection of cookies is a big success during the holiday season, because nobody can resist the triple chocolate and fudge combination!
Lastly, the Chocolates & Red Hamper also contains Willie's Peruvian 70% Dark Chocolate with Hazelnut & Raisin; this piece of chocolate is made from exotic cacao beans, so it is certainly suitable for chocoholics with a preference for exotic flavours. Of course, the hazelnut & raisin flavours inside this chocolate square also complement the nature of the exotic cacao bean. So, if you ever get the opportunity to try a chocolate square from Willie's Cacao, be sure try some yourself!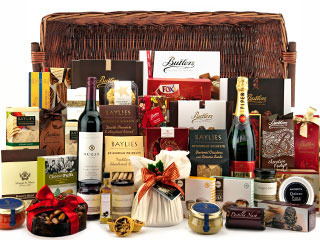 What Is the Piper-Heidsieck Champagne & Chocolate Hamper?
If your recipient is fonder of a chocolate and champagne combination, then you could choose one of the Piper-Heidsieck Champagne & Chocolate Hampers. This delightful hamper contains three boxes of chocolate-covered treats from Morgan's, but also a bottle of Piper-Heidsieck Champagne that ties the whole thing together.
Piper-Heidsieck champagne is one of the better-known French champagnes. It is characterised by a full body, which is mainly provided by a high concentration of pinot noir grapes. Piper-Heidsieck champagne also contains a good percentage of reserve wines, which certainly adds more complexity and structure to it.
Because of the presence of the Piper-Heidsieck Brut NV Champagne, we can recommend the Piper-Heidsieck Champagne & Chocolate Hamper for champagne collectors too! Of course, the combination of chocolatey treats and the champagne makes it brilliant for chocoholics too.
What Is the Luxury Chocolate & Veuve Hamper?
If your recipient only wants to get luxurious presents for the holidays, then you could consider the Luxury Chocolate & Veuve Hamper as a gift. Inside this exquisite hamper, customers can find several chocolate selections from Butlers Irish Chocolates, but also a good bottle of Veuve Clicquot Yellow Label Champagne.
Firstly, let us look a little closer at the delightful chocolate selections hidden away in our Luxury Chocolate & Champagne Hamper. The first chocolate selection is a gift bag with Butlers Chocolates Caramel Truffles. Each of the truffles is wrapped individually and has delightful creamy centres that will leave chocoholics wanting more. The second chocolate selection is Butlers Chocolate Truffles, which contains the three most popular confections we mentioned earlier.
In addition to the amazing selection of chocolates and the bottle of Veuve Clicquot champagne inside this hamper, this hamper also contains products from Maison Fossier and Morgan's. Each of these brands has an excellent reputation where quality and flavour are concerned, so be sure you don't miss out on this hamper this Christmas holiday.
Where Can I Find More Delicious Chocolates at the Hamper Emporium?
Before we leave you to choose one of our Australian Christmas hampers, we would like to quickly mention that customers can find more delicious chocolates in other gift hampers too! Aside from our Christmas hampers, you can also find chocolates in Mother's Day hampers, Father's Day hampers, gourmet hampers and much more!
Do you have any questions about any of the chocolate selections available at the Hamper Emporium? Or do you have problems selecting the right chocolate hamper for your recipient? Contact the Hamper Emporium for some free advice today! Customers can contact us via live chat and telephone during business hours, but also via email outside business hours. Simply pick your preferred contact method and our team will be more than happy to help you.