Food Christmas Hampers – Discover the Best at the Hamper Emporium!
Author: Emily McWaters Date Posted:30 May 2019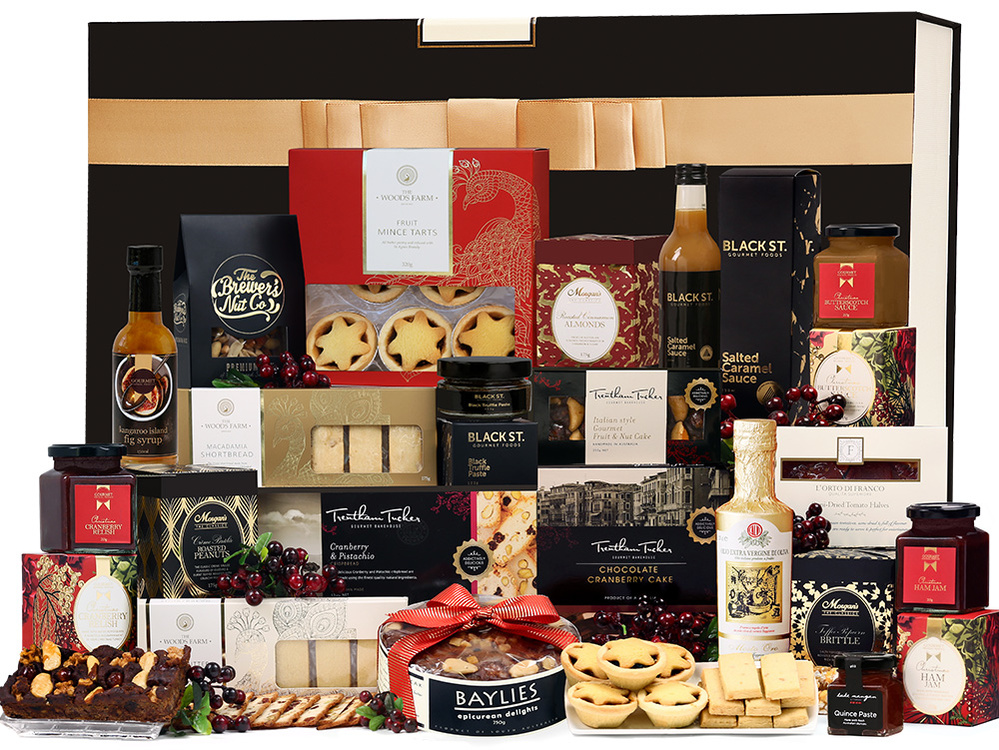 The Hamper Emporium puts you in the festive mood for gourmet Christmas food hampers that are filled with premium local and imported food items to delight sweet and savoury palates.
There's an extensive range of specialty Christmas hampers to be found, secured and despatched in a flash. Free delivery, Australia wide, on all Christmas hampers and gift purchases at The Hamper Emporium sweetens the spirit of giving at Christmas and for all special occasions.
Simply jump online, choose and order the Christmas food hamper that's perfectly suits the tastes of all you family and friends this festive season and for all occasions that are worth celebrating at their finest.
Christmas and delicious food go together like strawberries and cream, artisan cheeses with gourmet crackers, and plum pudding with pouring custard.
Putting loved ones in the mood for delectable festive food is a specialty at The Hamper Emporium. With an accent on abundance, variety and choice, the gift will always be in the giving when you select a Christmas food hamper for all your nearest and dearest.
The Hamper Emporium matches the taste-tempting wishes of all your Christmas entertaining needs with an extensive range of Christmas food hampers that are brimful of the finest wines, exquisite Champagnes, premium spirits, craft beers and ciders. These deluxe drinkables are teamed with a luxurious selection of gourmet foods for sweet and savoury taste buds from the cream of local and imported food producers.
There's a beautifully packaged, grift-wrapped and presented Christmas hampers filled with food-loving abundance for all your family and friends on offer any time online at The Hamper Emporium.
Keepsake gift boxes, prompt delivery and complimentary greeting cards for you to personalise are the icing on the Christmas cake for all your gift-giving aspirations and destinations.
What do you put in a Christmas food hamper?
Christmas food hampers should be filled with custom-made gourmet goodies with unique tastes that enhance the festive spirit.
This occasion for celebration calls for handmade Christmas cakes, fruit mince pies, premium roasted and sweetened nuts, delectable sauces and condiments, gourmet chocolate truffles and chocolate-covered berries and nuts, rich buttery and macadamia shortbreads and so much more in store for taste-tempting sweet and savoury nibbles, bites and morsels to savour.
The Hamper Emporium includes these premium gourmet items brimming within the extensive range of Christmas hampers offered online.
What are good Christmas food hamper ideas for a family member?
There's delectable gourmet goodness designed to delight every family member in the premium range of Christmas food hampers at The Hamper Emporium.
You could choose from the abundant riches of The Deluxe Christmas Hamper. This premium gourmet food and wine hamper is the pinnacle in luxurious gift giving.
There's an endless supply of sweet and savoury treasures to last the whole holiday season for families of all sizes.
Mature tastes also receive the crème de la crème in Dom Perignon Champagne, as well as award-winning South Australian red and white wines. Complete with condiments, creamy sauces, artisan chocolates, cakes and biscuits and every delicious gourmet goodie to please the most discerning palates, family-style gift giving peaks at an all-time high with The Deluxe Christmas Hamper.
For petite bites and budgets that are big on taste, you can't top the Mini Delight Christmas Hamper. There's an irresistible sweet treat contained within for every family member. Premium crispbreads, popcorn or toffee brittle, buttery shortbreads and more, there's a mini delight with maximum flavour inside this Christmas food hamper to savour.
These premium selections are available online, but only at The Hamper Emporium.
What are some of the best Christmas food hamper ideas for a friend?
Small or profuse, but ever luxurious, gestures of loyalty and support are epitomised in the range of Christmas food hampers designed for gift giving to your best friends.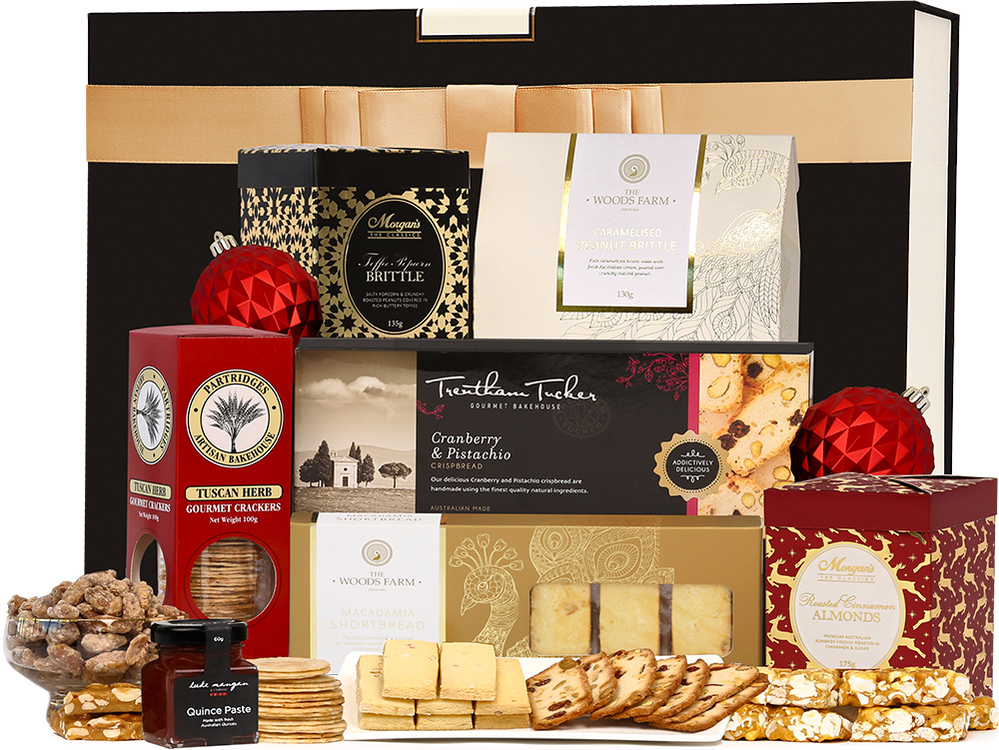 The Hamper Emporium offers the Veuve Christmas Hamper to celebrate your friendship in the most dazzling style. This designer-worthy selection features an exquisite bottle of Veuve Clicquot Brut Imperial and is embellished by gold-encased Christmas crackers that are filled with jewellery and cufflinks set with Swarovski crystals. There's also an array of sweet treats to tempt the finest festive tastes.
Your wine-loving friends would adore you all the more for the Red Wine and Nibbles Hamper. This abundant gourmet gift offering features a James Halliday-recommended bottle of The Islander Estate's Bark Hut Road Shiraz. Premium roasted nuts, a range of artisan crackers, local tapenades, Kangaroo Island kalamatas, imported semi-dried tomato halves and a luxurious bottle of gold-foiled wrapped cold-pressed extra virgin olive oil complete this luxurious and affordable gift selection.
Where can I buy Christmas food hampers online?
Christmas gift givers of gourmet food hampers to enthral the most discerning tastes turn to The Hamper Emporium for all their deluxe Christmas food hampers.
The Hamper Emporium offers an endless selection of Christmas hampers filled with the finest wines, world-famous Champagnes, premium spirits, craft beers and ciders, and embellished by the finest local and imported gourmet foods for sweet and savoury taste buds.
There's even an online customer support service for one-on-one guidance, direction and suggestions that are designed to fulfil every aim on your Christmas gift-giving list.