Food Christmas Hampers – Discover the Best at the Hamper Emporium!
Author: Nicole Adler Date Posted:1 September 2018


When we think of Christmas, the first few things that come to mind are gifts and food. It is the time when everyone gathers around the dinner table and enjoy the finest Christmas treats together. The Hamper Emporium certainly wants to be part of such special gathering, and one way to be part of it is to present customers with our delicious food hampers.
The Hamper Emporium has an outstanding selection of food hampers, each filled with gourmet treats, champagne, wines, and even whiskey. If you want to make someone's Christmas spread even more special, be sure to take full advantage of our food hamper selection.
Food Christmas hampers are wonderful gifts this Christmas season. It makes the table presentation more tempting and recipients of these hampers will definitely be happy! Food hampers are not like typical gifts, they make one fully satisfied! So, let's check the different must-have food hampers of the Hamper Emporium.
What Is the First Food Hamper I Should Consider This Christmas?
Want the best selection of food and drink on your Christmas table this holiday season? If so, you could certainly consider obtaining the Everything but the Ham Festive Hamper from the Hamper Emporium. With this hamper, you get immediate access to the Christmas essentials, leaving you with all the time you need to enjoy the holiday season.
From the name itself, the Everything but the Ham Festive Hamper, you can already confirm that this hamper is all about food and festivity. Inside this outstanding gift hamper, your recipient will find the largest collection of gourmet nibbles. It includes treats from brands such as Baylies Epicurean Delights, L'Orto di France, Luke Mangan, Morgan's, Trentham Tucker, and so much more. Check out this gift hamper today for more information about its contents.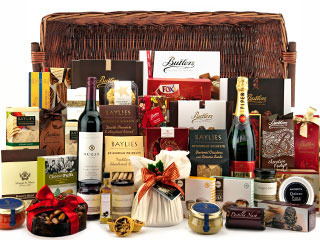 What Is the Second Food Hamper I Should Consider This Christmas?
Are you stuck on a budget this Christmas? Try the Hamper Emporium's Best of All Gourmet Gift Hampers and your valuable money will not be wasted!
The Best of All Gourmet Gift Hampers offers a delightful spread for the Christmas season. It includes premium crackers from Baylies Epicurean Delights, a nut mix from the Brewer's Nut Company, Kangaroo Island Kalamata olives, and even various tapenades from Australia's own Gourmet Regional. The perfect spread for a foodie or a gourmet lover this holiday season.
What Is the Third Food Hamper I Should Consider This Christmas?
Food Christmas hampers are all-time favourite gifts. Another great option from our food hamper collection is the Everything but the Cheese Hamper, one of the favourite hampers of cheese lovers!
The Everything but the Cheese Hamper contains everything a modern cheese lover needs. It contains a lovely red shiraz, crackers, condiments from Edinburgh Preserves, and so much more. So, the only thing your recipient will need to enjoy this gift basket fully is a good selection of cheese.
What Is the Fourth Food Hamper I Should Consider This Christmas?
Seldom will you find an affordable gift baskets with an impressive list of goodies. However, this is exactly what you will get when you choose the Gourmet Christmas Treats Hamper. The hamper comes with an incredible amount of Christmas nibbles; this includes Trentham Tucker Cranberry & Pistachio Crispbread, Woods Farm Caramelised Peanut Brittle, Gourmet Regional Cherry Chutney, and other delicious Christmas treats recipients will love.

What Is the Fifth Food Hamper I Should Consider This Christmas?
Food Christmas hampers are not just about biscuits, it is also about spices and marinades that can make your Christmas foods on the table very yummy! Our Premium BBQ Australia Hamper is your perfect option if you need to prepare a tasty Christmas treat, since this hamper contains absolutely everything.
For an affordable price, you get to pamper yourself and the family with items such as Spice Moroccan Harissa Pasta, countless condiments from Random Harvest, NOMU Rubs, and so much more.
What Is the Sixth Food Hamper I Should Consider This Christmas?
Seafood preparation can really be expensive. However, the Hamper Emporium makes seafood affordable during the holiday season. Yes, for an extremely affordable price, you can enhance the flavours of your seafood menu. Imagine having different spices coming from North Africa! Or maybe herbs that came from South Africa? There are also fish spices, seafood rub, and a lot of spices that will really bring your seafood preparation at its peak! Have a taste of real yummy menus through our Home Chef Seafood BBQ Hamper. The Hamper Emporium is certainly reliable when it comes to food Christmas hampers.
Why Should I Choose a Food Hamper Over Other Presents?
It doesn't matter if you can't give the prettiest clothes, the most expensive gadget or shoes to someone. As long as you have given the Hamper Emporium's impressive food Christmas hampers, your recipient will really feel special.
The Hamper Emporium offers free hamper delivery and most of our hampers are available for an incredibly low price! This is the best place in Australia to meet your Christmas shopping needs. So, check our range of Xmas Hampers have a great festive season!